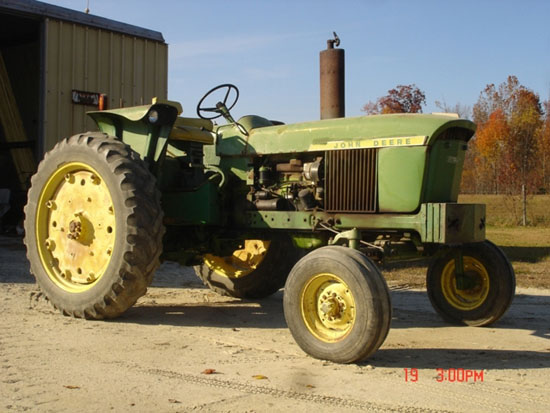 This 1972 JD 2520 tractor sold on a farm estate auction Jan. 6, 2011 in Murfreesboro, NC for $23,250, a new record high auction sale price
Bidders flew in from Texas, Indiana and Ohio.
All to take a shot at the 1972 JD 2520 tractor (PS, side console, SN# 023060R) up for sale on today's Jan. 6, 2011 farm estate auction near Murfreesboro, NC. The sale was by Rich and Rich Auctioneers International, Inc. A new record high auction sale price was realized with the buyer coming from Canada.
It sold for $23,250.
The late Vernon Joyner took very good care of his line of John Deere tractors over his farming career. It certainly showed in the sale prices on today's auction. Other examples:
1969 John Deere 3020: $8,900
JD L, unstyled: $13,250
The previous record high auction sale price I have compiled on a JD 2520 tractor came this past July, on a huge collector auction in Wolf Point, MT July 17, 2010. A John Deere 2520 tractor on that auction sold for $18,500.
About Machinery Pete: Greg "Machinery Pete" Peterson has been working in the agricultural industry for 21 years and details agricultural equipment prices and trends at his website, Machinerypete.com. Greg also writes columns for Successful Farming magazine, Implement & Tractor magazine, Agriculture.com web site and also appears on the Machinery Show on RFD-TV.