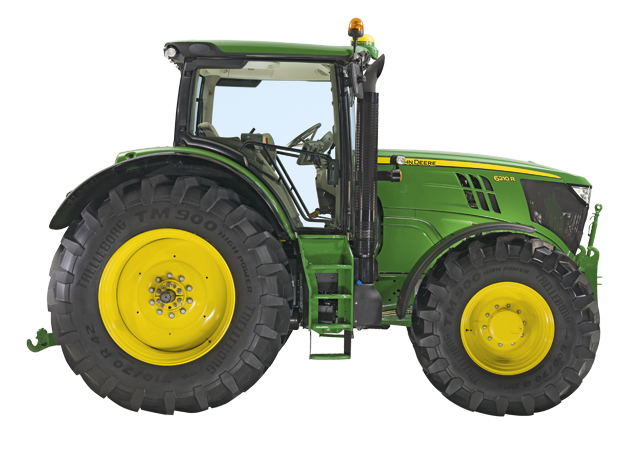 John Deere continues to please its loyal followers, as the company makes sure to include innovative technology and improve upon older models in its new lines of equipment.
The John Deere 6210R tractor is no exception, as this model was designed with the best of the 6000 series included, along with several new features and innovative products, according to the Farmers Guardian.
The news source reported that the new 6R series, which was launched in July 2011, consists of nine models that range in maximum horsepower from 129 to 249.
The John Deere 6210R tractor is the most powerful machine in the series, as it was built with an Infinitely Variable Transmission (IVT) and can achieve 249 horsepower with ploughing and power harrowing.
Although the 6210R gives the appearance of a much larger tractor than the previous models, it is only slightly longer and no taller than its predecessors. According to the Farmers Guardian, the cab is a drastic change from previous models, as people who have used John Deere tractors will note that the spacious interior is an improvement due tothe fact that it has increased visibility and better ergonomics.
One version of the 6210R, the AutoPower model, features Deere's command arm, allowing for the transmission, throttle, hydraulics and PTO functions to be placed in the hand of the operator.
According to the Farmers Guardian, the on-screen controls can look daunting at first, but using the technology is much easier than it seems. This simplicity is also found for the iTec headland management system, as this helpsthe farmer pre-write a sequence for their plow.
The news source reported that only a few days in the seat of the John Deere tractor will allow a user to feel how much input the company relied on for the creation of the new model, as its simple-to-use features and agility – despite its size and power – helps to provide the operator with an innovative and maneuverable machine.
Features like an improved 360-degree lighting system will allow for easy night operation, as this combined with the increased visibility in the cab remove the issue of late afternoon operating in the dark.
According to the company's website, the machine was also designed with the environment in mind, as the 6210Rcomes with an engine that allows for lower fuel consumption and a more efficient burn of the fuel.