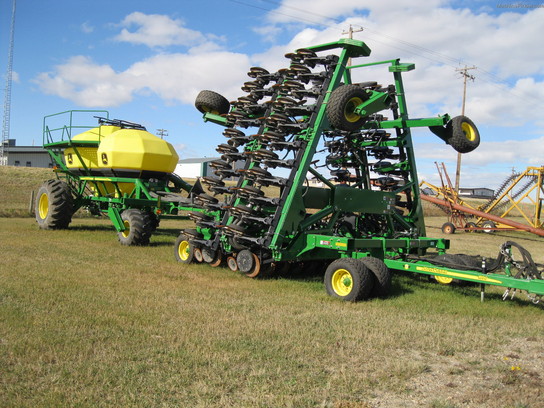 John Deere is constantly offering new models of existing equipment as a way to provide their customers with the latest technological advances and innovative ways to increase efficiency. The 1890 No-Till Air Drill from the agricultural company will lead to a rise in uptime and productivity for farmers across the U.S.
The company released two new larger sizes of the 1890 no-till machines in 2011, as the models came with a wider, more advanced air drill for no-till production sizes, according to No-Till Farmer.
"The addition of the 50- and 60-foot 1890 no-till air drills complements the lineup of seeding products from John Deere and are ideal for use in not only no-till, but reduced-till and even conventional small grain, cereal and soybean operations," says Aubrey Grove, seeding product marketing manager for John Deere. "The larger seeding widths allow producers to cover more acres in less time, which can be critical in areas where there is a short window of opportunity for seeding."
The new models of the 1890 feature a five-section, drawn flexible frame with an over-centre fold that allows for easy storage and transport. The machines also come with dual-row spacing that comes in two packages, either 7.5 inches or 10 inches, depending on the preference of the operator and the specific crop.
According to the news source, the new drills use 90 Series single-disc openers that are raised and lowered by using hydraulics. This ensures precise, consistent seed placement in varying soil and field conditions.
"The active hydraulics can provide from 165 to 400 pounds of down pressure per opener, which is easily adjusted by the operator, to provide the correct amount of pressure to penetrate even hard soils with heavy residue," Grove says. "Each row has an individual gauge wheel, press wheel and closing wheel and is designed so each row unit moves with the contour of the land to improve seed-to-soil contact and even germination."
The company's website noted that the proven no-till openers provide more penetration than previous models, and the material that was used helps to increase the durability of the product. The operator can also make adjustments more easily, as they can dial in the corrections while the product is in operation.
The redesigned delivery system allows for the opener to move over uneven ground conditions and helps to minimize the chance of gauge wheels bulldozing soil when it is soft or mellow.