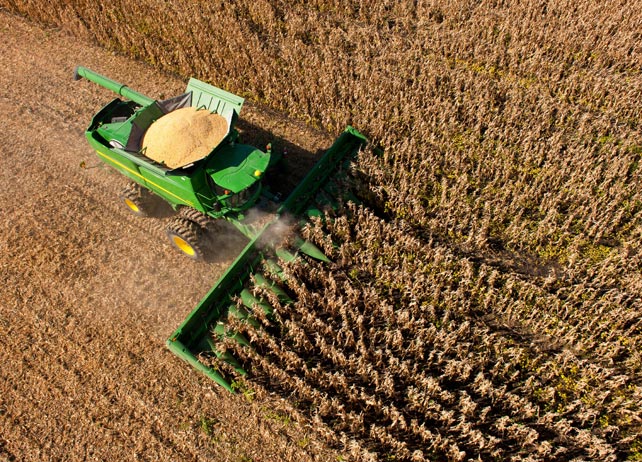 The crippling drought in the U.S. Midwest has led to serious rallies in corn, wheat and soybean prices in the U.S., the largest grains exporter in the world. However, these prices may have peaked, Reuters reports.
For the crops' prices to rise any higher, it would take much worse weather conditions all over the world, analysts say.
"Prices of grains and soybeans may have already peaked as the news around the drought in the U.S., as well the weather in [former Soviet Union] and Australia is pretty well priced in," said Tim Hornibrook, an executive director at Macquarie Agricultural Funds Management.
Crop futures have dropped lower recently due to waning demand for corn, following record high in August, while soy beans recently jumped to an all-time high. Analysts predict global demand for corn will fall 0.9 percent in the coming marketing year, marking the first drop in demand in 17 years. This comes despite U.S. farmers harvesting the smallest crop in six years, information from the U.S. Department of Agricultural shows. If the prices continue to fall, the media outlet stated, it could assuage fears over higher food prices.
Still, if worsening weather erupts outside the U.S., the price of grains and seeds could still rise, Hornibrook added.
"South America won't have adequate soybean supplies to sell to China until March 2013 at the earliest," he said.
Rabobank International also foresees the potential for lingering high food prices.
According to Bloomberg, food prices could rise as much as 15 percent by June 2013, beating last year's record set in February. The higher prices would stem from the U.S. drought, as well as South America's dry weather.
"The impact of higher grain and oilseed prices will be significant for the animal protein and dairy sectors as they arelikely to be squeezed by higher feed costs," said Nick Higgins, an analyst at the bank. "The full effect of this commodity price rally and the subsequent lower meat and milk output will be a multi-year rebuilding of herds, which will sustain high price levels."
Corn has fallen 12 percent since setting a record of $8.49 per bushel on the Chicago Board of Trade, and is up 16 percent so far in 2012 at $7.50.