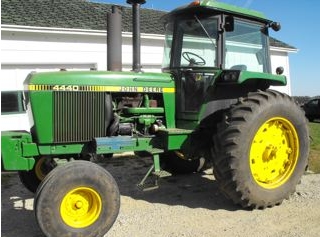 This John Deere 4440 tractor with 5,333 hours sold for $42,000 on an October 25, 2012 farm estate auction in south-central Wisconsin.
I've said it before, I'll say it again: It PAYS to take great care of your used equipment!
Vivid proof came on a farm estate auction October 25, 2012 near Janesville, WI. George Auction Service held this sale that featured (2) very nice condition, well cared for John Deere tractors, a 4440 tractor with 5,333 hours and a late-model JD 4020 with 8,233 hours (diesel, power shift, side console, 1 onwer).