We're used to getting letters telling us about how well a John Deere tractor works, what someone was able to do with a specific machine, or how much easier it made a certain job. But, we were a little surprised to find ourselves receiving a note from someone who isn't exactly a Deere owner.
Karri from Colorado grew up in Mansfield, Ohio and would drive with her parents to a farm located about 30 minutes outside the city. Run by her grandparents, the farm had been in the family for generations and was a favorite weekend destination for most of her childhood.
While she may not be a lifelong Deere owner, there's no doubt our machines have played an important part in her life. Here's her story:
It sounds kind of odd for a city girl to say, but John Deere has just always been there. It was a way of life, and an odd, comforting sign that I was home and everything would be okay.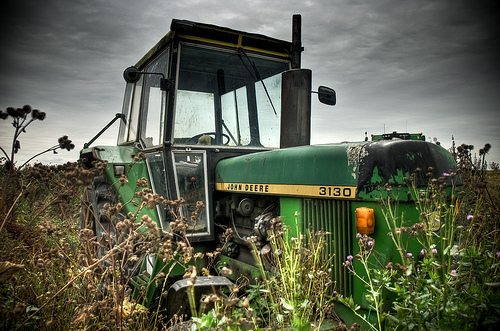 (Credit)
For as far back as I can remember, weekends and summers were spent there. My family and I would go out and there was always something to do. We'd walk behind the John Deere and pick rocks or potatoes, depending on the time of year. Lots of times, we'd get an extra treat and get a ride in the grain truck so we could watch papa make rounds in the field.
Funny, but it didn't seem to matter how cold it was, how hot it was, or how late it was at night, he was sitting on that green tractor with a simple look of strength and contentment across his face. Many mornings he'd go outside grumbling and wondering if the tractor would start. It was almost part of his routine; he knew it would.
When we got older, we no longer watched him on the tractor. Instead, we spent hours ourselves driving that old John Deere with the baler on behind or the header out in front cutting large paths of the golden plants my grandfather held so dear. Of course, he'd curse when things would breakdown.
It was our fault. It was always our fault. 'There was nothing wrong with it when I was driving it,' he'd grumble. He'd never once consider that, after 30 or 40 years, something is bound to need replacement. Personally, I think he just like puttering around on the machines. I mean, even on a Sunday he could be found greasing, oiling, cleaning, or changing something.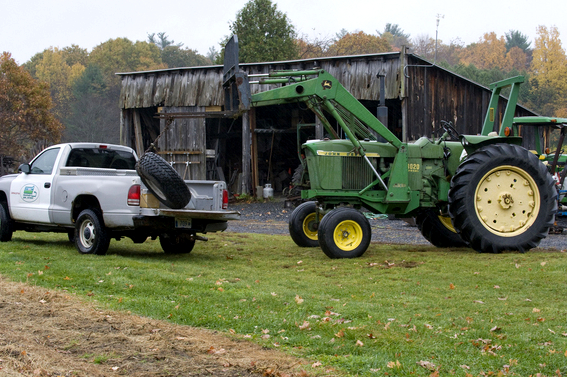 (Credit)
He was a firm believer in John Deere and this was evident long before you ever arrived at the yard. You could often see some sort of equipment on the top of the hill as your rounded the curve. In fact, when I close my eyes, I can still see that John Deere green poking out from behind the tall grass.
Even once you entered the house, you could see my grandparent's pride and passion for John Deere. A small green and yellow tractor sat to the right of the door. It was faded, and you could tell my uncles had spent hours playing with it. My grandfather's green and yellow hats sat proudly on the shelf, soiled with sweat, dust, and flakes of husks. Those hats were there for as long as they had the farm…
You'd think retirement would ease the hold John Deere hold on him, but it didn't. The snow blower was John Deere green, the rototiller, the riding lawnmower…That green and yellow was always showing up. Even after he had a series of strokes and suffered dementia he'd talk about caring for the horses and his favorite John Deere tractor.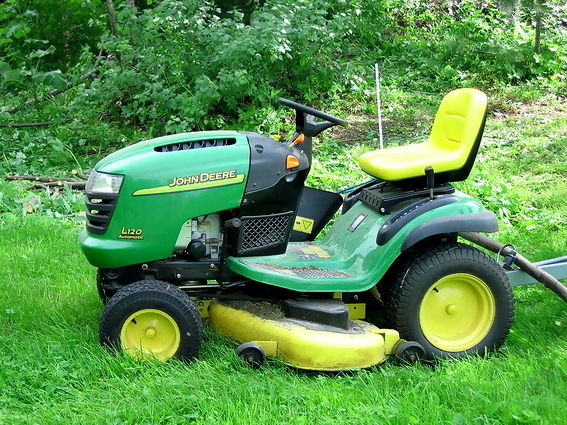 (Credit)
I have to say that I'm proud to have his favorite hat on the wall above my door and his green riding lawnmower in the garden shed. And every time I look at them, I swear I can still smell the freshly cut hay and feel the heat of the sun on my back.
They say 'Nothing Runs Like a Deere' and it's a good thing. Was about the only thing that was built tough enough to keep up to him.
You might also like: