When thinking about a company's world headquarters, it's easy to let your mind wander to a place made up of parking lots, cubicles, and large office buildings. The John Deere Headquarters has a few of these features at first glance, but when learning about the building itself, and taking a step inside, it truly is a sight to see for all ages.
So, let's start from the outside, and work our way in, taking a look at what the headquarters has to offer to its visitors. Best of all, the whole experience is free!
A look from the outside: During the mid-1950's, John Deere's President, William Hewitt, was feeling pressure from sources to move the company's main location from Moline, Illinois to a larger city (San Francisco or New York). In order to keep the corporate offices in Moline, he agreed to the creation of a brand new building and turned to Eero Saarinen, the architect of the world famous Gateway Arch in St. Louis, to get the job done.
The building design was created with the goal of reflecting the brand's image, with a "down to earth and rugged" feel, staying away from extravagance and shine, according to Hewitt. These goals were met and the building soon became recognized for its architectural excellence, receiving several awards, including (among others):
First Honor Award, 1965 – American Institute of Architects
Architectural Award of Excellence, 1965 – American Institute of Steel Construction
"Office of the Year," 1964 – Silver Plaque Award Administrative Management Magazine
The building sits on 1,400 acres of immaculately-kept land, welcoming visitors in a truly John Deere fashion.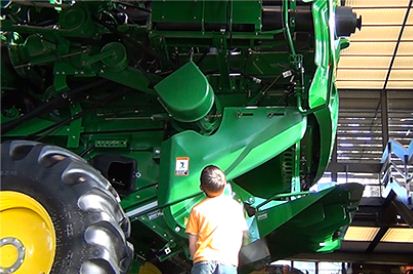 Moving inside: Visitors to the John Deere Headquarters will see a three-dimensional mural which contains 2,200 authentic pieces of memorabilia and best of all, they will have an opportunity to let their kids (or themselves) climb in and around some huge John Deere machines. Sitting behind the wheel of these machines lets visitors feel for themselves what it's like to be in control of a piece of Deere equipment.
The displays inside are regularly rotated, featuring machines from the past and present, giving visitors a reason to come back to the headquarters more than one time.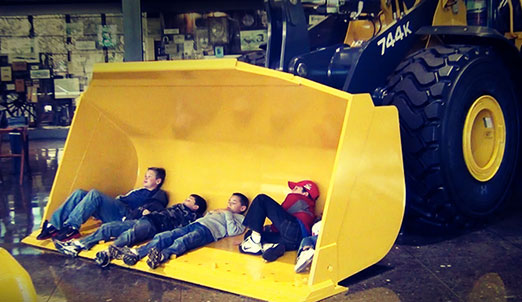 Address details: The John Deere Headquarters are located at 1 John Deere Place in Moline, Illinois. The display floor is open seven days a week (check website for specific hours), and as mentioned before, the whole experience is free!
If you enjoyed this post, or want to read some others, feel free to connect with us on Facebook or Google+!
You might also like: