Visitors to MachineFinder.com, the "largest, oldest and finest worldwide marketplace for used Agriculture, Residential, Construction, Golf & Turf and Forestry equipment," now have the opportunity to live-bid for used equipment units online, with the introduction of MachineFinderAuctions.com.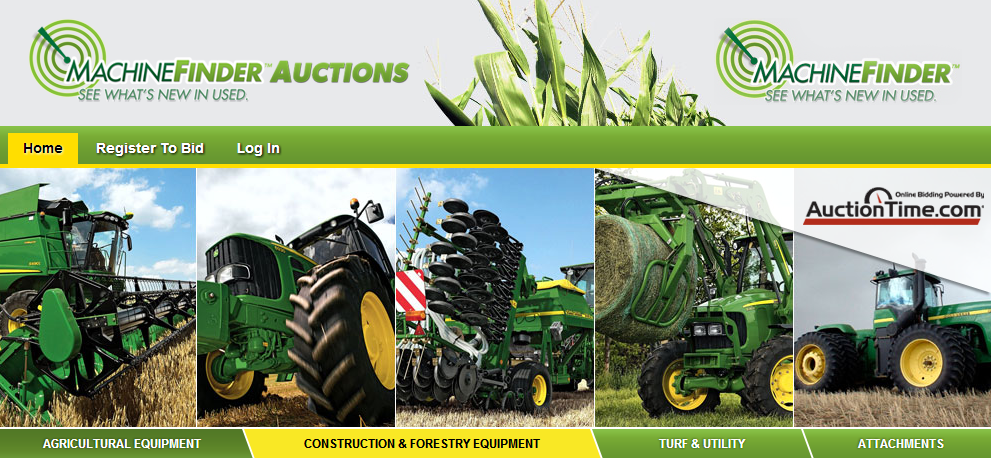 Used equipment on MachineFinder.com up for auction will include a "currently available on MachineFinder Auctions" button (see image below) to indicate the equipment is listed on MachineFinderAuctions.com, allowing visitors to engage in online bidding.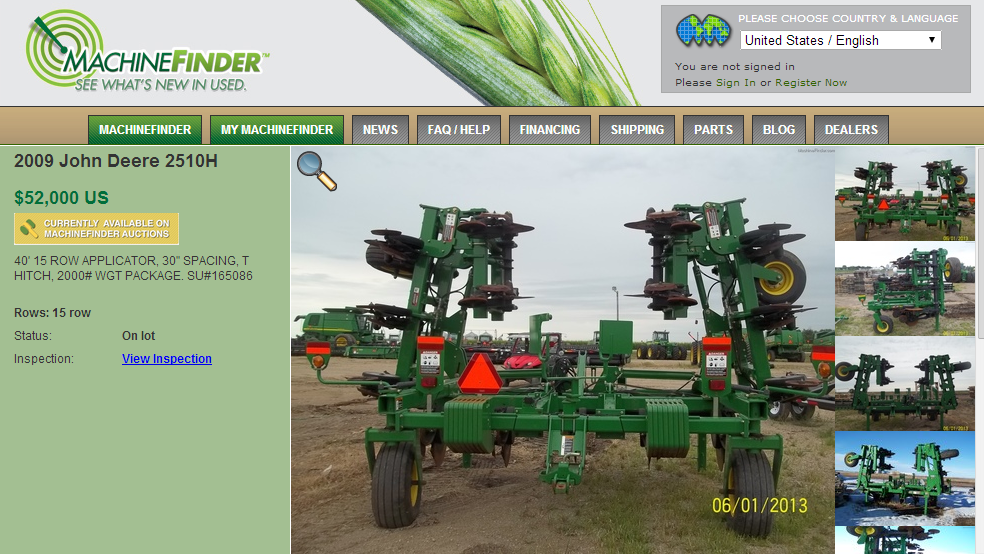 Let's walk through some of the steps that need to be taken prior to having bidding access as well as some features of the new site.
Step 1: Login or Register for an Account
Before having access to live bidding, users must login to their existing AuctionTime account or simply register for a new account by providing some basic personal information and creating a unique username. The generated username can be used across multiple used equipment websites for those who frequent a variety of online bidding destinations.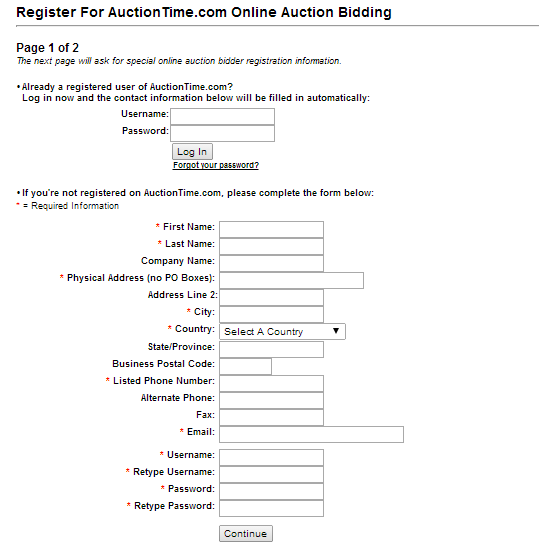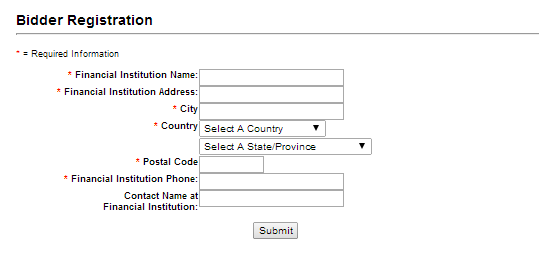 Step 2: Choose an Equipment Category
Visitors to MachineFinderAuctions.com will be able to choose from four different equipment categories: Agricultural Equipment, Construction Equipment, Turf and Utility Equipment, and Attachments.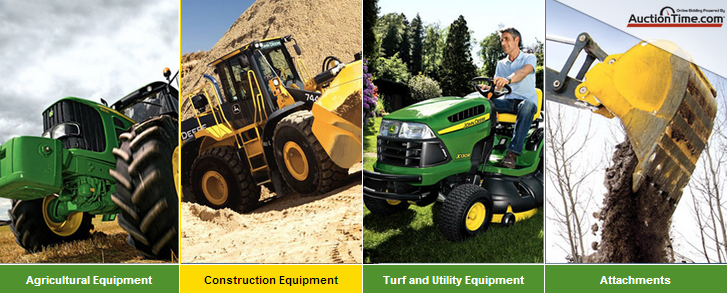 Each category, when chosen, will feature a complete list of all units available for bidding, as well as some key details pertaining to current critical auction information (agricultural listing example below).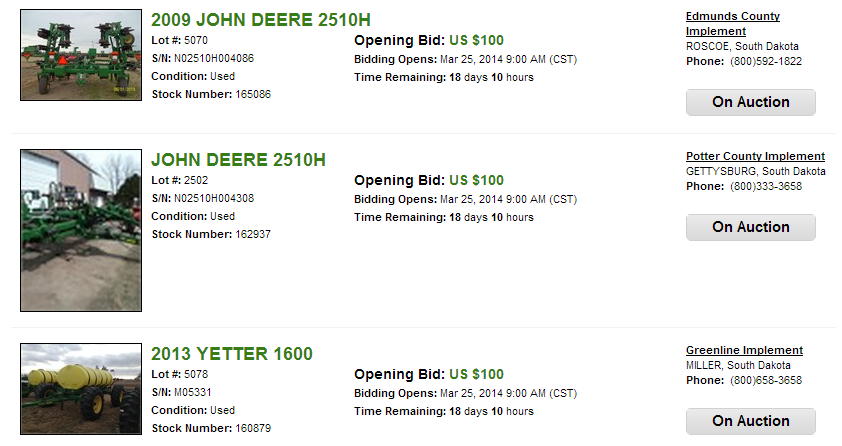 Step 3: Browse for a Unit to Bid on
Equipment listings can be sorted using a variety of filters, including: Manufacturer, Model, Most Recently Updated Listings, Serial Number, Photos First, Time Remaining, or Lot #. This easy-to-use search functionality allows users to quickly and easily locate units available for bidding.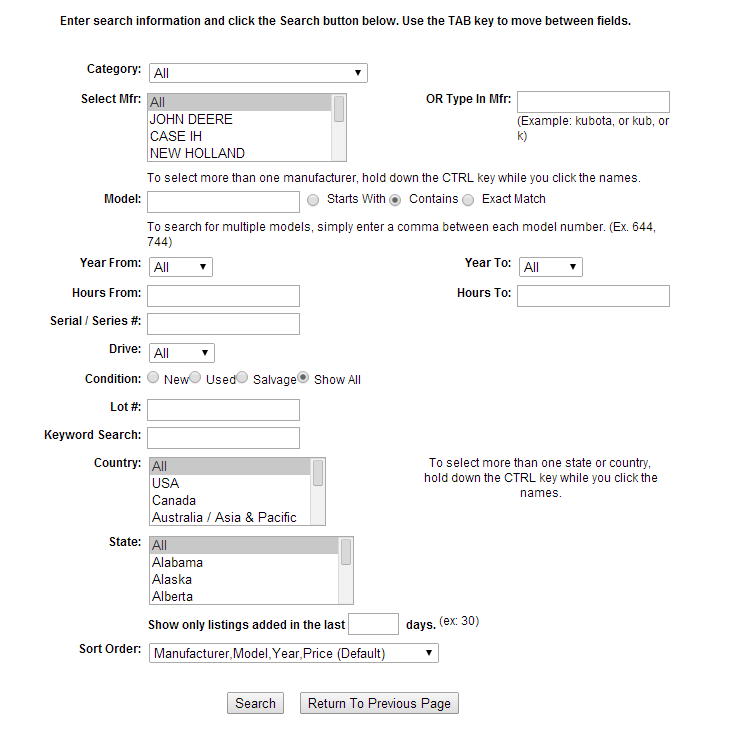 Step 4: Select Unit and begin Bidding
Once the unit has been selected, users will be taken to a product page that includes additional images, bidding open-close times, seller contact information, and more. From this page, users can begin the bidding process or contact the seller directly. Below, we have shown a used John Deere 2510H Nutrient Applicator for sale.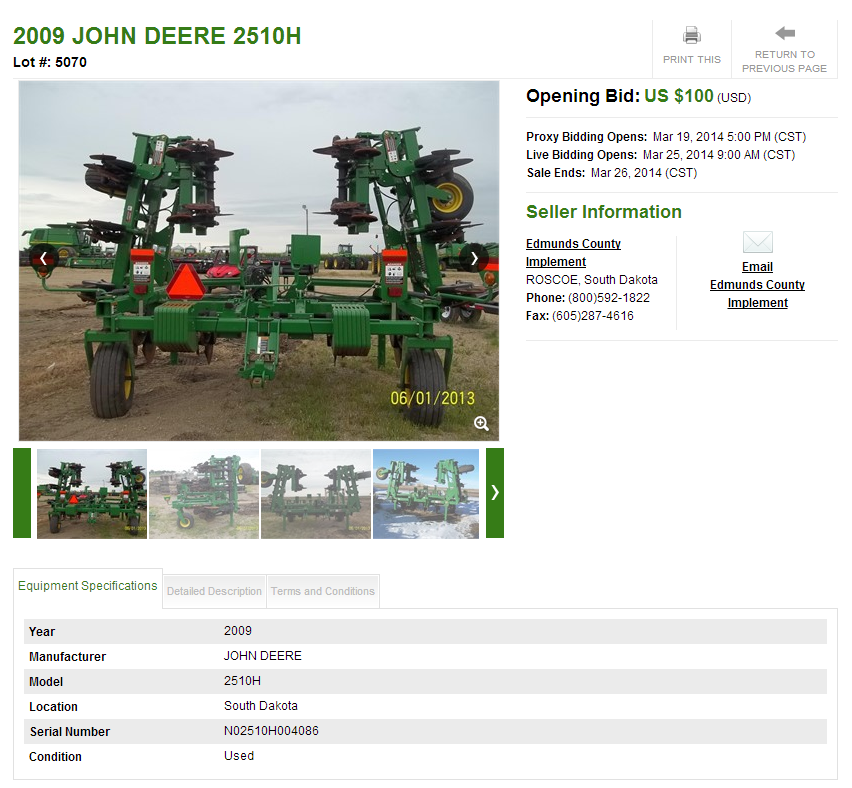 Units placed on the online auction block are not eligible for retail sale during the auction period on the selected websites. The service is designed to provide used equipment buyers and sellers with an intuitive interface to easily bid on, or list used agricultural equipment, construction equipment, turf and utility equipment, and attachments.
We're excited about this new partnership and hope you the buyer is as well!
If you enjoyed this post or want to read others, feel free to connect with us on Facebook or Google+!