John Deere enthusiasts enjoy showing their love for the brand everywhere they go. The green and yellow color scheme paired with the iconic leaping deer logo can be seen not only in the fields, at the worksite, or in the forest, but also on clothing, referenced in famous songs, at weddings, and much more.
There are a number of accessories that now make it possible for these loyal fans of the brand to bring Deere on the road by decorating some (or all) parts of their vehicle. Let's take a look at ten accessories that can help these loyalists create the ultimate John Deere car.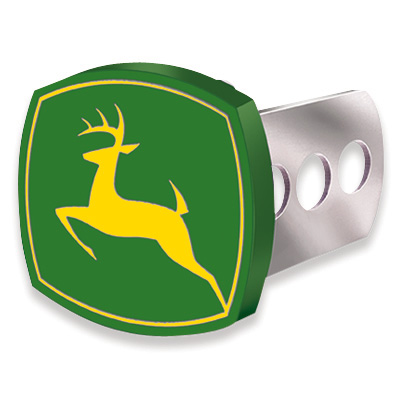 Receivers inside trailer hitches can often times become full of mud and debris, especially in country settings. This hitch cover will not only tell a little about the owner, but will also remain resilient against elements for years to come. The hitch plugs fit all 2 inch and down to 1-1/4 inch receivers and are simple to install.
John Deere License Plate Frame
Deere offers a variety of license plate frames. The one we have features includes the Deere "Nothing runs like a Deere" slogan in full color. The frames come with pre-drilled bolt slots for easy installation, fitting most standard size license plates.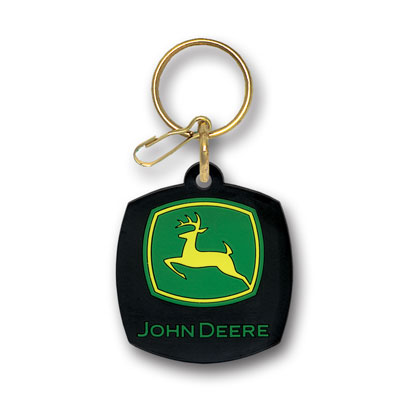 This PlastiColor key chain includes a standard key ring as well as a "zipper hook," which allows the key chain to also serve as a zipper pull on a back pack, belt pack, brief case, or jacket.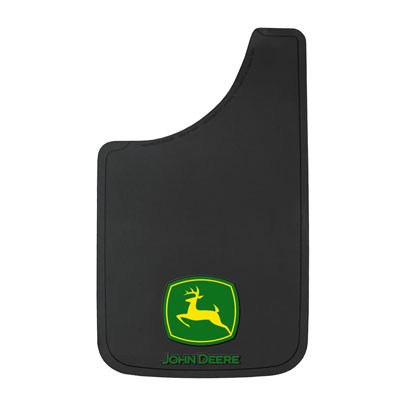 Bringing the car or truck down dirt roads or off roads completely can result in mud-covered tires kicking up dirt. These mud flaps not only protect the vehicle, but they show others on the road the driver's preferred brand.
John Deere Steering Wheel Cover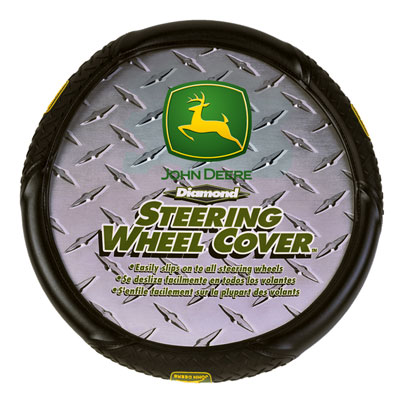 Steering wheels can often times let off a strong rubber odor. These covers eliminate that odor and provide drivers with a firm, no-slip grip even on the warmest summer days. The cover fits the wheels of all cars, trucks and boats.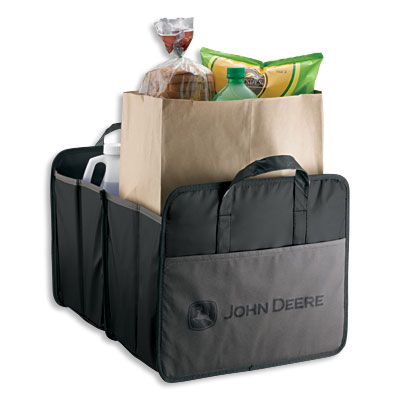 Organizing and transporting groceries, sports gear, and more can be a hassle. The John Deere trunk cargo box is laminated for increased durability with the John Deere logo screen-printed on the gray side in contrasting black.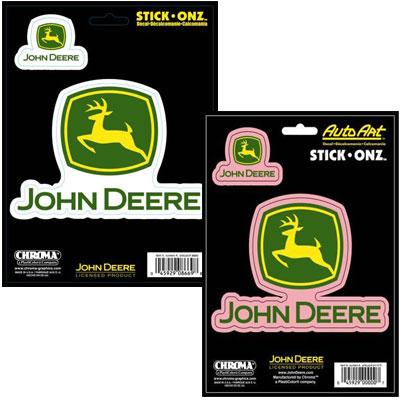 These stick-on decals are a great way to show love for Deere in the windows or on the body of the car itself. The small decal measures 1 1/2″ tall, 1 1/4″ wide across the top, 2″ wide across the bottom and the larger decal measures 4″ tall, 3″ wide across the top, 5 1/2″ wide across the bottom.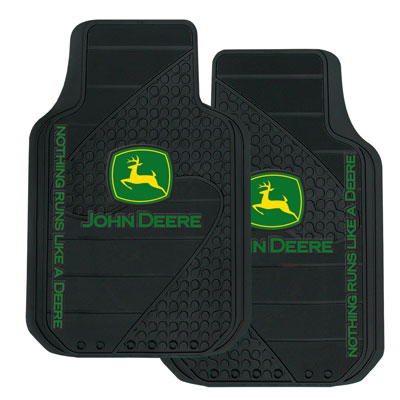 After a day out on the field, it's common to track some mud or dirt into the car or truck. These rubber floor mats fit nicely on the floor, protecting carpeted interior from the elements with the patented Deere logo.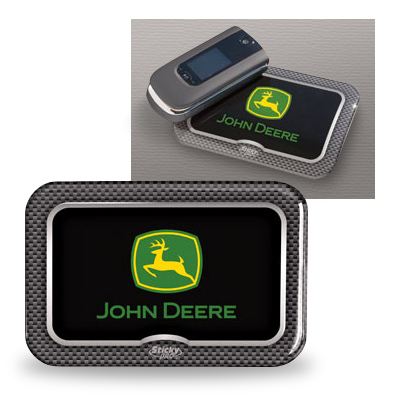 We've all converted our cup holders into coin holders, and the middle console storage area to a personal office. This dash pad gives vehicle operators a portable grippy top surface to keep phones, keys, change, and more readily at hand.
John Deere Reserved Parking Sign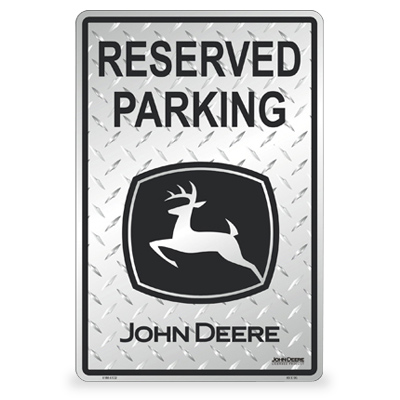 Finally, when returning home, use this rectangle John Deere "Reserved Parking" sign to let others know they better not take the spot that belongs to the ultimate John Deere car.
After John Deere customers climb out of their agricultural, construction, or forestry equipment, they lead a normal life like the rest of us. These ten accessories are the key ingredients for Deere supporters to turn their everyday vehicles into a display of their love for John Deere. If you enjoyed this post or want to read others, feel free to connect with us on Facebook or Google+!
You might also like: