Here at MachineFinder, our mission is to provide users from around the globe with access to equipment photos, descriptions, details, locations and more, so they can make informed used equipment purchasing decisions. With millions of visitors to MachineFinder.com in the past year, it seems we are successfully providing this information to our user base, but we are always striving for ways to improve the online experience.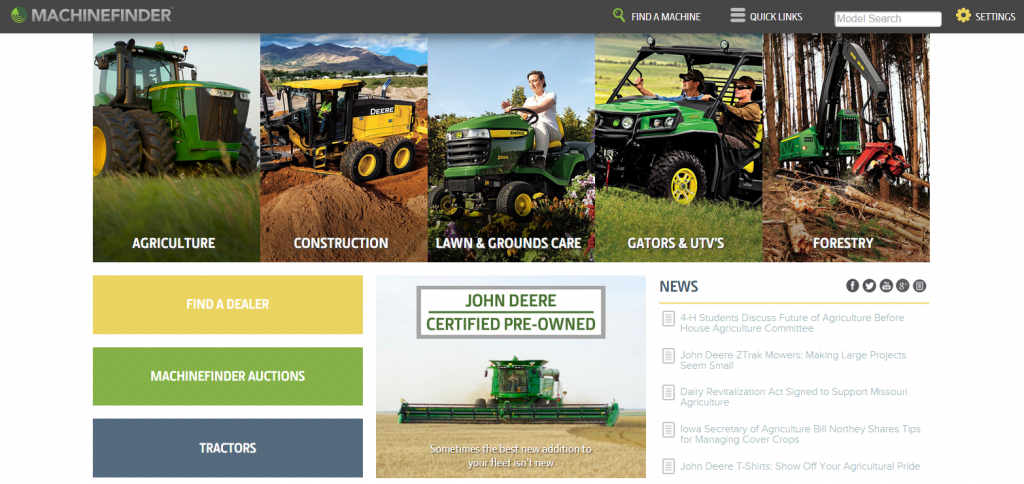 As we looked at the new generation of online browsing and the technologies available to our audience, we realized nearly half of all recent website visits to MachineFinder.com were coming from mobile devices (smartphones, tablets, etc.).
As a result, we wanted to ensure the online experience we were offering aligned with these trends. We are pleased to announce the launch of the new MachineFinder.com, as we believe it does just that.
What Is Responsive Design and Why Did We Choose It?
Responsive design is a term used in web design to describe a site that provides easy reading and navigation with resizing, panning, and scrolling ability to offer a consistent user experience across a wide range of devices. Regardless of the device being used to access MachineFinder.com, users will realize the functionality and ease of use will remain unchanged thanks to the new responsive design layout.
Homepage on Desktop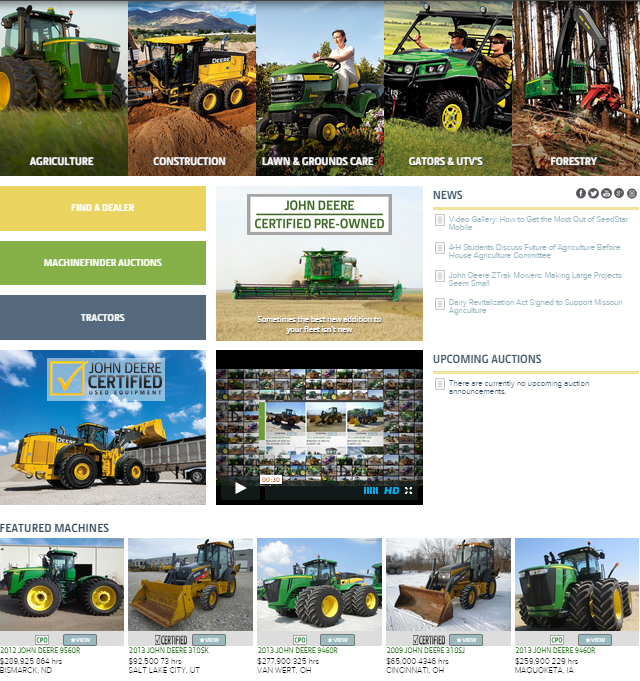 Homepage on Mobile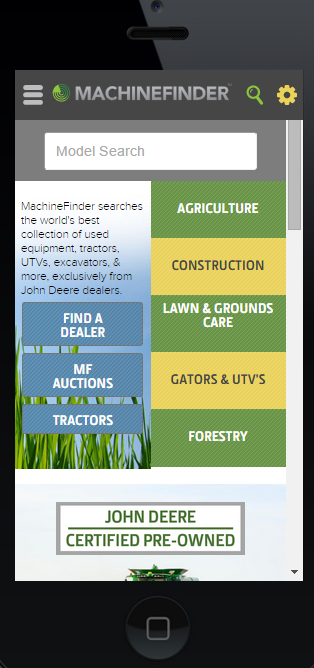 Homepage on Tablet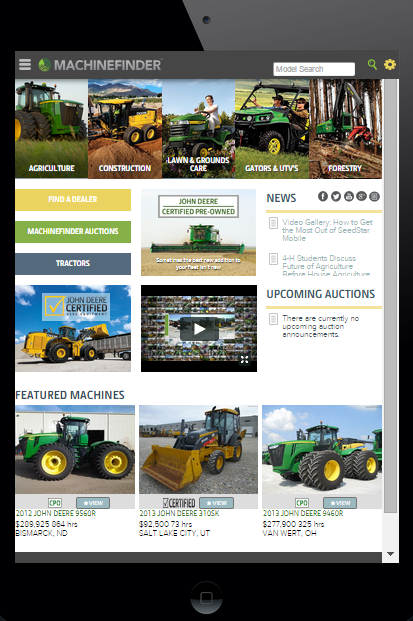 Navigating the New MachineFinder.com
Homepage
When users land on the new MachineFinder homepage, they are greeted by five category options at the top of the screen, allowing them to quickly narrow down their search results by "Agriculture," "Construction," "Lawn and Grounds Care," "Gators & UTVs" and "Forestry" equipment. For those that know exactly what they're looking for, they can utilize the "Find a Machine" search bar or search for a specific model with the "Model Search" bar.

Other pages that users can quickly jump to from the homepage include "Find a Dealer," "MachineFinder Auctions," "Tractors," "Certified Pre-Owned," "News" and "Featured Machines."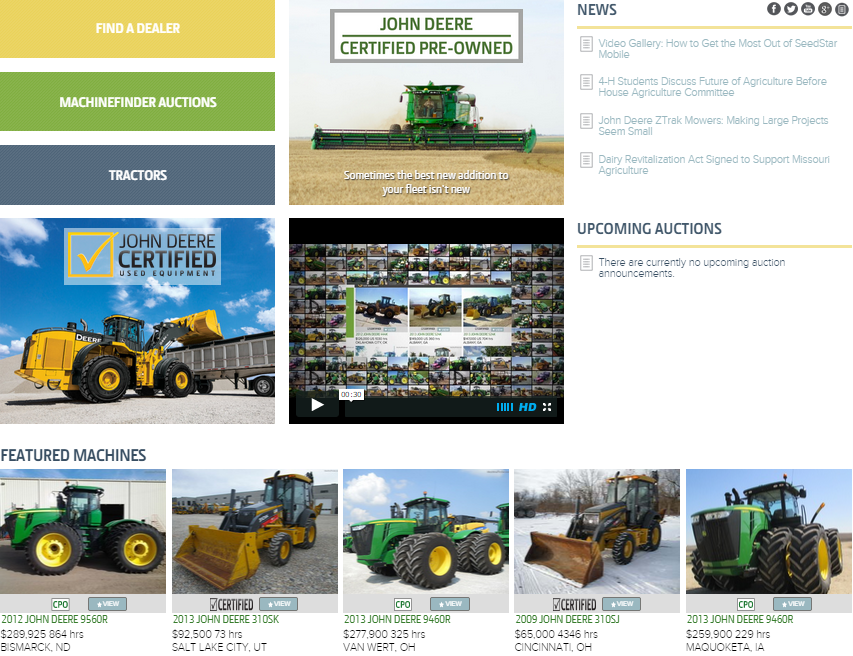 Super Category Pages
Once a category has been selected (in this case, "Agriculture"), users will be brought to a newly designed page (see below image). Here, users have the option to search "All Machines" or by "Certified Pre-Owned" on the right side of the page. Additionally, after incorporating customer feedback, we've added a "Tractor Engine Horsepower Search" feature which allows users to filter their tractor results by the horsepower that best fits their needs.

Equipment Listing Pages
When the user selects a type of equipment (row crop tractors in this scenario), they will be greeted by a fresh new grid design of equipment listings with larger featured photos. Additionally, as can be seen in the below image, users can also easily filter results by "Make Model & Year," "Hours & Price," "Specs" and "Location and Distance."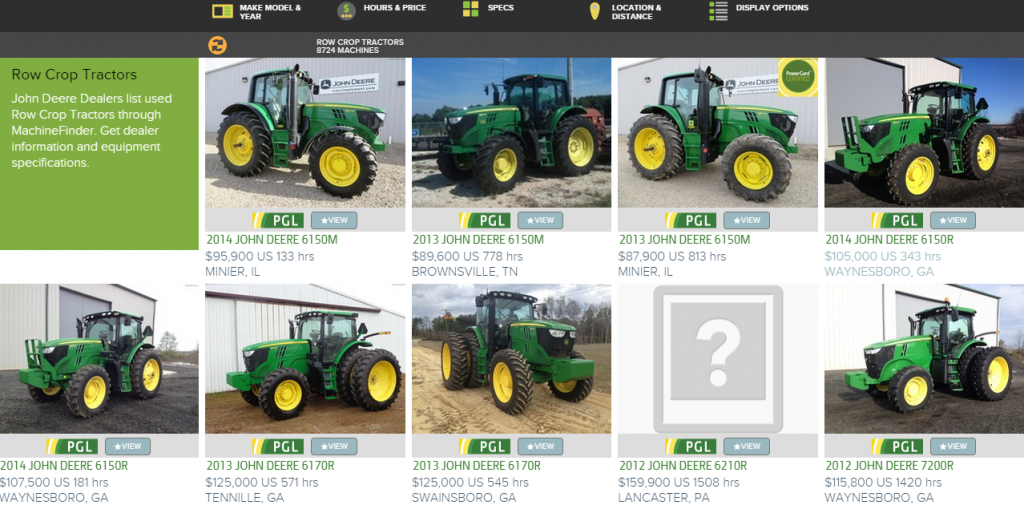 Equipment Pages
When the user selects a specific piece of equipment they want to view, they will a view similar to the image below. All of the selected machine's critical information is readily available on these new pages and it is now easier than ever before to contact a dealer thanks to the new "click-to-call functionality."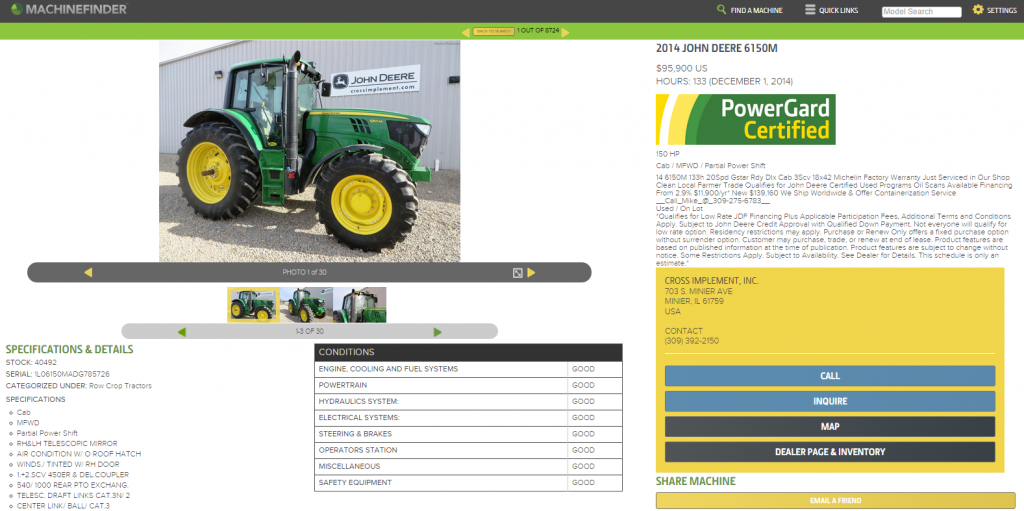 Search for Nearby Dealers
For users that want locate the nearest dealer to their location, the "Find a Dealer" button on the homepage offers a quick and easy way to do so. Simply click the button and search for nearby dealers by adding your current location or another location. In the example below, the closest John Deere dealers to Olathe, Kansas have been displayed.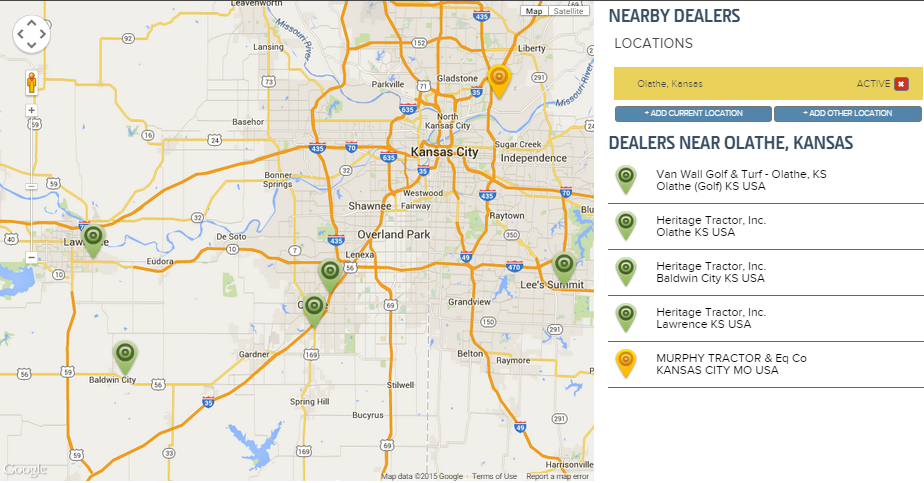 A Video Recap of the New MachineFinder.com
We created this brief video to further showcase what's new in used. Take a look and feel free to share this quick summary with anybody you think may be interested in learning about our new design.
We hope our audience enjoys the new MachineFinder as much as we enjoyed enhancing the experience. Don't hesitate to let us know your thoughts on the new site design by connecting with us on Facebook, Twitter or Google+!
You might also like: