Have you heard the story of how John Deere set a world record for creating the largest sculpture ever built from canned food?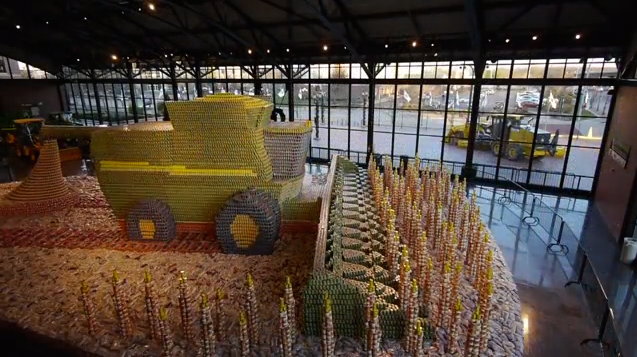 Aiming to celebrate the farmer who is using harvesting equipment to feed the world, John Deere decided to build a combine out of more than 300,000 food cans. With food at the core of this initiative, the cans would later be donated to local communities.
Not only would the actual combine be created out of cans but the team also added a 16 row corn head and corn stalks made of cans as well.
In this post, we're reminiscing to a few years back when the John Deere CAN DO project was unveiled. Enjoy!
https://www.youtube.com/watch?v=UZtgQSBBakk
Every year, John Deere is challenged to come up with a unique promotional campaign for new products being launched. At the time, John Deere had five new S-Series Combines coming out.
Watch this video and hear the inspiration behind the John Deere Project CAN DO, an ambitious effort to build a life-size combine sculpture using more than 300,000 cans of food.
https://www.youtube.com/watch?v=kwYS0PIG2Kc
There was an overwhelmingly positive response to the CAN DO project from John Deere employees and offices around the globe. The idea and scale of the project was just something so much more than they had ever seen before.
About 30 offices were regularly volunteering their time to come work on this project. Getting in the Guinness Book of World Records was an exciting motivator and an amazing accomplishment to aim for.
Watch this video to learn more about the entrepreneurial spirit and hard work that fueled the John Deere CAN DO project.
https://www.youtube.com/watch?v=MqwtbU665G8
A lot of preparation went into setting the CAN DO sculpture up in the John Deere Pavilion. The team had to go through and clear about half of the building, moving normal exhibits out of the way. Deciding where to place the entire inventory to build the sculpture was a project itself.
Aside from their normal jobs, John Deere employees were able to come out to help unload cans for an amazing exhibit. This involved working with people across the company, not just people they normally worked with. It was an opportunity to work with exceptional folks from other departments and areas of the company.
Hear from John Deere employees, volunteers and friends, as the one of a kind canned food combine is unveiled.
https://www.youtube.com/watch?v=hTUy88PqnCY
To wrap things up, here's a look at the John Deere CAN DO project coming together, from beginning to end.
We hope you enjoyed these videos and now have a better idea of all of the creativity, hard work and passion that went into building this life-size can combine.
If you enjoyed this post or want to read others, feel free to connect with us on Facebook, Twitter or Google+!
You might also like: