John Deere Machines
In John Deere's 174-year history, they've never announced as many new and important products as they did at last week's new product introduction.  Significant improvements in power, comfort, and performance are the leading features of the new machines, which include the S-Series Combines with larger corn heads and platforms; high-horsepower 4WD and track 9R/9RT Tractors; 6R Series row-crop tractors and 5 Series utility and specialty tractors.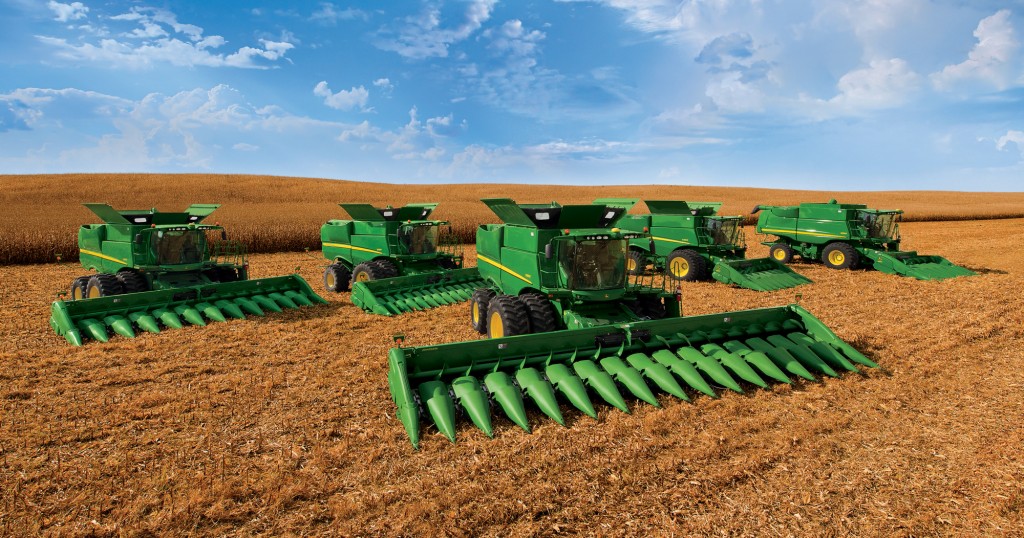 Credit
The new machines broaden John Deere's already extensive collection of products for use in all types of farming, livestock, and specialty crop operations.  In addition to farming, it will give commercial and property maintenance businesses the machines necessary to do more work without losing comfort and ease of use. John Deere's manager of media relations Barry Nelson said, "Across the board, we've increased the power and added many features to our new equipment that will make customers even more productive, wherever these machines are used."
Combines, headers, and tractors are not the only new products Deere has announced.  They've also introduced new 7R Series Tractors for the row-crop market; its largest, most advanced self-propelled 4940 Sprayer with 1,200-gal solution tank, 120-ft. booms, and advanced loading and application technologies; and revolutionary Triple-Mounted Mower-Conditioner that cuts a swath more than 28 feet wide.
"These are the most innovative, technologically integrated, and productive farm machines we've ever designed," adds Nelson. "Plus, all John Deere products are built for years of reliable, dependable service and backed by our extensive dealer network for professional in-field service and maintenance."
You might also like: