One of the biggest challenges when shopping for equipment online is the fact that the equipment you're searching for could be located all over the country. Depending on what you're looking for, the perfect machine to meet your needs could be found several states away. The question then becomes, "How do I get it here?" Knowing where to even begin can be quite a challenge.
In January, with the launch of our new website, we set out to answer that question for our customers.
MachineFinder has partnered with uShip, an auction-style marketplace for shipping and transportation services. The idea is, you post what you need shipped, and where you need it shipped to, and shippers bid for your business to allow them to bring it to you. Just log into the site, tell uShip what you have to ship, where it is, and where it's going, and they do the rest!
MachineFinder has even integrated a shipping estimator into the machine listings on the site, provided by uShip.
Since January, several customers have used uShip to successfully ship their items to them that they found on MachineFinder. Here are a couple of recent customer testimonials who have successfully used this service!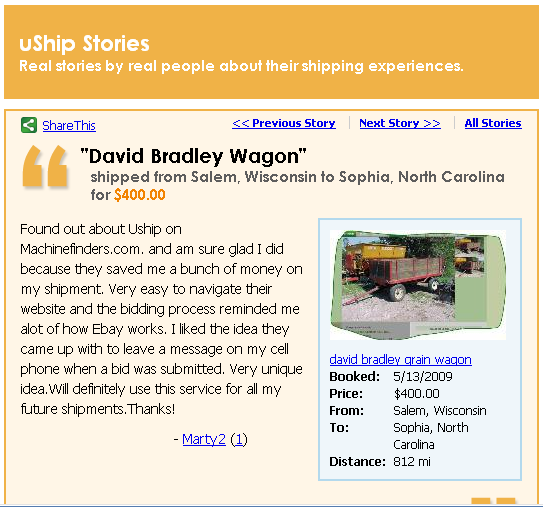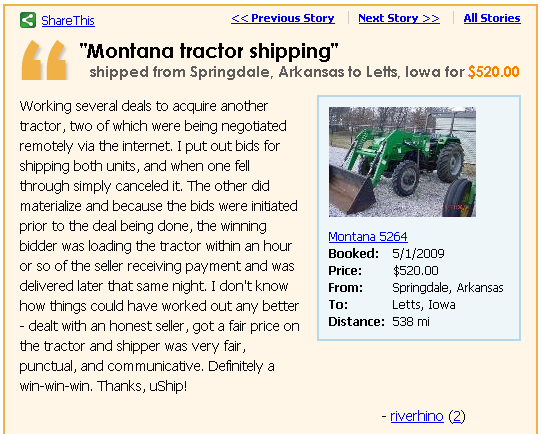 Related Posts
Be sure to connect with us on Twitter, Facebook, and Google Plus
You might also like: