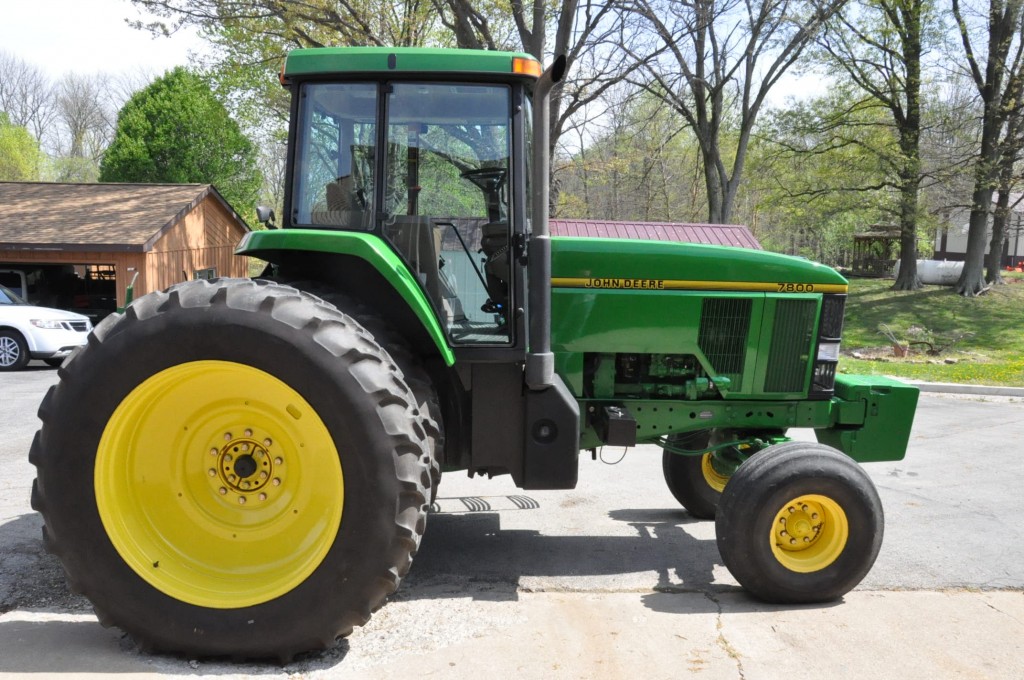 This 1995 John Deere 7800 2WD tractor with 1,679 hours sold for a new record high auction sale price of $71,000 on an April 7, 2012 consignment auction in southwest Indiana.
Used tractors can be beautiful.
One of the sharpest looking used tractors I've ever seen sold for a new record high auction sale price on a recent consignment auction in southwest Indiana. The tractor was a 1995 model JD 7800 2WD with 1,679 hours. Check out the picture above.
Isn't she a beauty?
It sold for $71,000, blowing away the previous record high auction sale price I'd ever seen on a JD 7800 2WD tractor, $62,250 for a 1995 model 7800 2WD with 3,454 hours on a November 23, 2010 farm auction in north-central Iowa.
For comparison sake, let's zoom back in time to March 22, 1997 to a farm auction in northeast Iowa where a nifty 1996 JD 7800 2WD with only 609 hours on it sold for $53,500.
What makes the new record auction price of $71,000 for the sharp-looking JD 7800 2WD on the April 7, 2012 Indiana sale even more impressive is the fact it was a "consignment" auction. Unequivocally I can say, from my 22 1/2 years experience compiling auction sale price data on all types of used farm and construction equipment throughout North America, that good used equipment brings more $$ when sold on traditional farm retirement or estate type auctions vs. consignment auctions.
But, $71,000 for this JD 7800 2WD came on a consignment auction. Amazing. Once again more proof of how exceptionally strong the market is currently and has been since mid 2011 for very nice condition used tractors.
Even when sold on a consignment auction.
About Machinery Pete: Greg "Machinery Pete" Peterson has been working in the agricultural industry for 21 years and details agricultural equipment prices and trends at his website, Machinerypete.com. Greg also writes columns for Successful Farming magazine, Implement & Tractor magazine, Agriculture.com web site and also appears on the Machinery Show on RFD-TV.