Whether you're a fan of agriculture or you know someone who simply loves Deere, there are several John Deere gifts you can consider for everyone on your list this holiday season. Replica models are perfect for interested children, as well as adult collectors who want a piece of Deere history.
Let's take a look at some of the models you may want to consider for your loved ones.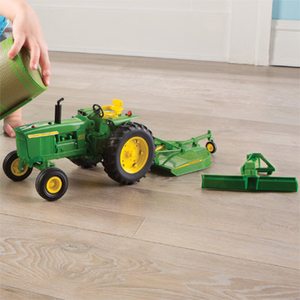 This model is constructed of a durable plastic, making it ready for play. It features working lights and sounds, a wide front axle, and adjustable rear hitch. This set is made complete with an attachable blade and rotary mower.