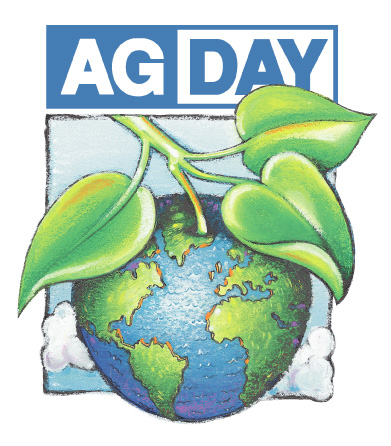 We're right in the middle of National Ag Week (March 14-20) and gearing up for Ag Day, which falls out this year on March 20 (the first day of spring).
According to The Agriculture Council of America:
It's a day to recognize and celebrate the abundance provided by agriculture. Every year, producers, agricultural associations, corporations, universities, government agencies and countless other across America join together to recognize the contributions of agriculture.

Ag Day is about recognizing – and celebrating – the contribution of agriculture in our everyday lives. The National Ag Day program encourages every American to:

* Understand how food and fiber products are produced.
* Value the essential role of agriculture in maintaining a strong economy.
* Appreciate the role agriculture plays in providing safe, abundant and affordable products.
Did you realize that each American farmer feeds more than 144 people? It's a fact.
(Source)
Maybe you even want to host your own Ag Day event? You might only have time for a Tweetup, but here are some additional ideas (pdf).
If you can't do something local, fear not – AgDay is on Twitter and keep an eye out for #agday hashtags.
Any way you want to celebrate it, we wish you a Happy Ag Day!