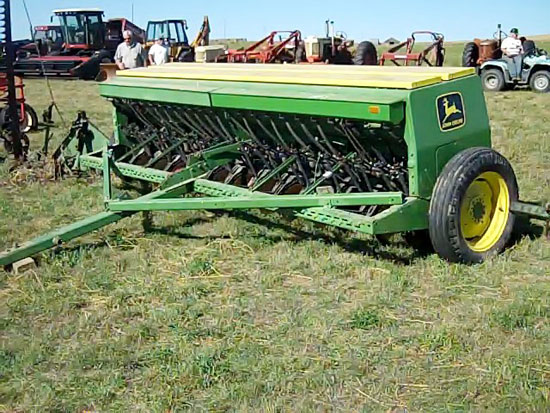 Extremely "hot" bidding on this JD 8300 drill sold last week on a farm auction in west-central South Dakota
Pete's Pick.
Every machinery auction we shoot video at, there's always one piece of equipment that for whatever reason, draws the hottest bidding action. Last Wednesday (Oct. 6th) on a farm auction in west-central South Dakota, near the town of White Owl, that one "hot" item was a JD 8300 23×7 drill. It was a very nice looking drill, as you can see from the picture above. It had grass seed, double discs and had been shedded religiously and was cared for very well.
Check out the 4:12 – 5:36 segment of the YouTube video below, the section showing this JD 8300 drill selling on the auction. This is some great auction action I think. Rapid fire bidding that goes and goes. But I wasn't surprised by the hot bidding or the strong final sale price. Nice condition JD 8300 drills have been sought after items on the used market for the last couple years.
In fact, I covered a farm auction in southeast Minnesota on September 25, 2010 that had a nice JD 8300 drill. Here's a picture of that drill: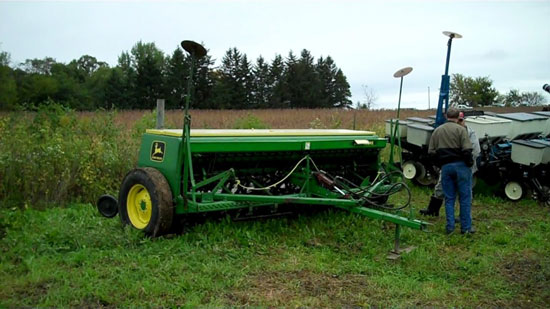 JD 8300 drill sold on September 25, 2010 farm auction in southeast Minnesota
This John Deere 8300 drill sold for the exact same money as the 8300 sold on the South Dakota auction in the video, $3,500.
The highest auction sale prices I've seen on John Deere 8300 the last five years?
$5,500: JD 8300 sold 2/13/10 sale in east-central MN
$5,500: JD 8300 sold 5/9/09 sale in east-central IA
$6,000: JD 8300 sold 3/1/08 sale in west-central MN
$6,000: JD 8300 sold 4/8/05 sale in north-central CO
About Machinery Pete: Greg "Machinery Pete" Peterson has been working in the agricultural industry for 21 years and details agricultural equipment prices and trends at his website, Machinerypete.com. Greg also writes columns for Successful Farming magazine, Implement & Tractor magazine, Agriculture.com web site and also appears on the Machinery Show on RFD-TV.