According to the John Deere Company annual financial report, the retail and industry value of John Deere agriculture equipment saw continued increases in 2012. John Deere new and used farm equipment that saw the strongest growth rate in value and sales included utility tractors, row-crop tractors, 4WD tractors, and combines.
New Utility Tractors: John Deere's utility tractors are a tried and true agriculture favorite because of their ability to complete virtually any job. This year, Deere is releasing the 5E series utility tractors that are "reimagined, redesigned, and reborn…to work."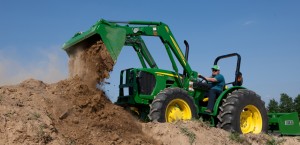 Used Utility Tractors:  All Deere equipment is built to last; the dependability and strength of John Deere utility tractors does not depreciate with the release of new models. Eighty-two year-old Albert Groeneweg sold his 1966 John Deere 2510 diesel, power shift, utility tractor for $14,500 at an Iowa auction in 2012.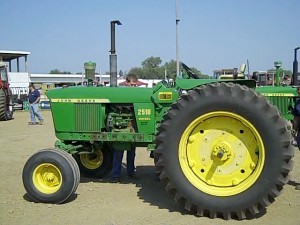 New Row-Crop Tractors: This year's John Deere row-crop tractor is the 6M series; a model that is suited for baling hay, removing snow, and commercial mowing. The versatility of the 6M series ensures it will fit every agriculture need.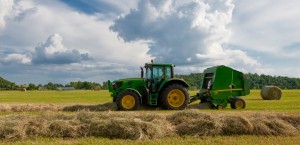 Used Row-Crop Tractors:  The versatility, productivity, and reliability of Deere row crop tractors are what have kept them as consumer favorites in used farm equipment sales. A 2007 John Deere 8330 row-crop tractor with 850 hours sold for a new record high auction sale price of $167,000 at a Minnesota auction.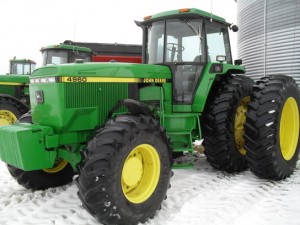 New 4WD Tractors: 2013 will be the year John Deere releases its largest tractors yet with the 9R Series 4WD tractors. These machines come with 360-560 hp engines and improved versatility to effectively conquer the biggest jobs.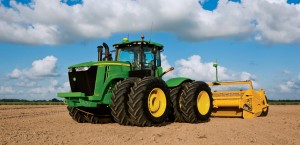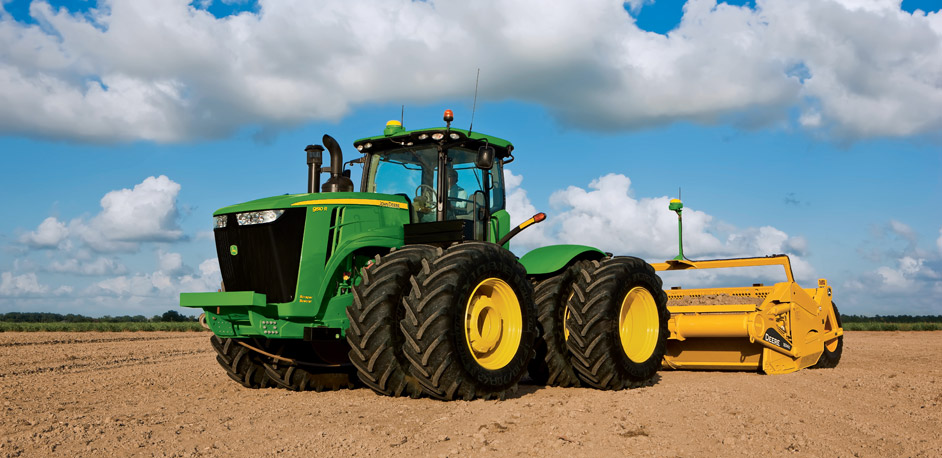 Used 4WD Tractors: Data from MachineryPete.com gives a look at how steadily the value of used John Deere 4WD tractors has been increasing over the past two years. In a 2012 post, Machinery Pete reported that a 2000 John Deere 9300 with 4169 hours sold for $127,500 in Alberta, Canada.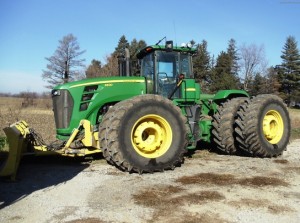 New Combines: The new John Deere S-Series combines feature the perfect balance of front-end equipment and machine power. The new design of these combine models guarantees less time spent in the field, better grain quality, improved cab comfort, and quick response to changing crop conditions.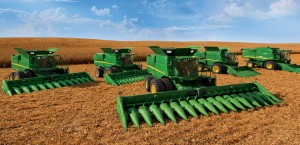 Used Combines: A collection of old John Deere combines at a Virginia farm drew the interest of farmers from Liberia. Machinery Pete expects to see an increase in the collection of old combines among U.S. farmers, along with an increase in international sales to foreign farmers looking for used combines in "good" condition.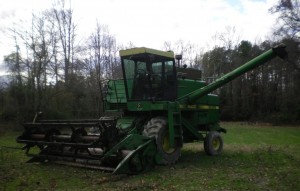 These machines have been modified year after year in the continued efforts toward making agricultural tasks less strenuous and more productive for the user. The four categories of new and used farm equipment have continually proven to be some of the most popular and reliable machines John Deere offers. We see no indications that the retail value of these machines (new and old) will do anything but continue to grow.
If you enjoyed this post, check out more like it on our Facebook page!
You might also like: