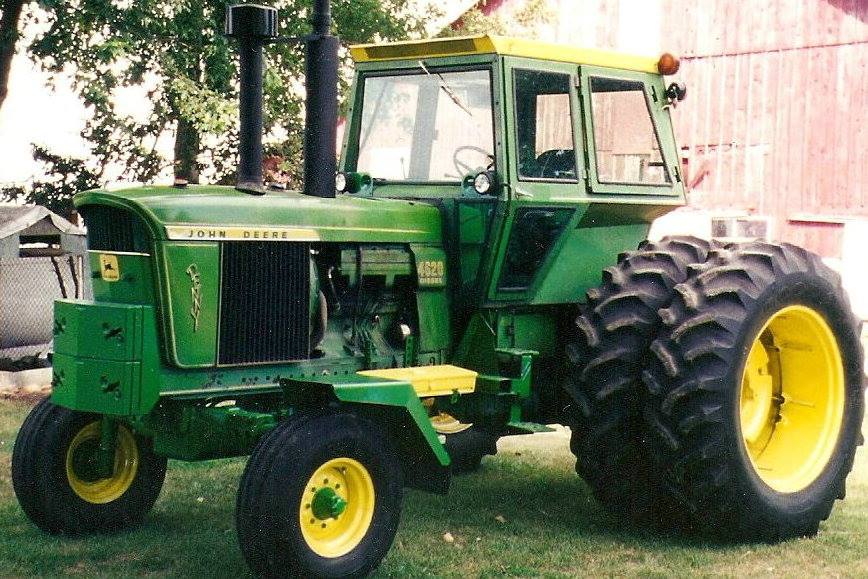 Ben Donovan, of Illinois, reached out to Machinery Pete for help in finding a special tractor
"Pete, can you help?"
I got quite an interesting message from a follower of our Machinery Pete Facebook page recently. Ben Donovan, from central Illinois, reached out wondering if I could possibly help him find the 1971 JD 4620 tractor his grandfather Jim Donovan of Heyworth, IL bought new from Arends John Deere dealership in Melvin, IL 42 years ago (see picture above). Here was Ben's note to me:
"Machinery Pete, My name is Ben Donovan, I live in central Illinois, and in March 2000 my grandfather passed away, and in August 2000 we had his farm sale. My grandpa had a few John Deere tractors that he farmed with and on the front of each he had pinstriped each one of his boys' name. This is a picture of the 1971 John Deere 4620 it has my dad's name Denny painted on the front.
My grandpa bought the tractor new from Arend's John Deere in Melvin, IL. My dad farmed with this tractor as well, but in 2000 our farm sold and we moved to town, so we had no use for the tractor and it ended up selling on the farm sale. We never knew where the tractor went. Since then my brother has bought a 40 acre farm and we decided we would like to track the tractor down. I looked back through pictures from the farm sale and found a picture of the gentleman who bought it and I tracked him down but I was too late he had sold it a few years earlier. He didn't know the name of the guy he had sold it to, he just said it went up north to northern Illinois somewhere.
My brothers and I collect and restore 2 cyl. John Deere tractors and machinery, but we would love to track down the tractor our dad farmed with when he quit farming. I don't know if the tractor has been painted since it sold and I have no idea of the serial number. I just thought that someone like yourself who is constantly traveling to different farm sales and consignment sales could help keep an eye out for it. My brothers and I would love to find it for him. If you could keep an eye out for it on your travels I would greatly appreciate it."
Wow, cool history on the JD 4620 with Denny's name on the front.
I messaged back to Ben looking for some more info on his grandfather. Here was Ben's reply:
"His name was Jim Donovan, he was an auctioneer and lived and grew up just east of Heyworth, IL. The tractor was sold to a gentleman just south of Chestnut, IL and that is where my trail ends. If I only knew the serial number of the tractor it would make the search a lot easier. My grandpa had some work done to the tractor in 1999 before he passed. I'm not sure if the John Deere dealership where he bought it and he always had it worked on (Arends in Melvin, IL) would still have any record on it and if they would have the serial number?"
"I know every young man would love to have the tractor their father grew up on, but it's a matter of how far are you willing to go to find it. Every time I am away from home and see a 4620 I go out of my way to stop and see if just maybe it's the one I am looking for. I would appreciate any type of help Pete."
Ben is one devoted son and grandson. Stopping, looking, searching for this piece of special green family history out of love.
Anyone out there by chance know anything about a 1971 John Deere 4620 tractor in northern Illinois with "Denny" written on the front?
About Machinery Pete: Greg "Machinery Pete" Peterson has been working in the agricultural industry for 21 years and details agricultural equipment prices and trends at his website, Machinerypete.com. Greg also writes columns for Successful Farming magazine, Implement & Tractor magazine, Agriculture.com web site and also appears on the Machinery Show on RFD-TV.
You might also like: