2013 was filled with exciting news in the agriculture industry, from technological advancements to worldwide events and happenings.
Since it may be difficult to recall the biggest stories of 2013 pertaining to John Deere and the agriculture industry as a whole, we have put together a list of ten of the most popular agriculture news stories from 2013. Enjoy!
2014 John Deere Product Introductions Aim to Deliver Distinctive Customer Value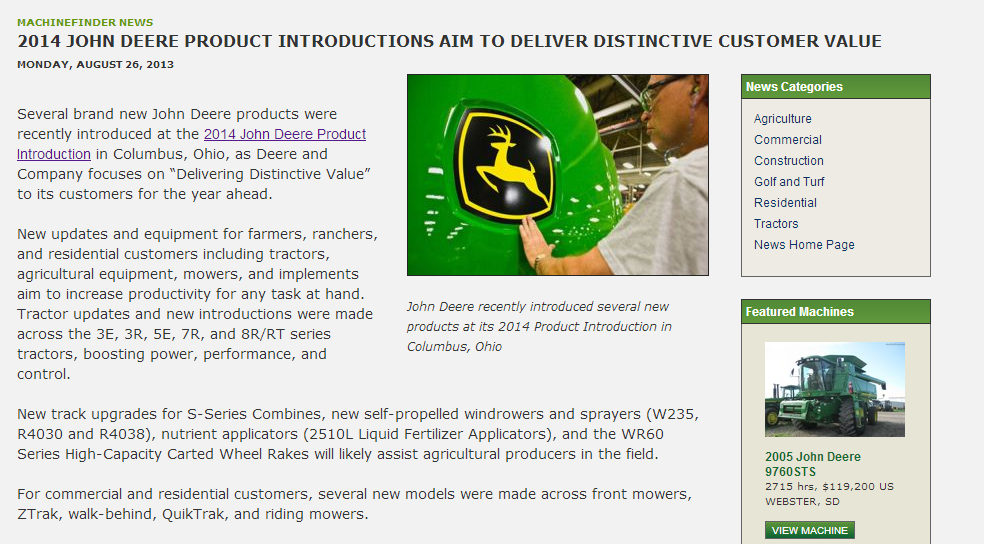 John Deere introduced several new products and technologies at the 2014 John Deere Product Introduction in Columbus, Ohio, announcing a focus on "Delivering Distinctive Value" in 2014.
National Farm Machinery Show 2013 Attracts 300,000 Visitors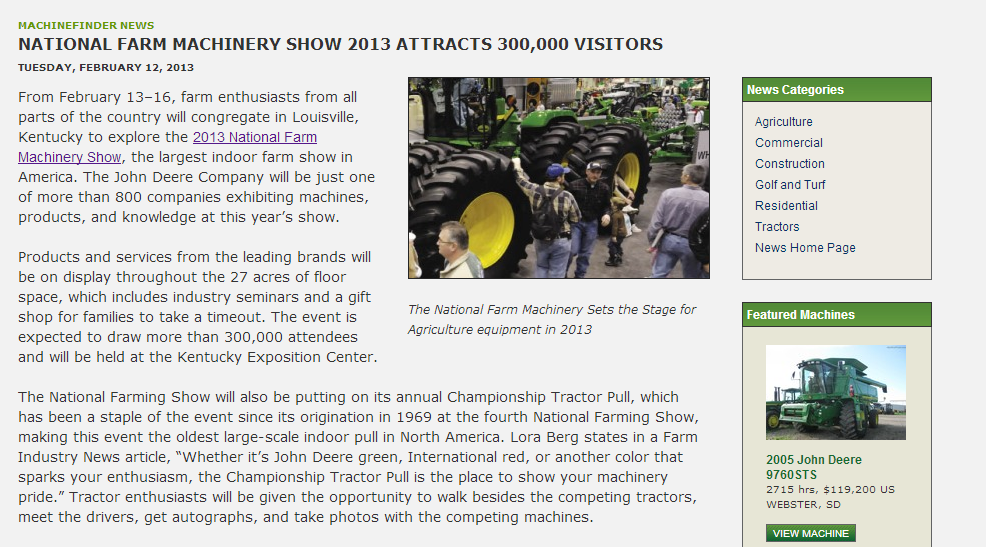 The 2013 National Farm Machinery Show, known as the largest indoor farm show in America, attracted more than 300,000 attendees at the Kentucky Exposition Center. John Deere was among more than 800 companies exhibiting machines, products, and knowledge at this year's show.
Rantoul, Illinois Half Century of Progress Show to Exhibit Vintage Farm Equipment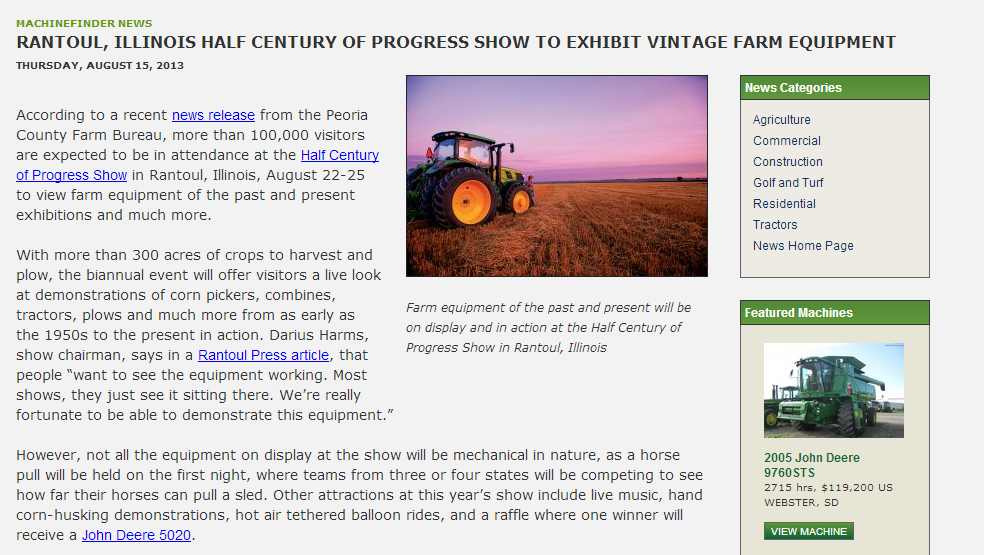 More than 100,000 visitors were expected to be in attendance prior to the Half Century of Progress Show in Rantoul, Illinois, where attendees had an opportunity to view farm equipment of the past and present, exhibitions and much more.
Used Farm Machinery Market Increasing Over Last 10 Years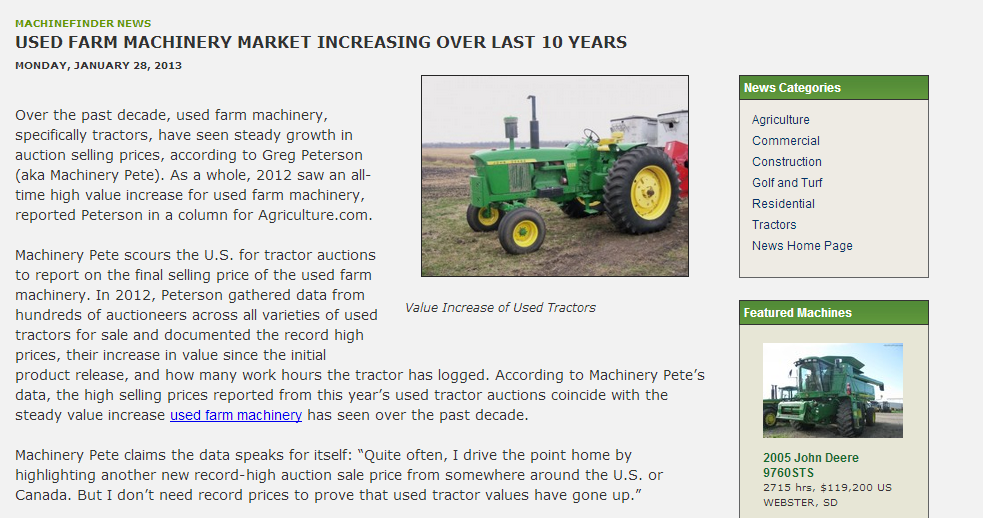 This article shows throughout the past decade, used farm machinery, specifically tractors, has seen steady growth in auction selling prices across the United States.
John Deere Receives Gold and Silver Awards at 2013 AG CONNECT Expo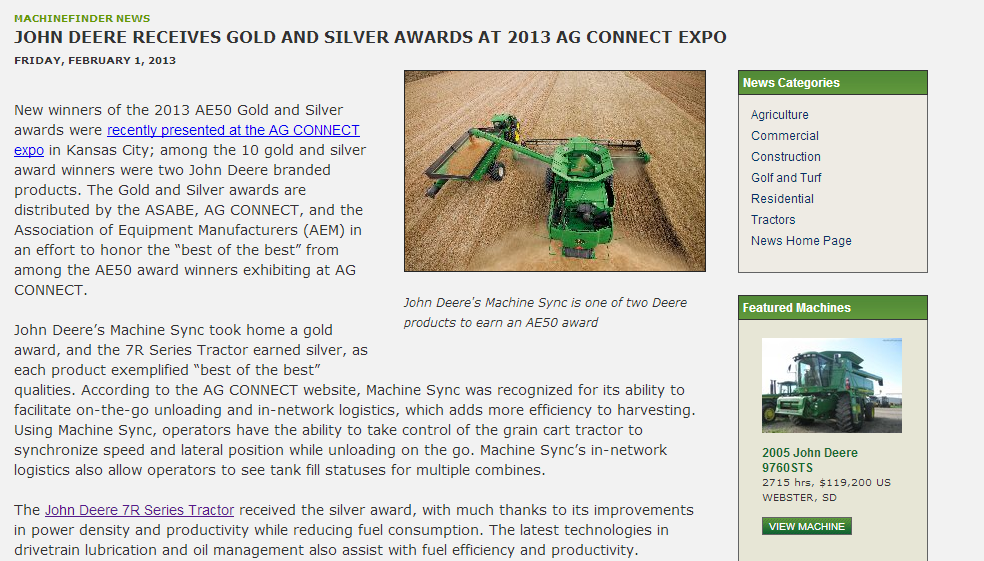 John Deere's Machine Sync and 7R Series Tractor were both recognized as award winners at the 2013 AG CONNECT Expo for exemplifying "best of the best" qualities.
2013 Antique Tractor and Engine Show Celebrating 25th Anniversary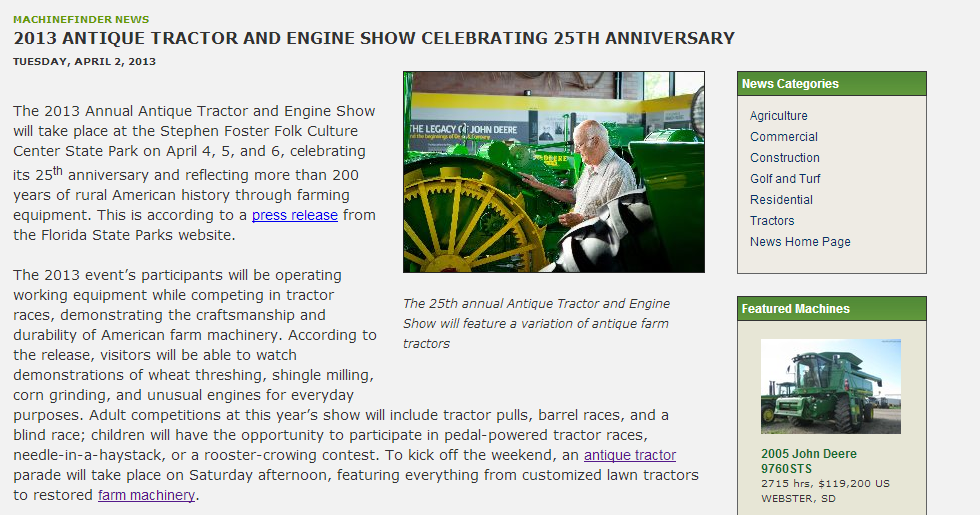 The 2013 Annual Antique Tractor and Engine Show marked the show's 25th anniversary, reflecting more than 200 years of rural American history through farming equipment.
Restored John Deere 4020 Centerpiece of "Gold Rush" Auction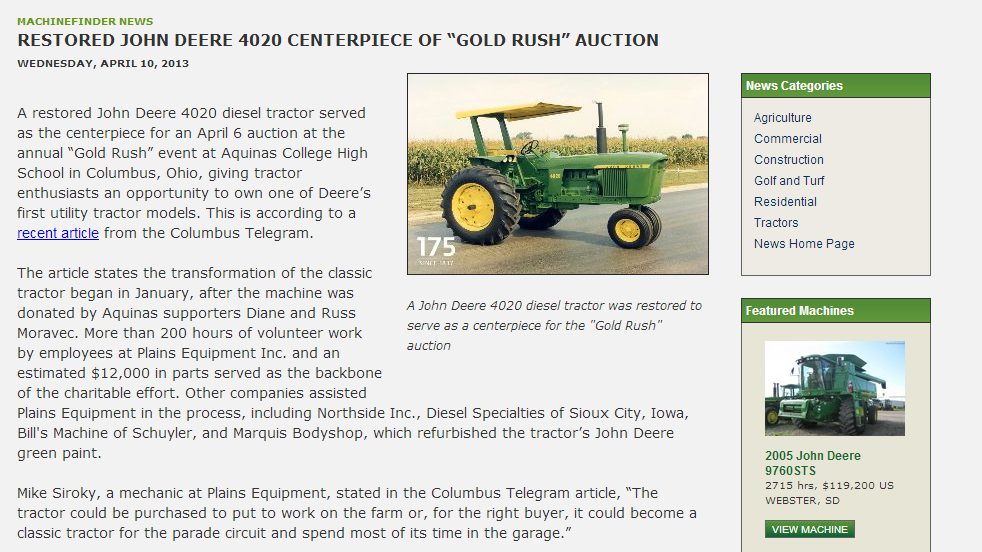 A restored John Deere 4020 diesel tractor served as the centerpiece for an auction at the annual "Gold Rush" event at Aquinas College High School in Columbus, Ohio, giving tractor enthusiasts an opportunity to own one of Deere's first utility tractor models.
John Deere among More than 600 Exhibitors at 2013 Farm Progress Show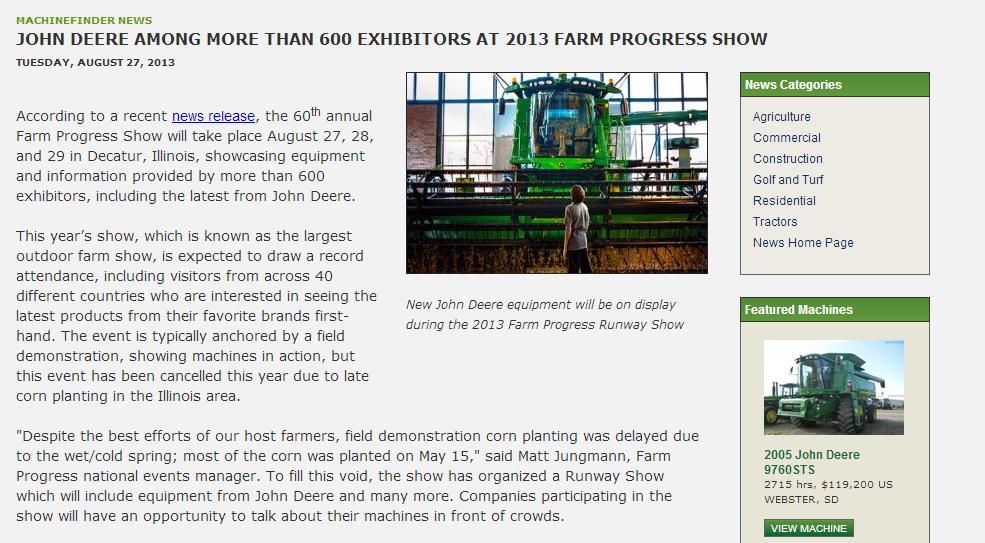 John Deere showcased products and information, joining more than 600 exhibitors at the 60th annual Farm Progress Show in Decatur, Illinois.
Long Term U.S. Agriculture Outlook Optimistic as Drought Lessens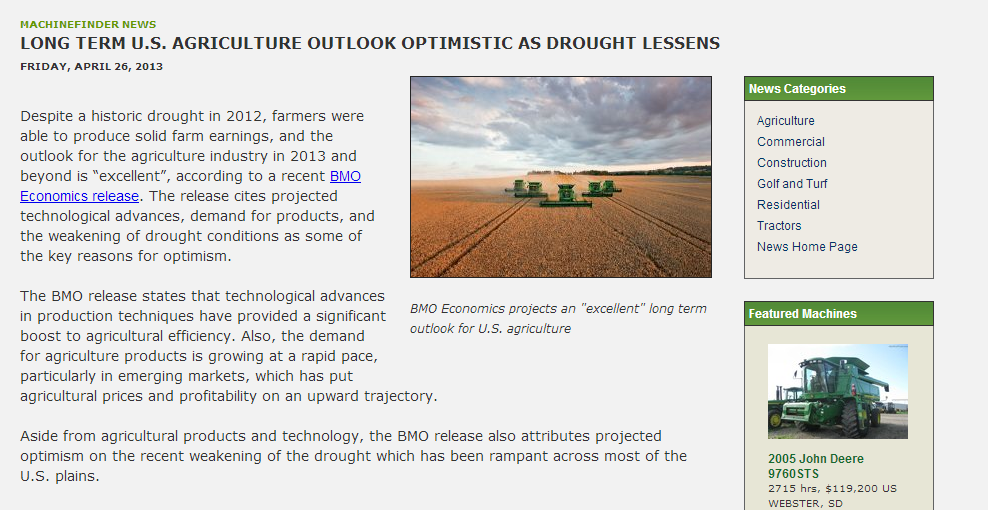 A BMO Economics release indicated despite a historic drought in 2012, farmers were able to produce solid farm earnings, and the outlook for the agriculture industry in 2013 and beyond is "excellent."
Farming with Technology: Mobile Devices Keep Farmers Connected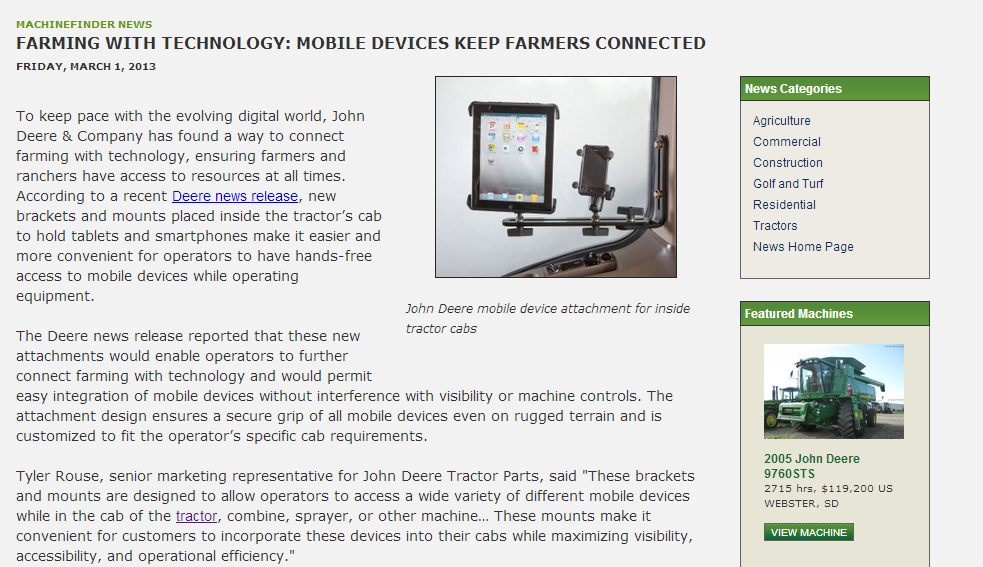 Adapting in conjunction with the digital age, John Deere announced it had added new brackets and mounts placed inside the tractor's cab to hold tablets and smartphones. These brackets are designed to make it easier and more convenient for operators to have hands-free access to mobile devices while operating equipment.
We can't wait to see what 2014 has in store for the agriculture industry! We hope this post provided a nice snapshot of the latest John Deere and general agriculture happenings in 2013.
Be sure to check out the MachineFinder news page for additional stories and as always feel free to connect with  us on Facebook or Google+!