The hottest collector tractor?
Ask me and I'd tell you it just may be the John Deere 6030, made by Deere from 1972-1977. Confirmation came last month at a tractor collector auction in Wesley, IA. This sale by Ryerson Auction & Realty featured (2) JD 6030's. A restored 1975 model 6030 sold for a record high auction price of $40,000. I caught up with my auctioneer friend Gene Ryerson the week after for a video interview (click on video above).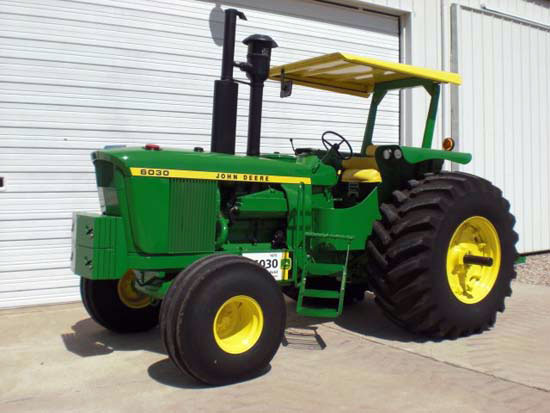 The Wesley, IA auction November 13, 2010 featured a few other very nice Deere tractors:
* 1971 JD 4020 with only 2,987 hours
* 1968 JD 4020 with 5,200 hours & JD 58 loader
* 1972 JD 4320 with 2,700 hours
Also on the auction was a cool restored 1968 Chevy pickup and a 1926 Ford Model T "Rat Rod" car. Check out the video to see what all this stuff sold for.
About Machinery Pete: Greg "Machinery Pete" Peterson has been working in the agricultural industry for 21 years and details agricultural equipment prices and trends at his website, Machinerypete.com. Greg also writes columns for Successful Farming magazine, Implement & Tractor magazine, Agriculture.com web site and also appears on the Machinery Show on RFD-TV.
You might also like: