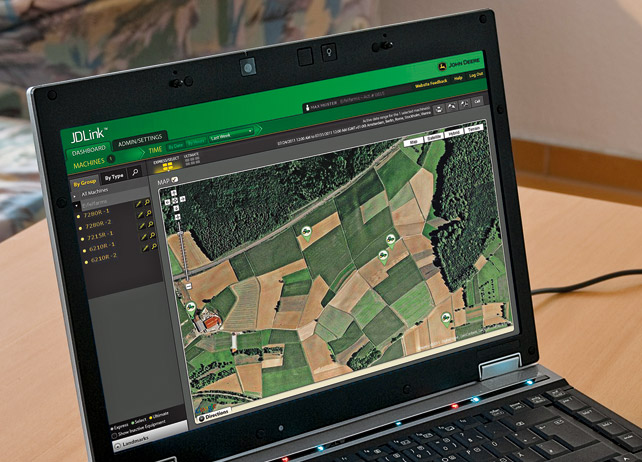 John Deere has always been at the forefront of technological innovation in the agricultural industry, and with its recent investments in technology to help farmers increase their productivity and efficiency, it has succeeded in advancing the sector.
According to Crop Life, the JD Link was one of the 10 best mobile apps for the agricultural sector in 2012, as the program helps to improve the efficiency and ease for farmers and their day-to-day operations.
The news source reported that this equipment manager app from John Deere is a telematics system that is designed to remotely connect managers and owners with their equipment. This helps to provide alerts and machine information that include location, utilization, performance and maintenance data to oversee where and how farm equipment is being used.
In layman's terms, the application allows a user to be the overseer of their equipment from afar, as they can gain a high-altitude perspective of their entire fleet of vehicles. It improves machine efficiency, sends reports via digital cellular technology, tracks machine locations and hours and streamlines logistics.
Key features of the JD Link system include functions that monitor the machine health and extending the life of farm equipment due to preventative maintenance. This means that farmers and construction crews will be updated with measures of how their tractors and dozers are doing, and if there is a problem, where and how it should be addressed will be outlined.
This is done through a simplified maintenance scheduling and documentation system, as the owner will have access to tools that will increase the ease with which users can find dealers and repair their vehicles.
Efficiency is also increased, due to the alerts that are given by the JD Link, as users are notified when there machine is wasting energy and when it is potentially in downtime.
The tracking of efficiency is also something that is helped by the JD Link's documenting of machine and operator productivity, as it highlights where time and resources can be saved through the identification of waste.
There is a customizable component to the technology, as it issues special alerts to notify customers if equipment moves outside pre-set boundaries. This makes life easier for anyone who is using farm, construction or forestry equipment.
You might also like: