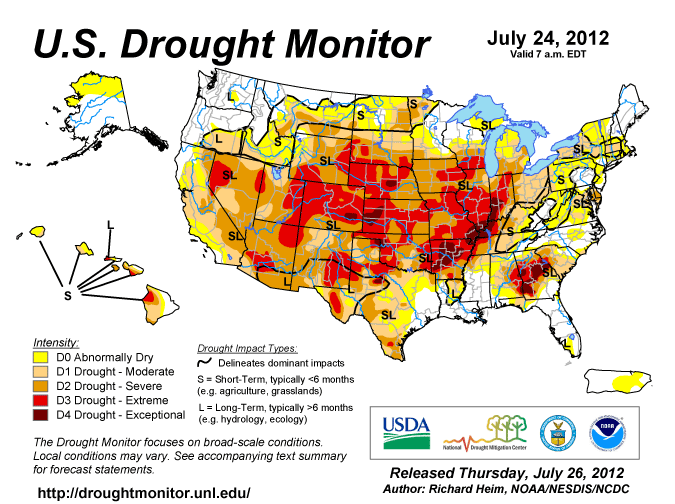 The U.S. agricultural industry is facing the worst drought that the country has seen in over 50 years, according to the New York Times, and farmers and commodity traders have looked to new ways to weather the proverbial storm, or literally, the lack thereof.
According to the newspaper, the drought that has settled over more than half of the continental U.S. is the most widespread of its kind in more than half a century. Though optimistic industry veterans hope for rain, the majority of forecasters do not see a reverse of the current situation in the near future.
Legislators from across the country have noted the unprecedented nature of this storm, which may actually get worse in the coming weeks unless tropical activity in the Gulf of Mexico and the Southeast brings rains to the U.S.
"It really is a crisis. I don't think we've ever seen anything like this in my lifetime," Governor Pat Quinn of Illinois said after touring struggling farms in the southern part of the state.
While the lack of rain is expected to have a negative impact on the harvests of 2012, Reuters reported that farmers are doing better in preventing huge losses than they did in similar situations in the past.
According to the news outlet, stronger insurance programs are going to prevent significant drops in production revenue for farmers.
"The farm economy is much healthier than it was in 1988," said Dave Miller, director of commodity research for the Iowa Farm Bureau. "We were coming out of the farm crisis. You had an extended period of low prices for grains, particularly 1985, '86, '87. There was severe financial stress in the ag economy and land prices that had plummeted about 60 percent in many of the Midwest areas. It's much different today."
The drought that hit Texas in 2011 did not significantly impact the profits of farmers in the region, as the pasture and crop losses did not translate into red on revenue sheets. The success seen in the agricultural industry over the past year could help to limit the damage for farming operations.
"We had just come through a devastating economic blow and came up with a short crop," said Miller. "The difference now is this crop is coming on the heels of some of the best times agriculture has ever seen."
Photo Courtesy Of: droughtmonitor.unl.edu
You might also like: