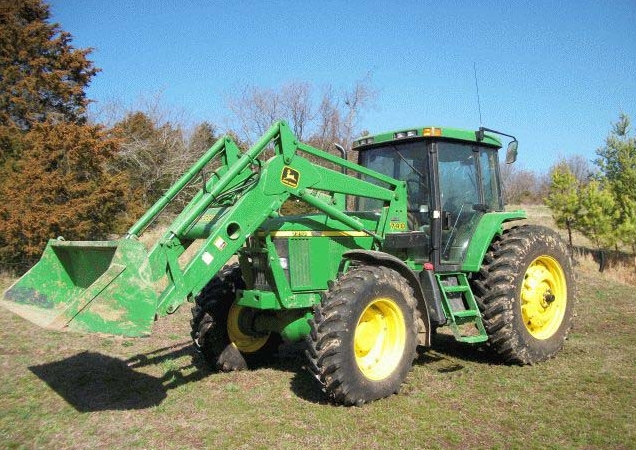 This 1999 John Deere 7210 tractor with only 127 actual hours on it will be sold on a May 28, 2012 farm retirement auction in Chamois, MO.
Every tractor has a story behind it.
Quite a tale behind the 1999 John Deere 7210 tractor up for sale on a Chamois, MO farm retirement auction this Monday, Memorial Day, May 28, 2012. This tractor only has 127 actual hours on it! 13 years old and hardly used at all. I posted a note about this tractor and auction on my Machinery Pete Facebook page early last week and a few folks posted back wondering…
Why the super low hours? Can that really be correct?
Like I said, every tractor has a story behind it. I got the scoop on this 1999 JD 7210 tractor with 127 hours from the owner, Dale Cramer. Dale posted a note on my Facebook page and filled in the story on the tractor:
"I am the guy that owns the 1999 7210 JD with 127 actual hours, so let me explain the situation. My brother (Kenneth) and I were partners in a farming operation. I became ill and received a heart transplant in 1997. My brother continued farming and he wanted to trade in an older model JD tracor and loader for this new one. We trader with Steve Bockting of what was then L&S Equipment in Hermann, MO. Shortly after that Kenneth became ill and wasn't able to carry on by himself, so our operation was rented out, hence we didn't use the machinery anymore. We did liquidate the bigger tractor, combine and other smaller equipment, but kept the remaining equipment. Kenneth passed away last July and that is why I am having this sale."
15 years with a heart transplant. Wow. I have lived in Rochester, MN since 1989 and wondered if Dale had his heart transplant done at the Mayo Clinic.
"My transplant was on April 4, 1997 which will make the transplant 16 years next April. The transplant was done at the University of Missouri Hospital in Columbia Missouri. I was very sick and waited in the hospital from January until the date of transplant. I was the 68th transplant and they quit doing transplants a couple years later after they did the 115th. The reason they quit was because they were not doing enough. I am very grateful for the transplant and thank God throughout every day for the life I enjoy now. After surviving cardiac arrest in the VA hospital earlier, I felt that I knew God very well."
So quite a story behind this tractor indeed.
As I've been writing & blogging about for some time now, the market for very good condition used tractors has been "red hot", so it stands to reason that this exceptionally low hour, like new, 1999 JD 7210 tractor could well set a new record high auction sale price.
The current record sale price was set just two months ago, on a March 24, 2012 farm auction in south-central Minnesota where a 1998 JD 7210 2WD tractor with 619 hours sold for $59,750. I was there covering that auction and shot video for our Machinery Pete Youtube channel. Below is the video. Before the JD 7210 sells for $59,750 I show another record high auction price on that auction…on a 2WD JD 4455 tractor:
The JD 7210 sold for $59,750 on the 3/24/12 south-central Minnesota auction was a 2WD, 1998 model, had 619 hours and sold with no loader. Dale Cramer's JD 7210 selling this Monday on the Chamois, MO farm auction is Mechanical front-wheel assist, 1999 model, has just 127 hours and sells with a JD 740 loader.
This should be interesting. How high do you think it will sell? I hope to have Youtube video footage of the JD 7210 selling on Monday's auction. Here's a link to the auction sale bill, lots of other nice equipment on this auction:
http://wheelerauctions.com/main/Auctions/20120528Cramer/20120528Cramer.html