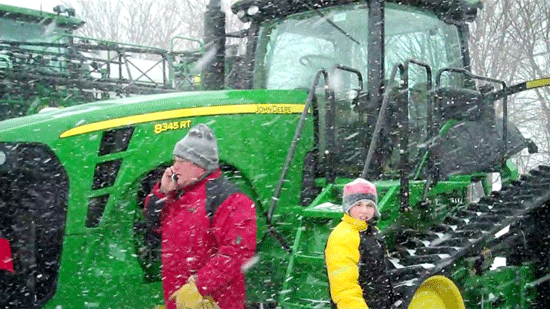 November 11, 1940. October 31, 1991. Now December 11, 2010.
Three of the most famous blizzards in Minnesota history. Last Saturday's storm was a doozy. But I had a blast covering a late-model farm machinery auction in Fairmont, MN. The sale went on despite the trying conditions. Hearty folks showed up, plus a heavy internet bidding crowd made for a very successful farm sale.
The blizzard conditions certainly made for some "interesting" video. Here's a clip I shot of the 2010 JD 9770 STS combine with 258 engine hours selling on the sale:
About Machinery Pete: Greg "Machinery Pete" Peterson has been working in the agricultural industry for 21 years and details agricultural equipment prices and trends at his website, Machinerypete.com. Greg also writes columns for Successful Farming magazine, Implement & Tractor magazine, Agriculture.com web site and also appears on the Machinery Show on RFD-TV.