On the "big day" you want everything from the ceremony to the transportation to the food to represent you and your new spouse. During wedding planning season, it's common to see the personalities of both the bride and groom shine through the themes, colors, location, and styles they decide on. So how about finding a way to incorporate a love of John Deere into that special day? That's just what the couples featured in this post have done!
The subtle approach for many of these newlyweds started with the outdoors, often in a field or barn, to give the sense of being on the farm. The couples gave their guests a vision of shiny yellow heels and yellow roses combined with fresh green leaves to boast the famous John Deere colors. Many chose corsages with a soft green tint to match the green ties and socks and took photos next to tractors.
The bridal party women found themselves in soft yellow gowns with a lime green sash and the men wore suspenders with the Deere logo. At the receptions, some couples chose place settings and centerpieces mixed with green and yellow; some left a small John Deere toy tractor as party favors. The finishing touch? John Deere green and yellow confetti thrown by the wedding guests as the bride and groom left the reception!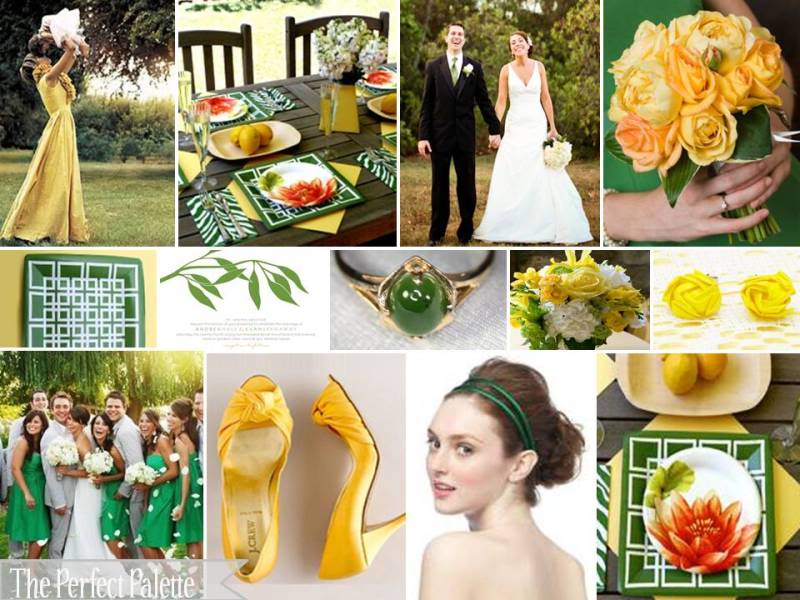 For couples who prefer to shout their John Deere love from the rooftops, a more assertive approach was taken when implementing the green and yellow into their wedding day.
These newlyweds wanted to express their devotion to each other along with their devotion to John Deere. Some brides wore a bright yellow tulle skirt under their gowns and had their bridesmaids wear yellow dresses decorated with little green tractors. For the grand entrance into the ceremony, brides rode a tractor down the aisle to meet their groom. Even the ring bearers and flower girls got to ride in on toy tractors for some weddings.
At the reception, many couples chose dazzling green and yellow tablecloths and chair covers. The cakes were complete with John Deere logos, tractors, ribbons, and the obvious yellow and green frosting. No guest left these weddings wondering what this couple loved the most (next to each other, of course!).

Whether you can't contain your John Deere passion or you prefer a more subtle approach to incorporating Deere into your special day, there are thousands of ways to make it work. This is YOUR day, one you will remember for the rest of your life, so if it's a green aisle runner you want then make it happen! One hundred and seventy-five years ago, John Deere probably didn't even consider the impact he would have on so many people, especially on their wedding days!
If you enjoyed this post, check out more like it on our Facebook page!
You might also like: