The John Deere Gator HPX 4×4 isn't called a high-performance vehicle for nothing. The Gator has a wide range of uses, encompassing everything from lawn care to off-roading to military use.
Here are 15 incredible ways the John Deere Gator HPX 4×4 stands apart from the competition.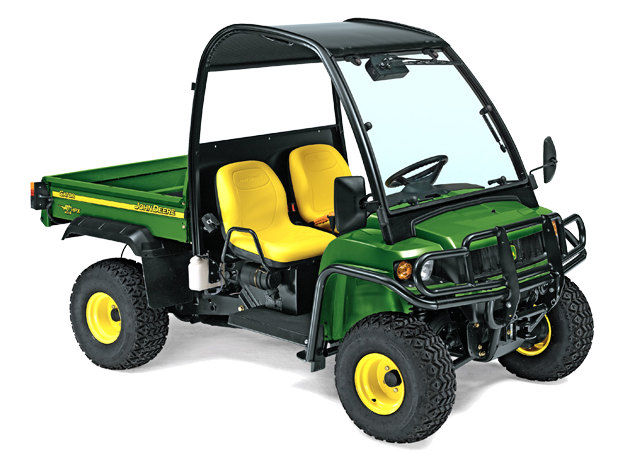 1) Made for Heavy Duty Use
The HPX was introduced in 2004 and had a much heftier towing capacity than the original Gator. This gator is meant to carry everything from heavy logs and debris to camping or golf gear, so load up the bed with whatever you need and take off!
2) Smooth Sailing
In actuality, we're referring to "smooth driving." Thanks to the HPX's Smooth Steer Technology, when you're navigating bumpy terrain, the only thumps you'll feel are the ones your gator is bounding over.
3) Storage
The John Deere Gator HPX 4×4 has a cargo box that's perfect for transporting everything from cinder blocks and bricks to the stumps you pull out of the ground. The cargo box includes a strong durable design—it can be manually tilted upward should you need to unload it or reach the drive system—and it has a tailgate with a latch for ease of use when unloading materials.
4) Four Wheels Work Together
Part of the reason the gator works so well on tough terrain is due to its "On-Demand" four-wheel drive system. If one of the rear wheels begins to slip, the four-wheel drive system will sense this and engage both of the front wheels.
5) Heavy-Duty Power
The HPX 4X4 is powered by a 21-hp, 617-cc, twin-cylinder, liquid-cooled, four-cycle gasoline engine. This newer and larger engine is even quieter than ever before.
6) Steady and Stable
As you're bounding up the side of a mountain, you need not worry about the stability of this vehicle. The HPX 4×4 has a very low center of gravity; pair that with a wide wheelbase and you have yourself one steady machine.
7) Stop on a Dime
When you've finally climbed to the top of a mountain or hauled all those cinder blocks to your desired location, you can be sure you come to a safe and secure halt. The HPX 4×4 features enhanced all-wheel hydraulic disc braking with a dual master cylinder as well as larger calipers than before for added stopping power.
8) Use It With Ease
John Deere designed the HPX Gator so you could get the most out of the machine by doing the least. With this gator, you have a smooth operation with all the controls at your fingertips. Each control is even color-coded to ensure that there is no confusion about which button you need to press.
9) Resilience
Whether you're hauling cinder blocks or going muddin', you can rest assured you're operating a resilient machine. The HPX's frame boasts hydroformed steel and has fewer welded or bolted joints; its design gives it a high tolerance and maximum durability.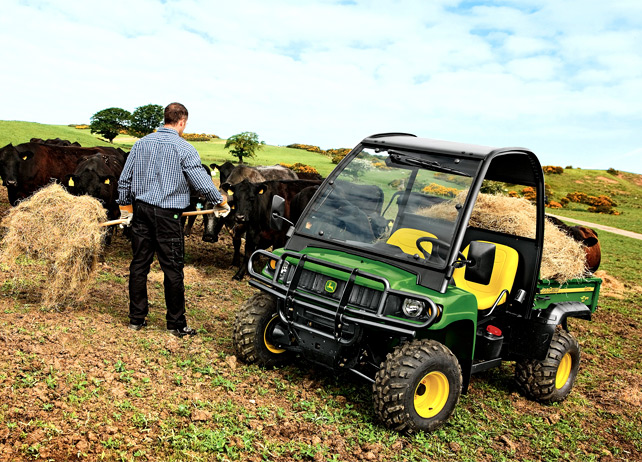 10) Safety in Numbers
By "safety in numbers," we mean this machine is packed full of safety precautions. A ROPS (roll over protection structure) canopy and a three-point seat belt are included to keep you safe while you bound over rocky hills and pull up stumps.
11) Versatility
Many attachments are included in the HPX 4×4; you can use your gator the way it comes, or beef it up with everything from different tires for different terrains to a bed liner that can protect your cargo box.
12) Cruise Around in Style
This gator mixes function with fun! With a bed in the back for loading up all your gear and protective glass in front that curves back into the hood, you can look good and feel safe as you cruise around in style.
13) Capable Yet Comfortable
Two seats in a spacious cab make the HPX a comfy machine. A windshield and ROPS canopy in addition to open doorways means you're able to enjoy the fresh air without getting too much wind in your face.
14) Suspension
It doesn't matter whether you're carrying a full load or traveling completely empty. This gator has four-wheel suspension that will cushion you no matter the conditions you find yourself traveling in.
15) Quality
As with any Deere product, quality is ensured to you with the HPX 4×4. Quality means perfecting every detail, which includes everything from the materials used to construct this machine (e.g., the steel used for the frame and high-density polyethylene for the bed liner) to the care and assurance that is offered to you after you own the vehicle.
The John Deere Gator HPX 4×4 is a multi-faceted utility vehicle. Whether it's scaling mountains, hauling large loads, or traversing a golf course, this gator is made to fulfill your safety, comfort, and productivity needs in one compact, durable machine. When it comes to getting the job done right, the Gator HPX outperforms the competition, every time.
If you enjoyed this post or want to read others, feel free to connect with us on Facebook, Twitter or Pinterest!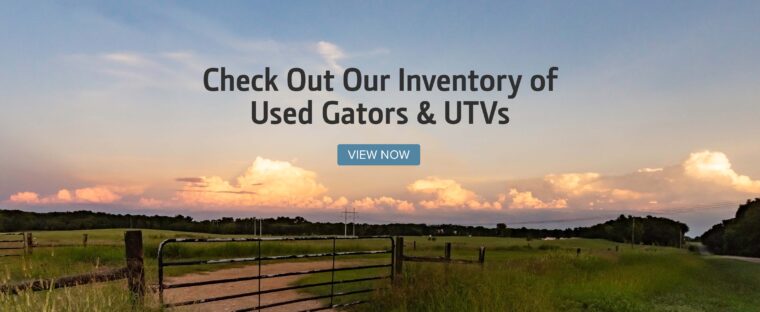 You might also like: