A tight budget does not have to be the difference between purchasing a piece of John Deere machinery and not. With products like the John Deere 2210, customers can have the machinery they need for their tasks without breaking the bank. The John Deere 2210 is not only affordable, but powerful and versatile as well.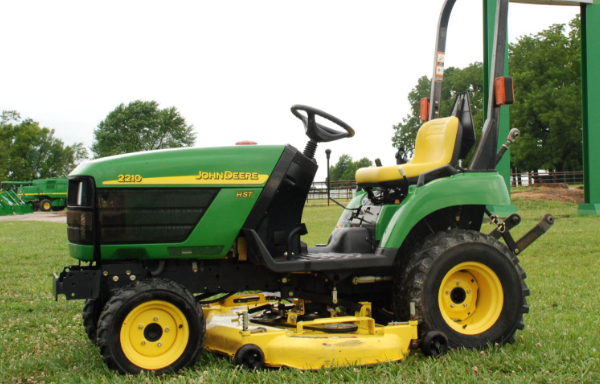 Let's take a look at some of the features of the John Deere 2210.
Three-Cylinder Engine
The 2210 has a three-cylinder engine with 23 gross horsepower, meaning operators don't have to worry about tough tasks on the job. The engine was specifically developed to meet Tier I EPA regulations, and it has a full-pressure lubrication system to provide filtered oil under pressure. It also utilizes a pre-combustion chamber for smoother, quieter operation.
Power Steering
The power steering of the John Deere 2210 is hydrostatic, which means that maneuvering the machine is always smooth and steady for the operator. A hydraulic oil filter is also included in the John Deere 2210 to protect the steering system from contamination. In turn, this also extends its long lifespan.
Independent Mid and Rear PTO
The tractor's PTO is hydraulically engaged with a wet disk clutch for durability. The mid and rear PTO shafts are operated through an independent clutch, which means that they can be engaged, regardless of whether the machine is moving. Direction can also be changed without affecting PTO operation.
Hydrostatic Transmission
The hydrostatic drive unit of the 2210 works as both a clutch and transmission for easy operation. Fluid under pressure moves engine power to the drive wheels through a hydraulic pump and motor. Twin Touch foot controls allow owners to manage speed and direction without hassle. These features can be managed conveniently within reach of the operator.
Superior Brakes
The John Deere 2210 has wet disk brakes, which provide adequate stopping power and require little adjustment over time. The brake pedal is also located under the left foot of the operator. This allows the individual to use the right foot on the HST foot pedals.
Front-Wheel Drive
Mechanical front wheel drive (MFWD) comes standard on the John Deere 2210 for more strength and reliability. MFWD allows for more tractor pulling power, and it can be engaged on the go, unlike on other competitive models.
Final Thoughts
For more information about the John Deere 2210 or any other equipment, contact your local John Deere dealer.
If you enjoyed this post or want to read others, feel free to connect with us on Facebook, Twitter or Google+!
You might also like: