Agricultural professionals who are looking for a planter to tackle wide open fields may want to consider the John Deere DB90. This planter is designed to plant 36 rows at a time with 30-inch spacing. It is available with Pro-Series XP™ units, and it can be equipped with the Central Insecticide System™.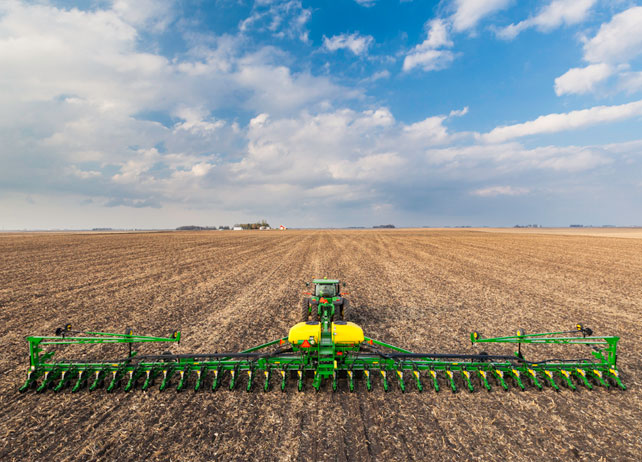 Let's take a look at some of the other highlights of the John Deere DB90.
Curve Compensation
With curve compensation, each row is handled according to its individual position. ExactEmerge™ allows the John Deere DB90 to maintain the correct population across the length of the planter. With curve compensation, there is up to 24 percent more population accuracy.
Variable Rate Drive (VRD)
Seed variable rate drive is available as a factory-installed option for all applicable John Deere planter models. With VRD, operators enjoy almost instantaneous rate changes. There is also no ramp up or ramp down of the system. Operators can easily match seed population based on different soil types or irrigation tactics.
RowCommand™
With RowCommand on the John Deere DB90, operators can easily manage seed output and reduce yield drag. RowCommand also improves harvest capabilities on all Pro-Shaft™ driven row units, as well as the MaxEmerge™ 5.
MaxEmerge 5
The MaxEmerge family of row units has more strength than the average line, and each unit has longer-wearing parts. The rows are also easier to service, which reduces downtime during critical times for growers.
SeedStar™ 3 HP
The SeedStar 3 HP monitoring system can provide operators with information on the planting process directly in the tractor cab. Planting functions are also fully integrated with AMS applications, such as the GreenStar AutoTrac™ assisted steering system and Apex™ software.
Central Commodity System (CCS™)
The Central Commodity System of the John Deere DB90 increases seed capacity, bulk fill capacity, and productivity for operators. A wide range of crops can be planted using the CCS, including corn, popcorn, sweet corn, and sunflowers. A standard fill light package is also available with the CCS for operators who work after sunset.
Innovative Central Insecticide System (CIS)
The Central Insecticide System is designed to work with Force® CS, which is an improved soil-applied insecticide, created to provide consistent performance. It can be easily handled by operators, and it leverages direct injection technology.
Active Pneumatic Downforce System
The active pneumatic downforce system is available as a factory-installed option for the John Deere DB90. It features a split rank control feature, and it gives operators separate control over the front and rear rows of the planter. Although the system is set to a 100-pound downforce at the factory, it can be adjusted to accommodate various speed conditions.
For answers to questions related to the John Deere DB90 or other planter models, contact your local John Deere dealer today.
If you enjoyed this post or want to read others, feel free to connect with us on Facebook, Twitter or Google+!
You might also like: