The John Deere 3710 Moldboard Plow is designed to tackle heavy-duty jobs in tough conditions. It can be used with a rigid or flex frame to suit operators' needs in a wide variety of cropping environments. The John Deere 3710 was also designed with high clearance in mind, meaning it can be used by operators taking on tall conditions.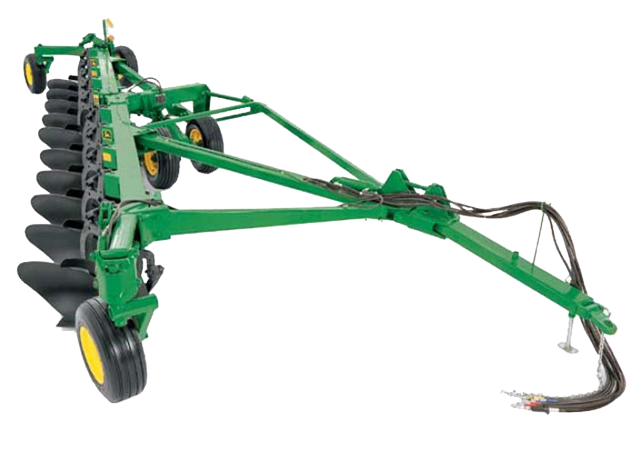 Let's take a look at some of its other top features.
NU Bottoms
This moldboard plow has NU bottoms behind the mainframe. This prevents it from becoming a pinch-point for residue. Operators can also work at speeds up to 6 miles per hour with the NU bottoms, allowing for more productivity and fuel efficiency.
Safety-Trip Standards
The safety-trip standards on the John Deere 3710 provide protection while working in areas with rocks. It can be raised to reset, and it has shim-adjustable trip force.
Flex and Rigid Options
The operator can use a rigid plow with a width-of-cut range of 356 mm to 559 mm on land. Manual adjustments can be made as needed. A flex plow can also be used, which comes with the same width-of-cut range of 356 mm to 559 mm. Adjustments can be easily made with two turnbuckles.
Scissor-Type Landing Adjustment
The scissor-type landing adjustment of the John Deere 3710 uses minimum space and has a clean design. A turnbuckle can be used to make adjustments, or a tie-bolt hydraulic cylinder may be used instead for in-furrow applications.
Walk-Over™ Land Wheels
The John Deere 3710 comes with Walk-Over land wheels, which can be easily adjusted to cater to field conditions. The wheels allow the plow to trail like a cart, distributing weight evenly and minimizing bulldozing on soft soil. They are strong enough to travel over obstacles and dead furrows while in use.
Attachment Compatibility
Several attachments can be used in combination with this moldboard plow, including trash boards, landside wedges for NU bottoms, and sequencing valves for the land wheel cylinder.
Optional Pole Hitch
The pole hitch can be used for in-furrow or on-land operations. With this addition, operators can enjoy excellent clearance in turns between the front furrow wheel and rear tractor tire. It also provides optimal turning ability and long length.
Adjustable-Force Cushion Coulters
Adjustable-force cushion coulters are available for operators who may be using the John Deere 3710 on rocky fields. These coulters provide an optimal lateral adjustment range, as well as a wide rosette depth adjustment range. They also have overload protection to prevent damage.
For more information about the John Deere 3710 or other tillage equipment, contact your local John Deere dealer.
If you enjoyed this post or want to read others, feel free to connect with us on Facebook, Twitter or Google+!
You might also like: