Whether your pasture or rangeland is short on hay for feeding due to limited resources or the cold winter months, you'll want to make sure you have some large round bales available.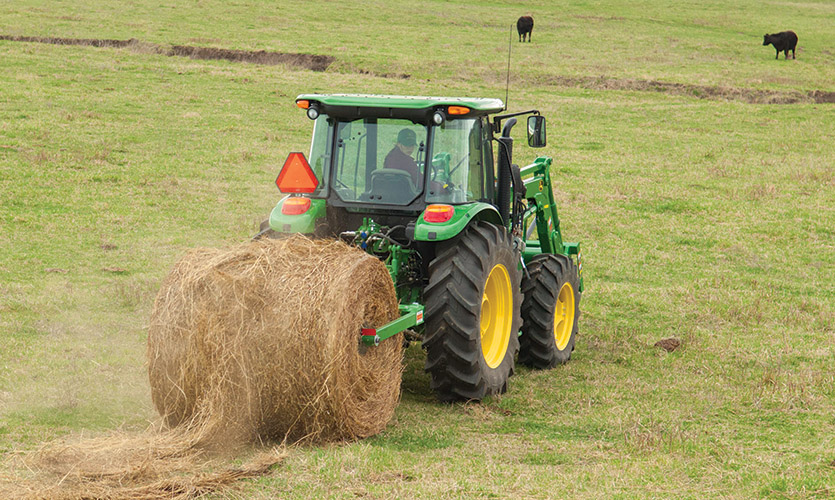 While hay bales can be used in a number of different ways, they're primarily leveraged as a resource for feeding cattle where they can't graze (barren land or inside stables and barns). To properly handle large round bales, farmers and ranchers should consider investing in a tractor, bale unroller, loader, and bale spear. With these pieces of equipment, handling the bales can be done quickly and efficiently (assuming the proper steps are taken).
With this in mind, let's take a look at some of the best practices to consider when preparing large round bales for livestock feeding.
Handling Large Round Bales: Livestock Feeders
Some people like to use a bale spear and loader to lift their round bales into livestock feeders. While this may be a popular method among ranchers and farmers, it isn't necessarily the best way to do it. By loading a bale into a feeder this way, there's a good chance you could damage the spear, loader, feeder, or all three.
Now that we know how not to handle large round bales, let's take a look at some best practices. Start by removing any type of bale wrap that may be covering the material and then set the bale on the ground. Next, lift the livestock feeder over the top of the bale that's on the ground by hand. By covering the bale with the feeder, you'll eliminate the risk of damaging your hay equipment while also getting the job done fast and easy.
How to Properly Unroll a Large Round Bale
Once again, the bale wrap should be removed before any other steps are taken. Next, lower the bale to the ground, and start unrolling. It's important to make sure the bale's positioned correctly in the unroller, with the loose end rolling off the bottom, not over the top, so it actually unrolls as the tractor moves forward.
When all of this is done, you'll be left with a nice even layer of feed for the cattle and they'll eat it up!
Contact your local John Deere dealer if you're looking for equipment to help you through the hay production process. Or, visit this page for more information about handling large bales.
If you enjoyed this post or want to read others, feel free to connect with us on Facebook, Twitter or Google+!
You might also like: