When you're on the hunt for new hay and forage equipment to help you out in the field, you know you can rely on John Deere to provide you with all of the machinery you require. Whether you need a wheel rake or a bale wrapper, Deere has the piece you need to ultimately boost your efficiency.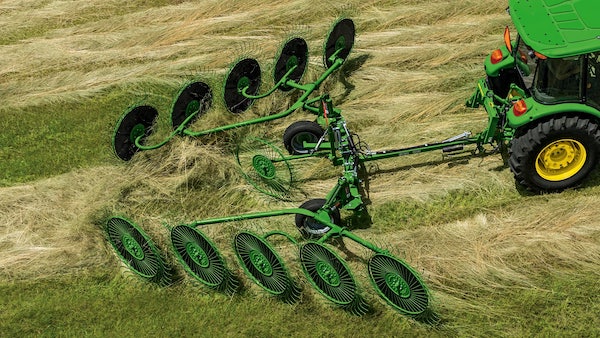 Let's take a look at 15 pieces of hay equipment you can consider as you shop to suit your needs.
Heavy-Duty Wheel Rake
Rake more hay in less time with this wheel rake, which has large, wind-panel rake wheels to gather hay quicker and more efficiently.
High-Capacity Wheel Rakes
This high-capacity wheel rake can engage nearly any type of terrain. When you're finished, the wheel lift cylinders retract so you can place it in the storage position with ease.
Rotary Rakes
Rotary rakes reduce dry-down time while keeping dirt and debris out of your windrows. In the end, this results in higher-quality bales.
Hay Tedders
You can improve feed quality and dry-down time with a hay tedder, which provides thorough conditioning and an even distribution of all types of hay.
High-Capacity Carted Wheel Rakes
These machines provide a fast raking speed without sacrificing performance to maximize hay quality.
Carted Wheel Rakes
The floating arms of these rakes enable the rake wheels to follow ground contour. Adjustable ground pressure allows each rake beam to adapt to different crops as it works.
Disc Mowers
With a disc mower, you can get a cleaner, even cut over rough ground. In addition, this particular model is iMatch and Quick Hitch compatible, meaning attachments can be connected and disconnected in little to no time.
Disc Mower Caddy
This caddy makes mower hook up easier when it's time to cut the grass. You can level the caddy to fit your tractor, and set the cutting height with a manual turnbuckle.
Inline Bale Wrappers
Inline Bale Wrappers have fully automatic cycling and a film wrap sensor. They can ultimately protect bales from harsh weather.
Bale Carriers
Bale carriers come with adjustable bale arms and only require two hydraulic selective control valves. They also have a 45-degree dumping angle, which makes it quicker and easier to move multiple bales.
3-Point Bale Handler
The 3-Point Bale Handler simplifies moving round bale hales around the lot. The hydraulic Bale Unroller can also haul and unroll round bales for feeding.
Bale Spears
Customers can choose from a wide range of single- and triple-tine models to move and stack their bales quickly and more efficiently.
Sickle Bar Mowers
Sickle Bar Mowers will help you mow up or down hillsides with a blade angle that can be adjusted from -45 degrees to 90 degrees.
Small Square-Bale Fork
This fork has 32 engaging teeth for secure transportation of small square bales. It also has an adjustable guide bar that helps you work with multiple bale sizes.
Round-Bale Hugger
This piece of equipment gently grasps round bales to ensure that they maintain their shape and size. It can handle wrapped bales up to six feet in diameter.
If you have any questions about hay equipment, you can contact your local John Deere dealer.
If you enjoyed this post or want to read others, feel free to connect with us on Facebook, Pinterest, or Twitter!
You might also like: