In the fall of 2017, John Deere announced the addition of two new zero-turn mowers for landscapers who desire more maneuverability and efficiency on the job. The John Deere Z945M and Z955M both come with multiple deck offerings and new features to cater to customer demands. Each model also has increased power and fuel efficiency.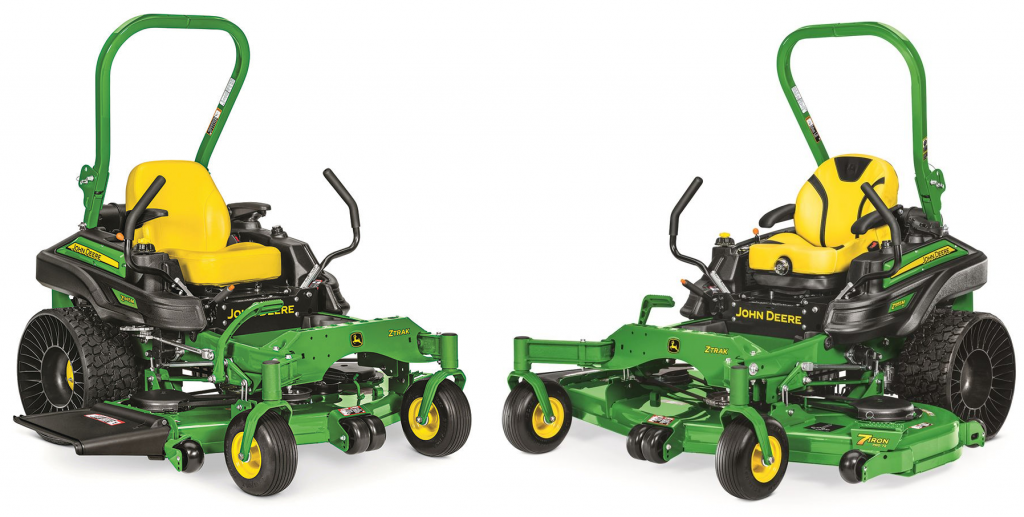 Let's take a look at some of the features of the John Deere Z945M and Z955M.
John Deere Z945M
The John Deere Z945M is designed with accessibility in mind. It has a large, open engine compartment in the rear, which makes the machine easy to service. It also comes with an hourmeter to show how many hours the machine has been running. This gives users insight into how much work the machine is taking on during each shift.
The Z945M has a 27-horsepower, commercial-grade engine that is designed to keep the mower working efficiently throughout the day. It comes with a dual-element air filter, overhead valve design, and an electronic, closed-look fuel injection system for cleaner emissions.
The Mulch On Demand mower deck can be used with the John Deere Z945M as well. This gives operators the option to switch between side discharge and mulching with a single lever. The deck is stamped is stamped with a 7-gauge, 0.179-inch steel for strength and durability.
John Deere Z955M
Changing the mower deck height is a breeze with the John Deere Z955M. The cutting-height lifting system works with the twisting of a simple knob. The deck can be adjusted from 1 inch to 5.5 inches within seconds. The mower comes with a powerful 29-horsepower, commercial-grade engine to exceed performance expectations. It has full-pressure lubrication with a full-flow filter, as well as an electric fuel pump.
Similar to the John Deere Z945M, the Z955M is compatible with the Mulch On Demand deck. It also includes Michelin® X® Tweel® Turf Airless Radial Tires to eliminate downtime and enhance performance. These tires reduce rutting, improve curb climbing, and ultimately improve cut quality.
Both the Z945M and Z955M come with 7Iron™ PRO mower decks. They have significantly fewer welds, meaning they are strong and durable. The decks also have wide, high-discharge openings for efficient clipping dispersal.
If you have any questions on John Deere Z945M or the Z955M, contact your local John Deere dealer for more information.
If you enjoyed this post or want to read others, feel free to connect with us on Facebook, Twitter or Google+!
You might also like: