The John Deere ZTrak mower was designed for those who aim to maximize value, efficiency and performance. With that said, there are a variety of features incorporated across models to help in doing this.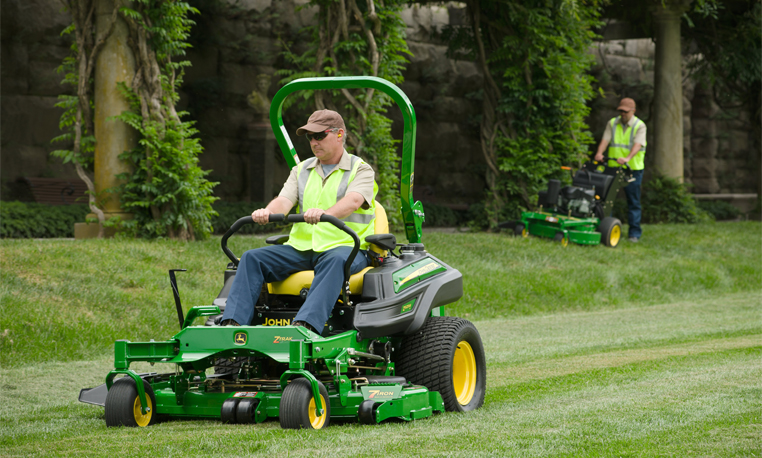 To better explain the key features and capabilities of the ZTrak and how operators can get the most out of these machines, we've put together a video gallery highlighting each. These videos cover everything from belt quality and rake adjustment, to service intervals. Enjoy!
Created for mower technicians and operators, this video should help educate on the importance of mower belt quality. Find out how the ZTrak model embodies the elements needed for a quality cut.
No matter who's turf you're on, blade quality always serves its purpose. Let's discuss some of the features and benefits that you'll get from the John Deere OEM mower blade on the Z900 mowers.
What sets this blade apart from the competition? You'll notice a difference in the shape of the blade, the flat mounting surface, angle, bend and length. Watch this video to learn more about these key features and the importance of blade quality when mowing.
Imagine this: You are mowing around the shop today, and notice ridges forming wherever you mow. This can't be a coincidence, and from your experience, you know that the deck may not be level.
This video will help you properly set your John Deere ZTrak mower deck through leveling and rake adjustment.
One afternoon, as you were finishing a job, you noticed that your mower moved with the controls in the neutral position. Unsure what to do about it, you head to your mechanic for advice.
Your mechanic explains that this is something called "neutral creep" – when the wheels on your machine move forward or reverse when you are in the locked position. Watch this video to learn how to properly adjust a mower that is experience neutral creep.
https://www.youtube.com/watch?v=Ef4Ft1EzjdQ
It's important that you keep your machine optimized for performance and a long, healthy life. Completing service intervals using John Deere OEM parts and lubricants can help achieve optimal uptime and performance.
Watch this video to learn the most critical service intervals and how to go about maintaining your machine.
Tracking accurately is really important when mowing on a Z900. So, how do you adjust a mower that isn't tracking straight? This video explains the ins and outs of fixing a tracking issue and ensuring that your John Deere machine tracks correctly moving forward.
As a technician or operator, you should be aware that there is an initial 300-hour break-in period for the transmission fluid. After this, the transmission fluid must be changed every 500 hours.
Once your new transmission filters are installed, the next step is to fill the system. In this video, we cover the B and M Series. Let's take a deeper look at how to successfully complete these tasks.
We hope you enjoyed this video gallery and now have a better idea of what features play an important role in the John Deere ZTrak mower performance. Did we miss any of your favorite commercial mowing features? We would love to hear your thoughts in the comments below.
If you enjoyed this post or want to read others, feel free to connect with us on Facebook, Twitter or Google+!
You might also like: