Whether you're looking for a utility vehicle for work or play, the John Deere RSX860 is designed to be built tough. These Gators have an impressive towing capacity as well as handling capabilities that make them useful for a number of jobs.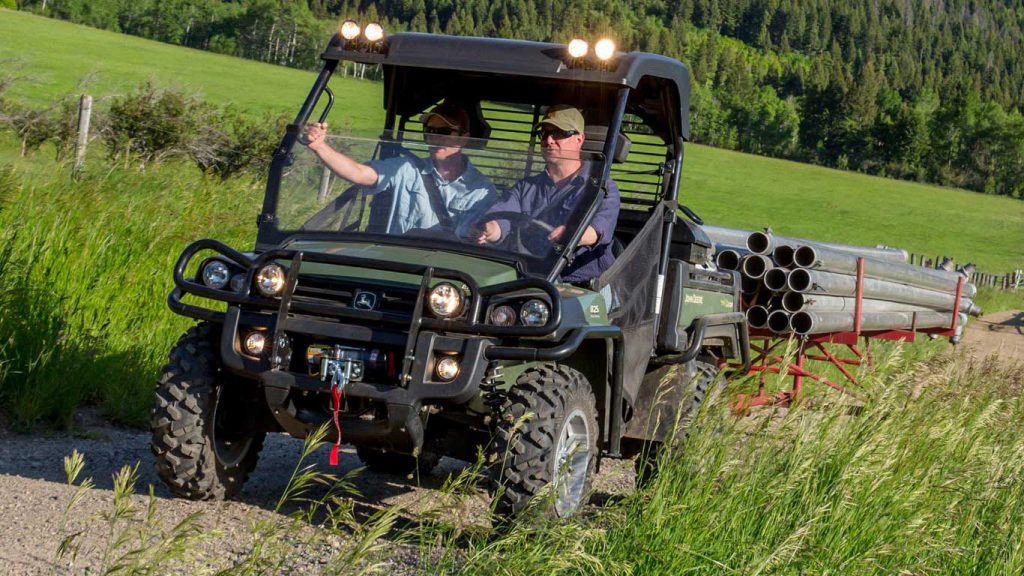 For rough terrain, the ground clearance and control gives them the ability to climb over rocks and other obstacles, while allowing them to continue on their journey. Let's take a look at some of the other key features below and in action.
https://www.youtube.com/watch?v=Op5UldylEJY
A work vehicle must have an excellent towing capacity to function like you need it to. The RSX860 models can tow up to 1,200lbs and have 63 HP, allowing you to go from 0-30 MPH in 3.0 seconds. Towing across your property or worksite isn't a problem for these Gators. The cargo box will hold up to 400lbs and carry your load with you wherever you go. These are high-performance vehicles made to work as hard as you do.
https://www.youtube.com/watch?v=kwDEKh_ly_I
Work vehicles also need to be easy to handle in every situation. Off-road steering can be difficult when you don't have a vehicle designed to handle it. The RSX860s are equipped with power steering, giving you control when you need it most. The anti-dive front suspension allows you to brake and steer with confidence, just as if you were driving a car. For tight turns, each RSX860 offers a 12.3 ft. turning radius, making maneuverability easy.
https://www.youtube.com/watch?v=c7mrSmlI5QY
Riding over varying terrain can ruin a vehicle that isn't designed for it. The John Deere RSX860s are designed for off-road purposes, taking you to even the most remote places. The 10.3-inch ground clearance makes it easy to scale over rocky terrain and explore the places you want to. The 9 inches of wheel travel allow the Performance-Tuned Fox Shocks to compress sudden bumps and offer a smoother ride. 
Made for Work and Play: John Deere Gator RSX860
Hard-working people need vehicles that won't quit on them. The RSX860 models are made to work hard for you and perform in the harshest conditions. Towing, handling, and ground clearance aren't a problem for these vehicles.
For more information about the RSX860 series or other Gator models, contact your local John Deere dealer.
If you enjoyed this post or want to read others, feel free to connect with us on Facebook, Twitter or Google+! 
You might also like: