There are a number of John Deere 5065E attachments that can be used with this machine to enhance its versatility out in the field. Everything from fenders to engine coolants can be utilized with the utility tractor to make each workday a little easier.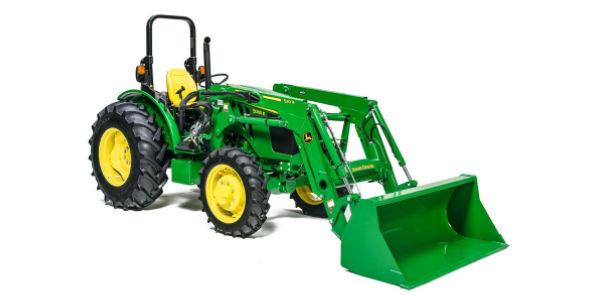 Here are some of the John Deere 5065E attachments you may want to invest in to make the most of your machine.
Rear Axle Extension
There are rear axle extensions in 30 mm, 40 mm, and 111 mm sizes that can be used with the John Deere 5065E. With these attachments, operators can achieve wider axle tread settings.
Engine Coolant Heater Kit
This attachment is a must-have for any John Deere 5065E owner who lives in a cold climate. A 120-volt element heats the coolant to warm vital parts of the engine in chilly weather. As a result, the tractor starts faster with better lubrication, which reduces engine wear over time.
Horizontal Side Exhaust
This is one of the attachments that can be easily overlooked. The horizontal exhaust kit is essential to operators who may be working in low-clearance areas. It is compatible with Final Tier 4 emissions on all cab and open-station tractors.
Rear Fender Extension Kit
The rear fender extension kit is essential for operators who may be working on muddy terrain. It provides additional coverage, protecting the operator from debris when the machine is in use.
Second Rear SCV with Detented Float and Lever Control
The SCV is lever controlled, and couplers are equipped with dust plug covers to prevent dirt and debris from making its way into the hydraulic system. The valves also have a stackable design.
Auxiliary Rear Work Light Kit
This kit comes with a 37.5-watt halogen floodlight that is adjustable. The bulb is easily replaceable, and the light is designed to illuminate areas behind the tractor.
iMatch Quick-Hitch Category 1 with Adjustable Top Hook
The iMatch™ Quick-Hitch can be used with the 5065E for additional implements. It meets ASAE standard S278.6 for Category 1 agricultural quick-coupler standards.
Weights
The John Deere 5065E is compatible with a 95-pound front weight, 187-pound front weight support, and 95-pound rear wheel weight.
If you have any questions about the John Deere 5065E or its attachments, you can contact your local John Deere dealer.
If you enjoyed this post or want to read others, feel free to connect with us on Facebook, Pinterest, or Twitter!
You might also like: