Whether you have a small lawn or a large yard, the right riding mower can make mowing a task you look forward to. The John Deere X730 is one mower you may want to consider if you're in the market for a durable, efficient machine to tackle your lawn. It comes with a four-year/700-hour bumper-to-bumper warranty, and its heavy-duty welded frame means it's made to last.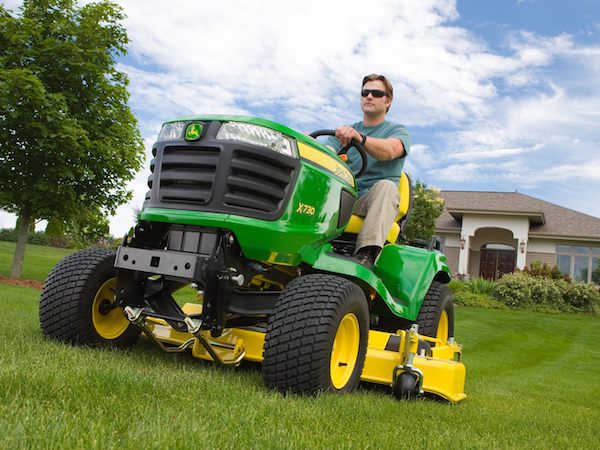 Let's take a look at some of the highlights of the John Deere X730.
Power Flow™ Material Collection
The John Deere X730 uses the high-performance Power Flow blower to collect material into a wide variety of material collection systems. Customers have the option of using a two-bag or three-bag Power Flow hopper or the MC519 Power Flow cart.
Battery and Alternator
The high-capacity regulated alternator charging system is specifically designed to provide enough power to quickly recharge the battery. It is also essential for running electrical equipment, such as lights or a sprayer. The large-capacity battery provides an ample amount of cranking power for quick starts in cold weather conditions.
MulchControl™
MulchControl not only efficiently mulches, but allows the power to be easily converted when operators want to use the side discharge option or collect lawn material. Those who mulch grass can reduce their reliance on fertilizer and eliminate the need to dispose of clippings.
V-Twin Engine
The V-twin engine of the John Deere X730 uses the John Deere iTorque™ power system with electronic fuel injection for exceptional performance. It's also specifically designed for durability and the ability to handle commercial-use applications. The engine has a large 45.5 cubic-inch displacement to provide an ample amount of power and torque under any operating condition. It also features liquid cooling for quieter operation and a longer lifespan.
Hydraulic Power Steering
Power steering comes standard on the John Deere X730, meaning maneuvering the mower is a breeze. It offers automotive-like control, reduces operator fatigue and ultimately improves productivity.
Welded Frame
The frame of the John Deere X730 consists of welded steel for durability and a long lifespan. For additional strength, the frame side rails are formed from 7-gauge, 0.18-inch steel, and the front bumper/weight bracket is composed of heavy, 0.375-inch steel.
If you have any questions about the John Deere X730 or its features, you can contact your local John Deere dealer.
If you enjoyed this post or want to read others, feel free to connect with us on Facebook, Pinterest, or Twitter!
You might also like: