In order to maximize productivity and reduce operator fatigue, John Deere has redesigned its line of M and R series walk behind mowers. With new steering controls, enhanced maneuverability, and spring-loaded neutral locks, operators are able to get their commercial jobs done as efficiently as possible. Even after a long day of work, best in class controls ensure that these walk behind mowers continue to handle any task with ease.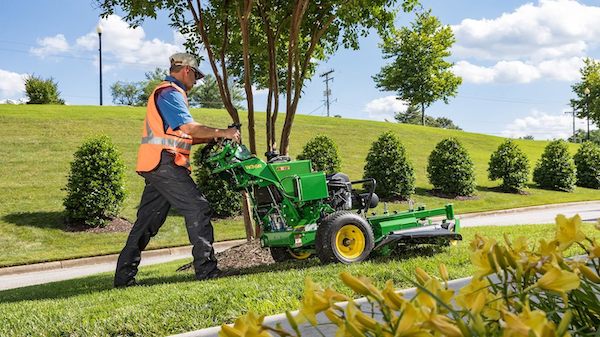 Watch the video below to learn more about these updates and how they have changed the way that operators maneuver their walk behind mowers.
Upgrades to John Deere M and R series walk behind mowers were designed with the operator in mind in terms of ergonomics, ease of use, and overall command over the machine. This meant focusing on features such as the layout of controls and hand placement in order to guarantee the mower can move easily across any terrain. Operator fatigue was also a top consideration when redesigning these pieces of equipment. Moving the machine forward can be accomplished simply by squeezing the handles to unlock the spring-loaded neutral locks; by gently pressing the handles, operators can slow down the machine almost effortlessly.
The inclusion of a hydrostatic drive system means more power and a smoother operation with positive reverse. In addition, speed can be easily adjusted on the new M and R series walk behind mowers thanks to infinite ground speed adjustments. When in a tight space, operators can back out without any issue with reverse speeds up to 3 mph. For jobs that involve slopes or side hills, operators will enjoy improvements in weight distribution when handling this equipment.
20% faster ground speeds and the ability to climb curbs with ease are just a couple extra reasons why these walk behind mowers are a top choice for any task.
If you enjoyed this post or want to read others, feel free to connect with us on Facebook, Twitter or Pinterest!
You might also like: