John Deere has set a new standard for the logging industry with the arrival of its 2154G Forestry Swing Machine, and one company can speak firsthand about all of its benefits. The Smith Logging Company, based in Grays, South Carolina, knows that in order to run an efficient operation, you need to get the most out of you can out of all of your supply.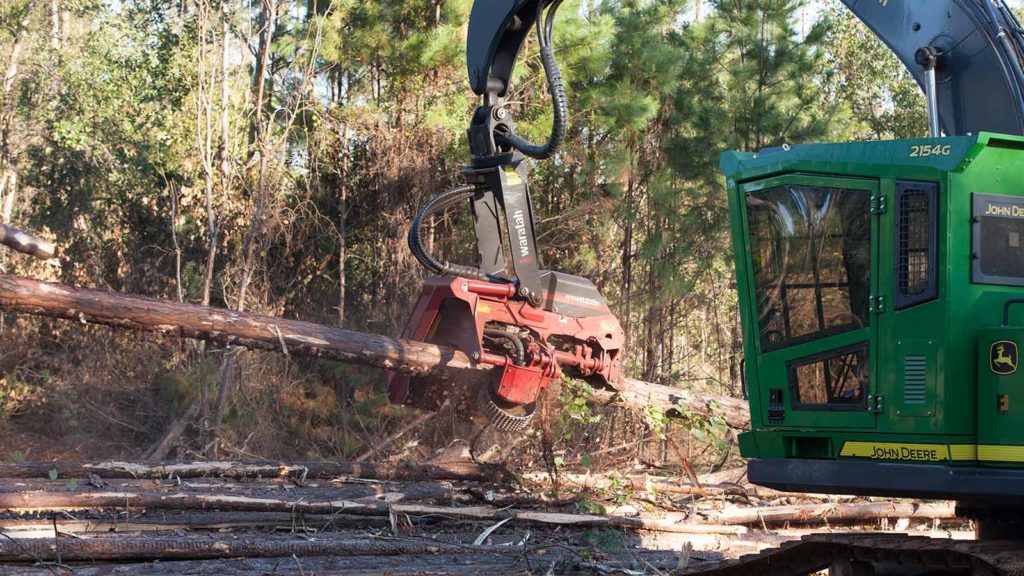 "These days, everything is so competitive that you got to get everything you can out of every piece of wood," says owner Sherwood Smith. "There are not many processors in this area. I never even thought about a processor until the mill started talking to me about it. I think it is going to be a win-win situation for us both."
For Smith, investing in the 2154G was a no-brainer. He runs a crew of seven, including his son, Warren, and he knew right away that the machine would benefit the team.
"Before we got the John Deere processor, we were getting 15 to 18 loads per day. Now we have gotten as many as 30 to 34 loads per day," says Smith. "Before we got the processor, we had a deck man cutting it off on the deck and we also used a delimber. When you try to put every piece of wood through a delimber, it slows you down. The processor is a lot faster and it's made things a lot simpler."
Let's take a look at some of the highlights of the John Deere 2154G and how it can help you and your team on the job.
Electrical Architecture
The reliable electrical architecture of the John Deere 2154G simplifies wiring harnesses and reduces the number of electrical connectors, fuses, and relays by about 25%, as compared to previous models.
X-Frames
The undercarriage X-frames and upper-frame structures of the John Deere 2154G have a significantly longer life than other machines on the market.
Rollers
The larger-diameter rollers with polished shafts and improved seals extend wear life, reduce downtime, and ultimately save costs on maintenance.
Variable-Speed Fan
The hydraulically driven, variable-speed fan runs only as needed in the John Deere 2154G, which conserves power and fuel. Its reversing option automatically reverses airflow to eject debris from the cooler cores.
If you have any questions about the John Deere 2154G, you can contact your local John Deere dealer.
If you enjoyed this post or want to read others, feel free to connect with us on Facebook, Pinterest, or Twitter!
You might also like: