With loggers that don't back down and equipment that won't let them down, John Deere customers are working hard in the forest every day. Whether they own a forestry business or are in the midst of their forest operations career, there is a lot to be learned and shared.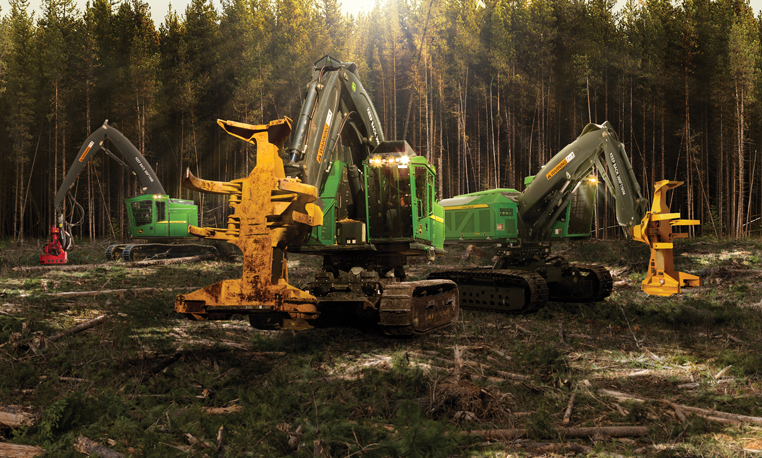 The John Deere forestry equipment line was designed with hundreds of hours of input from customers who live and breathe logging. Why? Because they know what works and what doesn't. Now, it's time to check back in with some John Deere customers to see how the forestry equipment is being used throughout daily operations.
We've put together this video gallery to see how loggers are rewriting the rules of the forestry business with their equipment. Enjoy!
Shirley Chason faced a hard decision when her husband, Donald Smith, passed away from lung cancer in 2000. Should she take over his forestry business, Donald Smith Logging, or should she sell it? Watch this video to find out.
Marcri Logging is located in Thunder Bay, Ontario. And, this logging business has certainly weathered many economic storms making it a suitable name for the company's home base. Learn about how Marcri Logging survived recessions in 1990, 2000, 2001, and 2008–2010 to become the largest logging operation in the region.
John Deere Eight-Wheeled Harvesters keep productivity rolling for LaFleur Forest Products and WJZ & Sons Harvesting in Michigan. Hear from the owners about the companies' growth and John Deere's in the process.
Big Pine Logging is taking their operation to greater heights with machine-monitoring technology and their latest Deere equipment. Learn how Buddy Lominick, the vice president of Big Pine Logging, uses John Deere products as an essential part of daily operations.
It all started when Morris Etheridge, owner of Hamilton Timber Company, met his wife in junior college. Her father was in the forestry business, and this is where his passion for the industry first sparked.
Now, Hamilton Timber works within a 60-mile radius of 16 pulp mills and sawmills. The company does approximately 65% pulp and 35% hardwood. Watch this video to learn more about Hamilton Timber's success over the years.
We hope these videos gave you a good look inside the forestry business from the perspective of John Deere customers. We're always interested in hearing new forestry stories, so feel free to share a story of your own in the comments below.
You might also like: