To meet the evolving demands of customers working in the forestry industry, John Deere has developed its new Precision Forestry initiative. The company announced that it will be reorganizing its technology portfolio and adding new solutions for customers who work in this sector. Ultimately, the goal is to provide more intelligent, connected equipment to those who need it.
"Previously, the industry has focused on developing bigger, faster, more powerful machines to boost performance, but larger machines sometimes present more challenges, especially on job sites with limitations," said Matthew Flood, product marketing manager, John Deere. "Technology has been a game-changer for the forestry industry, enabling us to improve operator efficiency and performance without altering machine size. With the Precision Forestry initiative, we're organizing our portfolio to create a foundation for the future of forestry machines and job site technology."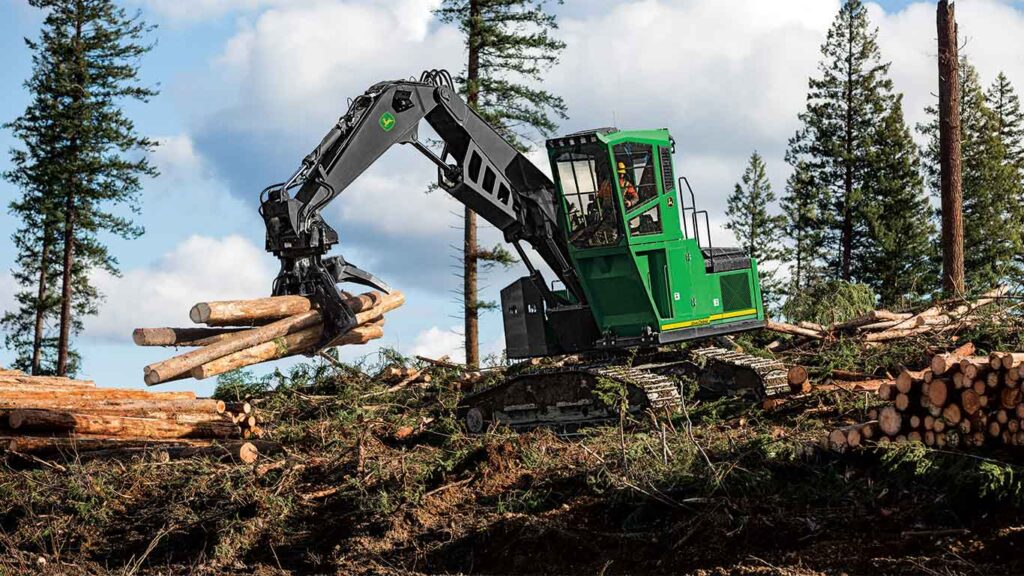 Precision Forestry will include real-time, map-based production planning and tracking capabilities for users who need it. Let's take a look at all of the components of the Precision Forestry initiative that are being rolled out to customers.
JDLink™ Telematics
JDLink is a core component of John Deere Precision Forestry. It allows customers to manage their entire fleet right from their desktop or mobile device. With this remote access, operators can look at everything from machine hours to fuel consumption and make necessary adjustments on the fly. Customers can also enable remote diagnostics and programming, easily track maintenance, and act quickly on alerts as needed. By being able to gauge fuel consumption and idle time, operators can improve daily operating costs. There is also a Dual-Mode Option that allows operators to switch to satellite mode to transmit information when cellular data is unavailable.
TimberManager and TimberMatic Maps
With TimberManager and TimberMatic Maps, contractors and operators alike can share real-time production and location information. In the end, this takes the guesswork out of the entire decision-making process. TimberManager allows operators to monitor live progress from a wide array of devices. TimberMatic Maps show precise GPS-based locations to help operators keep an eye on their overall workload throughout the day. With real-time updates, live production and location data is shared wirelessly among John Deere forestry machines for the utmost efficiency. TimberMatic Maps also accommodate all common map formats, from hand-drawn documents to elaborate PDFs.
If you have any questions about the JDLink Telematics or TimberManager and TimberMatic Maps, you can contact your local John Deere dealer.
If you enjoyed this post or want to read others, feel free to connect with us on Facebook, Pinterest, Twitter, or Instagram!
You might also like: