To cater to customers who want a planter that can be quickly folded for transport, John Deere has rolled out the new 1745 MaxEmerge™ 5 Planter. This piece of equipment is specially designed for corn and soybean producers who are seeking a split-row configuration. Additionally, its simple design means it's compatible with older tractors (95 drawbar horsepower) and up.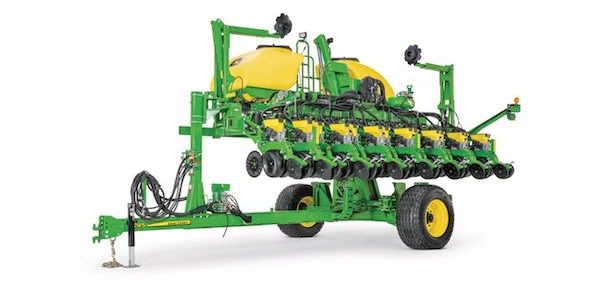 "The 1745 is an economical planter in a split-row configuration that's capable of planting soybeans on 15-inch (38 cm) rows and corn on 30-inch (76.2 cm) rows," said Ryan Hough, marketing manager, planting and seeding for John Deere. "Customers told us they want to be able to apply dry or liquid fertilizer while planting corn, a technique that can boost yields by approximately 10 bushels per acre when compared to the conventional method of broadcasting nitrogen fertilizer. The 1745 Planter addresses these requirements. It's simple, productive and efficient and it can be configured and equipped many ways to help customers reduce their input costs."
Let's take a closer look at some of the features of the John Deere 1745 Planter and how it can potentially help you on the job.
Narrow Design
The typical transport width of this machine is 12-feet 2-inches, and its typical transport height is just 12-feet 7-inches. Its row units fold toward the center of the road, as well, for maximum stability – this piece of equipment can be folded directly from the cab of the tractor in just minutes.
Fertilizer Options
The John Deere 1745 Planter offers liquid or dry fertilizer options on all non-bulk fill models, including split-row configurations.
Two Planter Configuration
With this planter, you can choose from two configurations to suit your operational needs. There is an 8-row, 30-inch configuration, as well as a 15-row, 15-inch configuration for planting corn and soybeans. Customers can also choose between mechanical or vacuum meters.
Radial Flotation Tires
The John Deere 1745 Planter has radial flotation tires, which can run at lower inflation pressures compared to bias tires. This reduces soil compaction while the machine is in use.
Central Commodity System
With the Central Commodity System, customers have increased seed capacity and bulk fill capacity. The two tanks have a combined capacity of 1,762 liters, which is 176 liters more than a 15-row planter.
If you have any questions about the John Deere 1745 Planter, you can contact your local John Deere dealer.
If you enjoyed this post or want to read others, feel free to connect with us on Facebook, Pinterest, or Twitter!
You might also like: