To meet the demands of crop producers who need high clearance and reduced speeds, John Deere has rolled out the 6120EH Tractor. This model can cater to specialty operations that include vegetables and fruit farms, which may require extra-slow tractor speeds.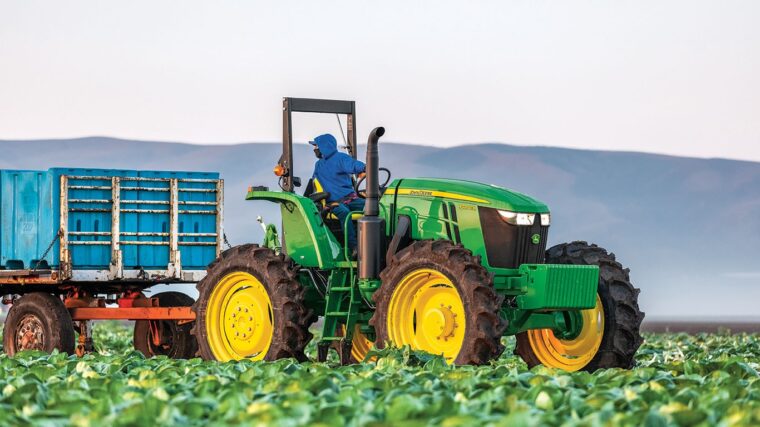 John Deere 6120EH: Features & Specs
"High-value crop production requires the ability to pull implements and conduct harvesting operations over rows of varying widths without damaging the crop," said Dennis Ogle, marketing manager for John Deere. "The 6120EH provides up to 30 inches of drawbar ground clearance to avoid damaging the plant or roots during applications such as cultivating, spraying, transplanting and harvest."
Let's take a look at this John Deere high-crop tractor and its various features, as well as how they can potentially benefit customers out in the field.
High Ground Clearance
The high ground clearance of the JD 6120EH is one of its top highlights. It has front and rear radial tire options, and the design of its tires provides better ride quality, less compaction, and more efficiency. The tire tread can also be set for premium utilization in operations with a wide array of crop row spacing.
Ultra-Slow Speeds
The 12F/12R PowrReverser transmission of the John Deere 6120EH Tractor allows it to run at ultra-slow speed, which is critical in vegetable and fruit farms. The creeper transmission provides speeds as low as 0.14 miles per hour to accommodate hand harvesting.
Powerful Engine
Another benefit of the John Deere 6120EH Tractor is its powerful 4.5L PowerTech engine. This engine provides constant power over a wide range of RPM. It also has a power bulge above rated power, as well as excellent torque. It also only requires an oil change after 500 hours of performance, and diagnostic data can be easily retrieved from service tools.
Connected Support
John Deere Connected Support leverages the connectivity of JDLink telematics to prevent downtime while utilizing the John Deere 6120EH Tractor. On average, downtime is reduced by 20%, allowing for faster responses to unexpected problems that may arise. Ultimately, Connected Support gives operators the opportunity to monitor the health of their machine and troubleshoot before problems become dire.
PowrReverser Transmissions
The PowrReverser transmission of the John Deere 6120EH Tractor allows operators to work in tight areas where forward-to-reverse shifting is common and necessary, largely thanks to the inclusion of 12 forward and 12 reverse speeds. Further, six well-spaced ground speeds give operators an opportunity to work at speeds between five and 13 miles per hour.
If you have any questions about this John Deere high-crop tractor, you can contact your local John Deere dealer.
If you enjoyed this post or want to read others, feel free to connect with us on Facebook, Pinterest, Twitter, or Instagram!
You might also like: