As most homeowners already know, invasive weeds can quickly take a toll on otherwise healthy land by wreaking havoc on lawns and gardens. John Deere has a wide array of equipment that can help with weed management. However, it can also be beneficial to familiarize yourself with invasive weeds that could potentially cause problems in your area.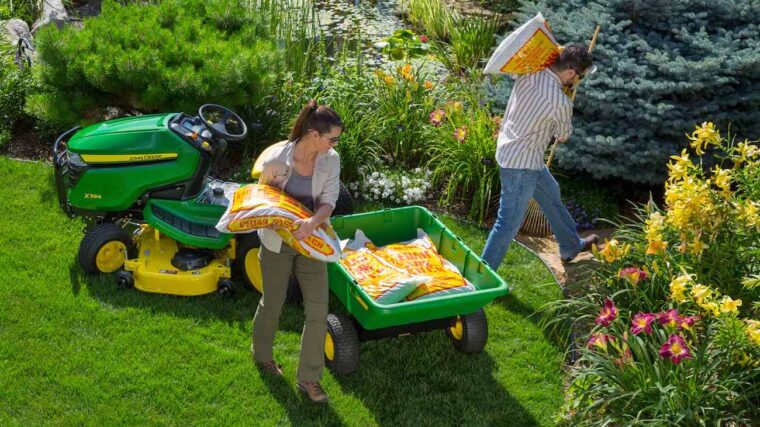 What Weeds Should You Remove in the Fall?
Generally speaking, all weeds should be removed as soon as they're spotted, as they compete with other plants for moisture, light, and nutrients. However, there are some invasive species you can be mindful of as you're tending to your land.
Creeping Charlie
Creeping Charlie is also known as ground ivy. It can cover a large area of ground and survive in even the shadiest conditions. A broadleaf herbicide can eliminate it, but it may require multiple applications.
Crabgrass
Crabgrass is known for its splashy bright green color, which stands out even during drought. While it can be removed by hand, a pre-emergent herbicide application in the spring can help manage it.
Japanese Spiraea
Japanese Spiraea can tolerate extreme temperature variations and thrive in poor soil conditions. Cutting it back may only encourage growth, so using a foliar herbicide is usually a better bet.
Autumn Clematis
Autumn clematis is easily identified by its white, aromatic flowers. It can grow rapidly and quickly choke out nearby plants. Fortunately, it can be controlled and eliminated by removing the plant entirely — roots and all.
Winged Euonymus
Winged euonymus has showy red and pink leaves that make it relatively simple to spot. It can be controlled through removal, but it's critical to remove all roots when digging it up to prevent reemergence.
Autumn Olive
Autumn olive is a hardy shrub known for its red berries and shiny leaves. It can tolerate extreme climates, making it difficult to eliminate. However, trimming it back and applying an herbicide can help you manage it.
Nandina
Nandina is an ornamental shrub that sports red berries and grows upward. Because of its height, it can, unfortunately, shade other plants seeking sunlight. An herbicide can be used to eliminate it, and it can also be dug up in its entirety.
Japanese Barberry
Japanese barberry is a showy red-and-purple bush that peaks in autumn. It can easily spread when birds take its fruit and spread its seeds. It is best managed by repeatedly cutting new sprouts and hand-pulling.
Dandelions
Dandelions are known for their golden foliage, as well as their pervasiveness. A broadleaf herbicide can typically help you control them in most areas.
How to Get Rid of Invasive Weeds During the Fall
Depending on the type of weeds you are dealing with in your lawn or garden, you may require everything from herbicides to gardening tools to eliminate them. However, some tactics can increase the effectiveness of your control tactics. Applying herbicides on sunny days (with temperatures above 55 degrees Fahrenheit), removing leaves prior to herbicide application, and not mowing immediately after application can all help.
Eliminate Invasive Weeds with Gator Sprayers
John Deere's high-performance sprayers — which can be conveniently added to Gators or lawn and garden tractors — are designed to reduce your herbicide usage by helping you specifically target weeds. Spray wands allow you to accurately apply everything from liquid fertilizer to herbicides across your lawn and garden.
If you have any questions about John Deere's sprayer attachments for Gators, you can contact your local John Deere dealer.
If you enjoyed this post or want to read others, feel free to connect with us on Facebook, Pinterest, Twitter, or Instagram!
You might also like: