When you're on the hunt for a self-propelled forage harvester that can reliably churn out high silage quality, you know you can look to John Deere for the machinery you need. The company has rolled out the 9900 Self-Propelled Forage Harvester for that very reason. With its rotary harvesting units, kernel processing unit, and powerful engine, the harvesting process is a breeze. Best of all, the John Deere 9900 Self-Propelled Forage Harvester has innovative features, such as HarvestLab™ 3000, which give agricultural producers a helping hand when cutting their hay and silage.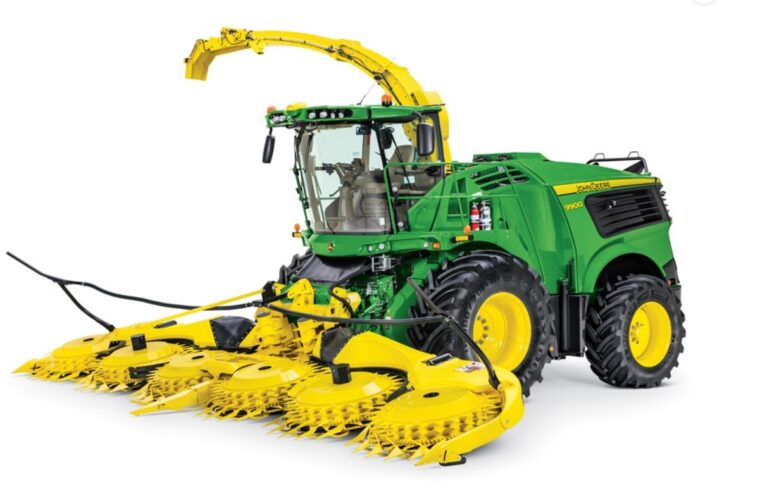 What is a Self-Propelled Forage Harvester?
Self-propelled forage harvesters are traditionally used by agricultural professionals to make feed for their livestock. The machine harvests plants that have been grown for forage in order to create silage. The silage itself can consist of everything from grass to hay. The forage harvester has a series of fixed knives that are in place to chop up the silage. In the end, operators are left with the feed they need for their livestock.
What are the Features of the John Deere 9900 Forage Harvester?
The John Deere 9900 Self-Propelled Forage Harvester has several features that help it rise above the competition. With everything from an AutoLoc™ system to HarvestLab™ 3000, operators can streamline the entire silage creation process. Let's take a closer look at some of the key features of the John Deere 9900 Self-Propelled Forage Harvester and how it can help you out in the field.
Low Engine Speed Concept
This self-propelled forage harvester is designed to consume less fuel while maximizing uptime, and the low engine speed concept helps with this. The 9900 has a Liebherr 12-cylinder V-engine with 24-L displacement. This means the machine is able to provide maximum power down to lower engine rpm. Additionally, the torque curve is specifically designed for forage harvesting. With better fuel economy, operators can spend more hours out in the field without having to worry about their bottom line.
Dura Line™ High-Wear Parts
The Dura Line™ high-wear parts were specially developed by John Deere to improve chop flow. They have a wear-resistant coating with a smooth surface, and they last four times longer than standard variations. Customers can also opt for the Ultimate Dura Line™ package if they anticipate working in challenging conditions that require full crop flow coverage.
High Forage Quality with HarvestLab™ 3000 and AutoLoc™ System
The HarvestLab™ 3000 sensor can be mounted to the top of the discharge spout, where it is capable of taking accurate ingredient and dry matter readings. With John Deere Constituent Sensing, dry matter including sugar, starch, and crude fiber are all accurately assessed as you work. AutoLoc™ functionality is automatically engaged when HarvestLab™ 3000 is used in the machine with a GreenStar display. With AutoLoc™, operators never have to worry about varying their length of cut — this is done automatically according to the settings, determined by the dry matter readings. Bunk density is ultimately improved, and operators can rest assured that they reach high forage quality.
High-Capacity Feeding Supports High Silage Quality
The rotary harvesting units of the John Deere 9900 Self-Propelled Forage Harvester are specially made to accommodate customers' needs. The 600plus Series Headers are available for crops up to 13.1 feet tall, while the 700plus Series Headers are ideal for high-yielding crops. The 772 12-Row Large-Drum Rotary Harvesting Unit is also designed to utilize the full capacity of the self-propelled forage harvester.
Improve Silage Quality With Two Kernel Processing Options
The John Deere Premium KP™ kernel processor and the John Deere XStream KP™ kernel processor are both available to meet the various needs of customers. Ultimately, they deliver smashed kernels and heavily processed plants. However, it's the XStream KP™ that fits on all 9000 Series models, including the 9900 Self-Propelled Forage Harvester. It is a heavy-duty processor that is designed to handle any length of cut in all conditions.
What are the Key Specs of the John Deere 9900 Forage Harvester?
The maximum power of the John Deere 9900 Self-Propelled Forage Harvester at 1,800rpm is 713 kW. The Final Tier 4 V12 Liebherr engine provides up to 956 horsepower. With a fuel tank capacity of 1,500 liters, operators spend less time filling up and more time on their daily tasks. The harvester also has a ProDrive™ system with an auto-shift transmission, as well as a wet brake system for a smooth ride. The hydraulics are load-sensing, giving operators one less thing to worry about on the job. With ClimaTrak™ control, the cab is always comfortable as well.
What is the John Deere 9900 Forage Harvester Used For?
The John Deere 9900 Self-Propelled Forage Harvester was designed to improve the harvesting process for livestock producers while maintaining forage quality. The machine itself is designed to produce the best forage possible for livestock professionals who need optimal feed for their animals during the winter season. Now offering more power and versatility than ever before, this self-propelled forage harvester can help operators cross off every task on their to-do list, regardless of the working conditions.
Improve Forage Efficiency with John Deere
Improving forage efficiency is a breeze with the John Deere 9900 Self-Propelled Forage Harvester. With its 24L Liebherr V12 engine, operators never lack the power they need to make it through a long workday. Furthermore, features like HarvestLab™ 3000 and AutoLoc™ make it easy to monitor the quality of the harvest throughout the process. This can give customers peace of mind as they work, knowing their silage is going to be primed and ready for livestock. ClimaTrak™ control in the cab keeps operators comfortable during the day, reducing fatigue while out in the field.
If you have any questions about the John Deere 9900 Self-Propelled Forage Harvester or any of the other harvesting equipment the company has to offer, you can contact your local John Deere dealer.
If you enjoyed this post or want to read others, feel free to connect with us on Facebook, Pinterest, Twitter, or Instagram!
You might also like: