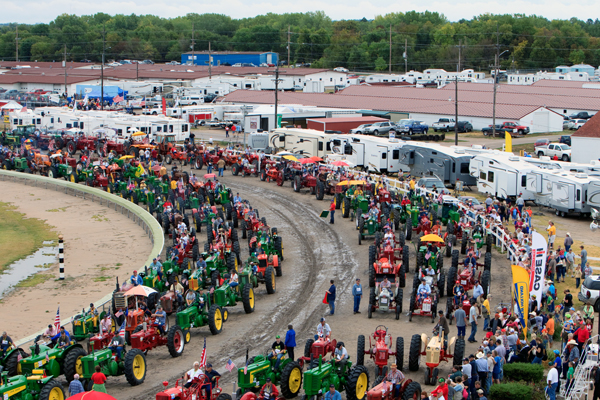 The number of antique tractor collectors in Nebraska and the surrounding area has always been significant, but at the recent parade in the annual state fair the record books were taken out and altered to account for the more than 1,100 people who participated.
According to the Grand Island Independent, the Nebraska State Fair is always one of the biggest tractor-related events around the world, but the 2012 celebration broke the previous entry into Guinness Book of World Records by more than 400 hundred participants.
While the Nebraska State Fair was doused in rain for almost the entire weekend, this precipitation was not enough to dampen the spirits of the many attendees that took part in the parade.
"We're here, let's have it," said Jim Riley of Grand Island echoing the sentiments of the other drivers, almost all of whom held up one finger signifying that they wanted the tractor parade to start at 1 p.m. as scheduled, according to the news outlet. "It ain't no different than farming."
Though the rain led to the revving of the engines at the start of the event being slowed because of the muddy track, the proud tractor collectors made their way around the oval.
The high number of green-and-yellow models was a testament to the popularity of John Deere tractors, and some of the owners preferred to clean up their machines while others kept them "in their field clothes," Bev Weiseler told the news outlet.
People came from all over the Midwest to attend the Nebraska State Fair, and many participants were surprised at how far some tractors were driven so that their owners could take part in the record-setting parade.
"What I didn't factor in was that people would drive 700 miles or more to bring their tractors," Max Armstrong, one of the emcees for the parade, told the Independent.
According to the World Record Academy, the event featured 1,139 tractor drivers, beating out the previous record of 745 that had taken place in an event in Germany more than 30 years ago.
The sea of green that was present at the event would have made any John Deere tractor owner proud, a fitting tribute to the brand that has been so important in the development of the American Midwest.
Photo Courtesy Of: http://media.ruralradio.com/
You might also like: