We all know that it can be an arduous task trying to find the best piece of equipment for your needs.  There are countless things that factor into a decision on not only what manufacturer to go with, but also what model.  One way John Deere is trying to help make this big decision easier for you is with our 3rd Annual Drive Green Challenge. The Drive Green Challenge caravan is already on the road and stopping at John Deere dealerships across the country. (Find your local event)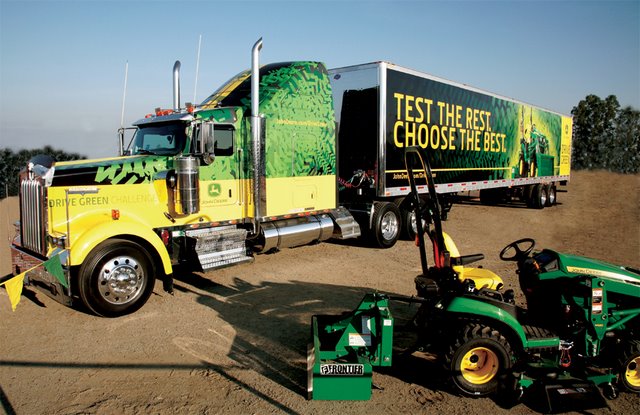 The Drive Green Challenge lets you see the latest in John Deere equipment, allows you to get behind the wheel in side-by-side comparisons, and gives you a chance to talk with product experts to help you make the best possible decision. This is particularly significant as not everyone's needs are the same and we require different equipment for those needs.
Utility Tractors
There are a few certain things that you look at when purchasing a utility tractor: weight, comfortable controls, economy PTO, and of course horsepower. While you may think that these criteria are easily comparable, that is far from the truth. Different manufacturers determine horsepower in different ways. Some sacrifice other, important things to bump up that horsepower number. Below is a video that gives you insight into how this all works to help you make that important decision.
Haymaking
Not all round balers out there are the same. When you're comparing models, one manufacturer to another, you need to be aware of several key components that go into a baler, and into making the best possible bale. The Drive Green Challenge gives you the opportunity to compare balers on these important factors: belts, crop conditions(what all will you use it for), Cutterbar, and bale formation. One of the most key, overlooked components are the belts in your baler. Follow the link to a video that shows how to compare to other manufacturers.
Oh and did we forget to mention that we will be giving away a customized 825i Gator XUV?  All you've got to do is stop by one of our participating Drive Green events from February 15, 2011 to August 15, 2011 and fill out a registration form to be entered into the drawing. (Official Rules)
So check out the Drive Green Challenge website to see all of the new competitive comparison videos to give yourself a better understanding of what equipment to purchase for your needs. Once you check out the videos, find the nearest Drive Green event near you and experience the challenge yourself.