The holiday season is just around the corner, and if you have little ones who adore all things John Deere, you're in luck!
John Deere's product catalog includes a treasure trove of gifts for children who love tractors, dump trucks, and other construction and agricultural equipment. In this blog, we'll explore why John Deere toys for kids are the perfect holiday gifts and present six must-have holiday gift ideas that will make this holiday season extra special. But first, let's understand why these toys are a fantastic choice.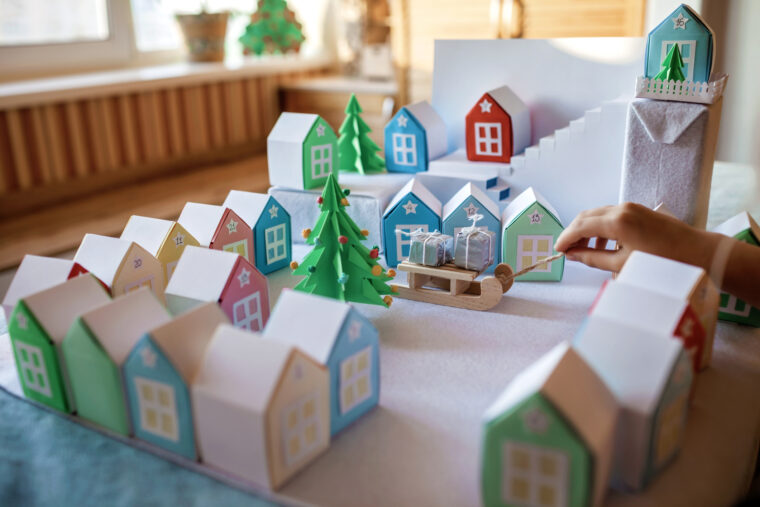 Why John Deere Toys for Kids are the Perfect Holiday Gift
John Deere-themed holiday gifts for kids make amazing holiday presents — here are just a few reasons why:
They Inspire Imagination and Outdoor Play. With John Deere's agricultural and construction-themed toys, children can act out tilling fields, building a house, and more. Besides sparking kids' imaginations, they also encourage outdoor play. These gifts entertain and inspire kids to embark on farming adventures or enjoy the great outdoors.
Quality and Safety Are Guaranteed. Quality and Safety Are Guaranteed. John Deere's name is synonymous with quality in the world of agriculture. The brand also extends its toy line's commitment to safety and durability. These toys are built to withstand hours of play while ensuring your child's safety.
John Deere Offers A Wide Range of Toy Choices. From play vehicles and ride-ons to interactive playsets and books, John Deere offers a wide variety of gifts. You can find something that perfectly suits your child's age and interests.
Now, let's address a critical aspect of selecting the right gifts for kids: safety.
Are There Safety Considerations When Choosing Gift Ideas for Kids?
When shopping for children, safety should always be a top concern. Choose toys made of non-toxic materials like wood or durable plastic to avoid health risks. The child's age should also factor into your choice of gift. For example, younger children should not play with toys that have small parts that pose a choking risk. Always adhere to the manufacturer's recommended age range to ensure your child's utmost safety and enjoyment.
6 Must-Have John Deere Gift Ideas for Kids
With safety considerations well in hand, we can now explore our top picks of six must-have John Deere gift ideas for children. These gifts are carefully selected to bring joy and excitement to your child's holiday season, whether they dream of farming and construction adventures or simply adore the John Deere brand.
1. Play Vehicles
15 in. Big Scoop Dump Truck. If your child loves playing with toy trucks, the 15 in. Big Scoop Dump Truck is an excellent choice. It features bouncy tires, uniquely designed treads, and a spinning combined head. With lights and sounds, it's a delightful addition to any playtime.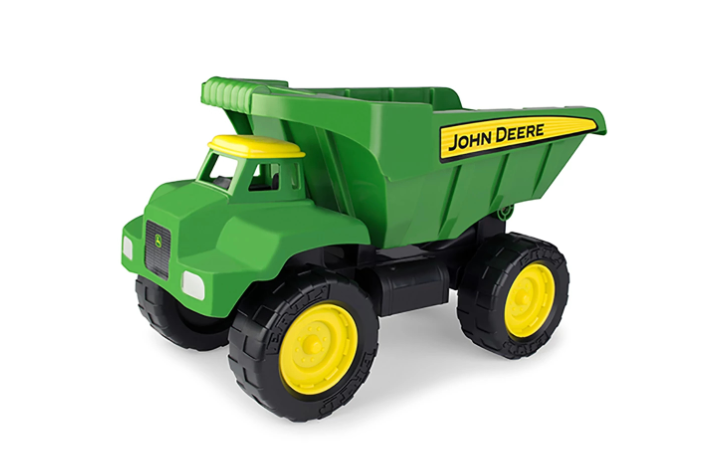 18 in. Monster Treads Super Scale Combine. This humongous combine is the largest Monster Treads toy ever created. It boasts exciting features such as lights, sounds, and a spinning combine head.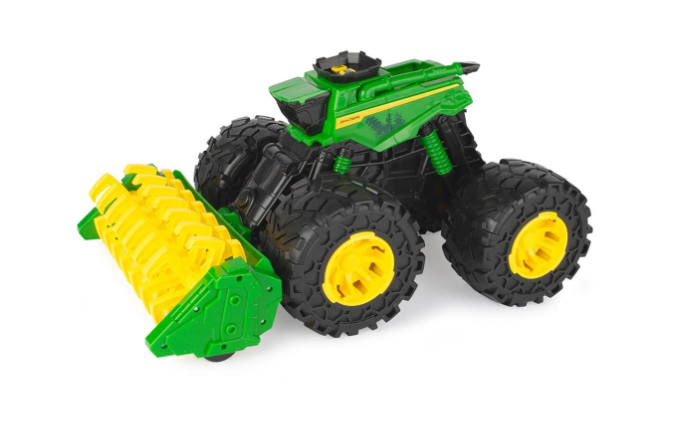 1/50 948L-II Grapple Skidder. This scaled-down machine is perfect for little adventurers. It adds an exciting element to your child's forestry adventures, letting them experience the thrill of operating heavy machinery.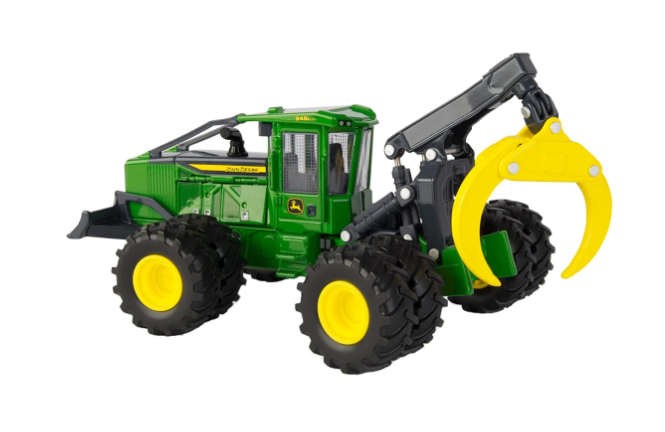 2. Ride-Ons and Wagons
Johnny Tractor Ride-On. With its front grill wearing a friendly grin, the Johnny Tractor Ride-On is a fantastic gift for kids 12 months and up who dream of driving their own John Deere tractor. With two speeds, a dump bed, and an adjustable seat, it lets tots cruise the great outdoors in style.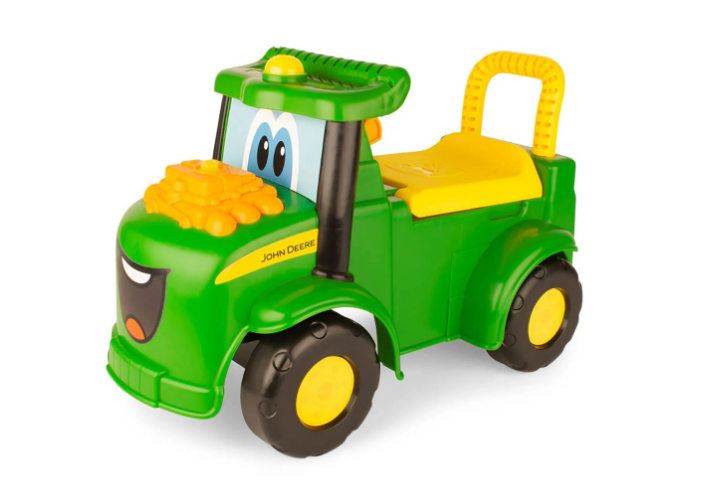 Gator XUV 550 DE 12 Volt. The two-speed Gator XUV 550 DE 12 Volt is an excellent choice for kids aged 3-8 years. It has an extra-long dump bed, adjustable seat, windshield, seatbelts, and built-in cup holders, making it a fun and functional toy.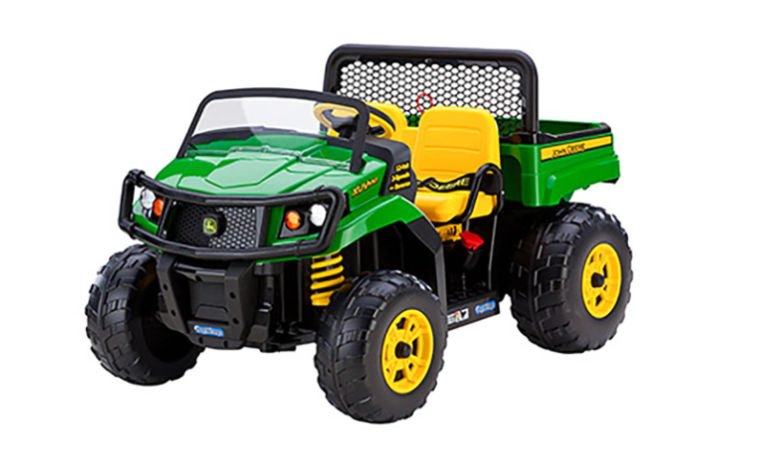 6 Volt Mini Power Loader. The 6 Volt Mini Power Loader is a safe and enjoyable riding experience for kids 2-4. The capacious bucket lets kids transport toys or other objects as they play.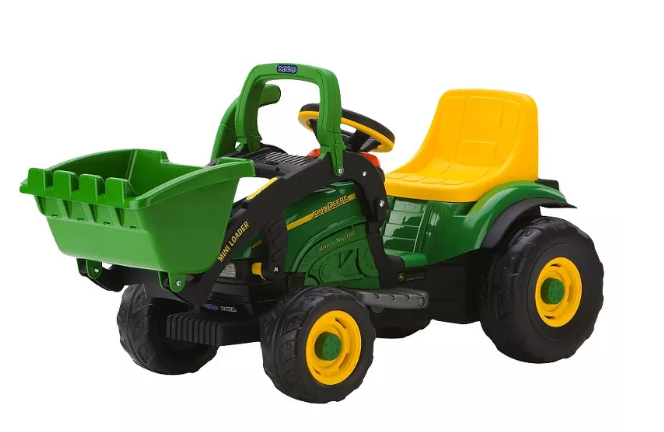 3. Play Sets
Buildable Barn Playset. Designed for ages 6+, the Buildable Barn Playset allows kids to create their farm environment. With 203 pieces, including a barn, tractors, and plastic cows, it provides endless opportunities for imaginative play and storytelling.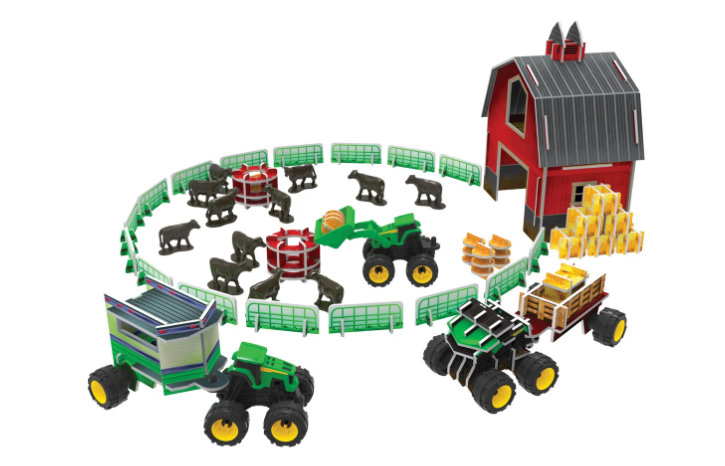 70 Piece Value Farm Set. This value-packed set includes wagons with pivoting front axles, a tractor with a liftable gator box, and other features that offer a realistic farm play experience. It's a great gift for kids 5-13 who love to immerse themselves in the world of farming.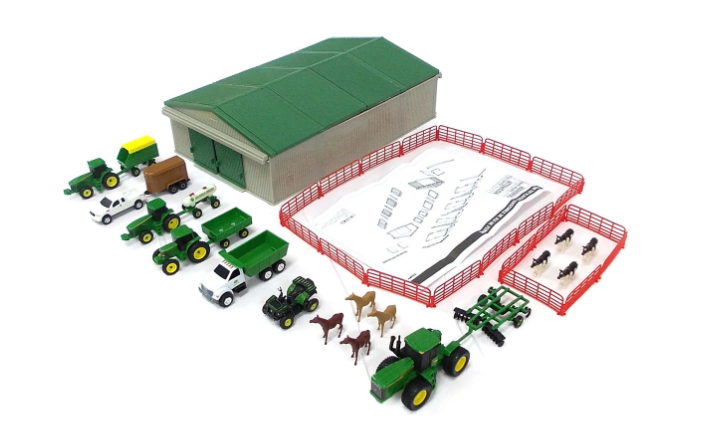 John Deere Battery Operated Diesel Train Set. This battery-operated diesel train set is a dream come true for the mini-train-conductors out there. It features a diesel engine, tank car, container car, box car, and a loop of track with exciting sounds.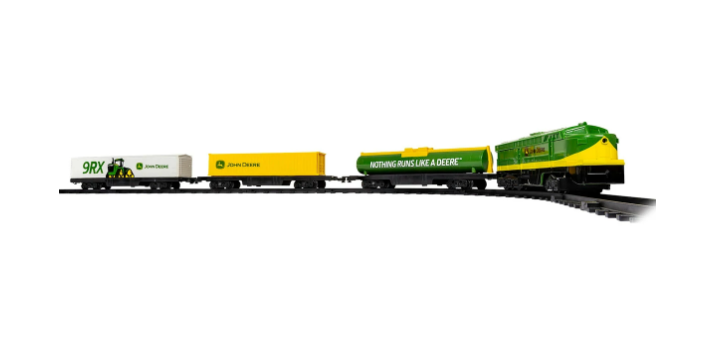 4. John Deere Books
John Deere, That's Who! Book. Explore the fascinating world of John Deere with this engaging book. It's an excellent choice for kids ages 4-8 who love stories and want to learn more about the brand's history.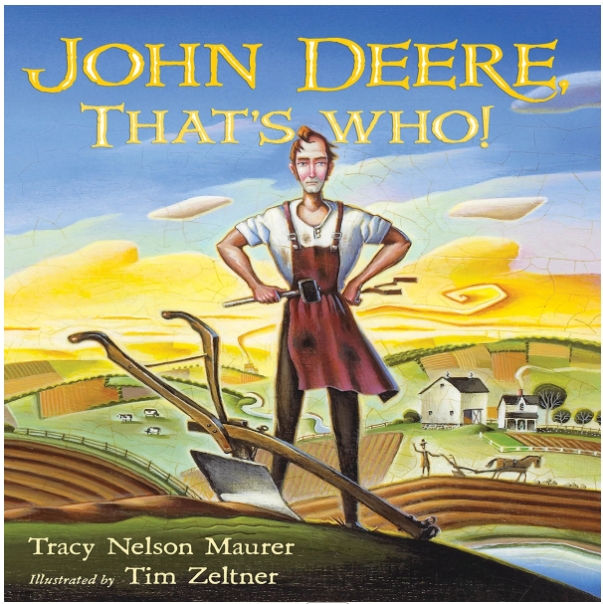 Happy Little Farm 10-Button Sound Book. This interactive sound book takes kids on a journey through a happy farm, introducing them to various animal sounds. It's both fun and educational, making it a perfect gift for young readers.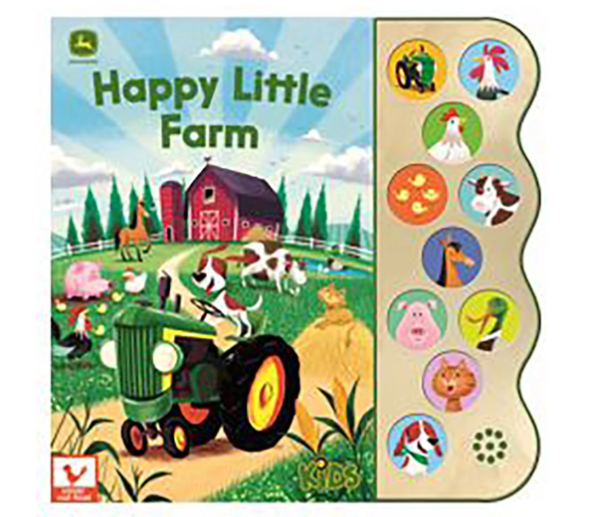 Hello, Farm! Book. The "Hello, Farm!" book is a delightful addition to any child's library. It introduces young readers to the world of farms and animals, fostering their love for learning.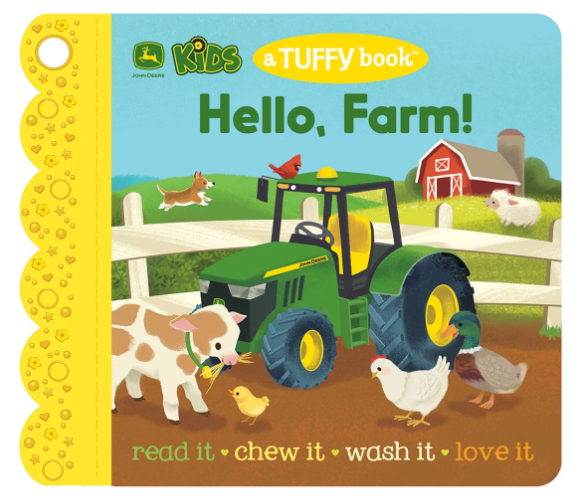 5. Games and Puzzles
John Deere-opoly. Put a farm-themed twist on the classic game of Monopoly with John Deere-opoly. It's a fantastic way for the family to enjoy game nights together.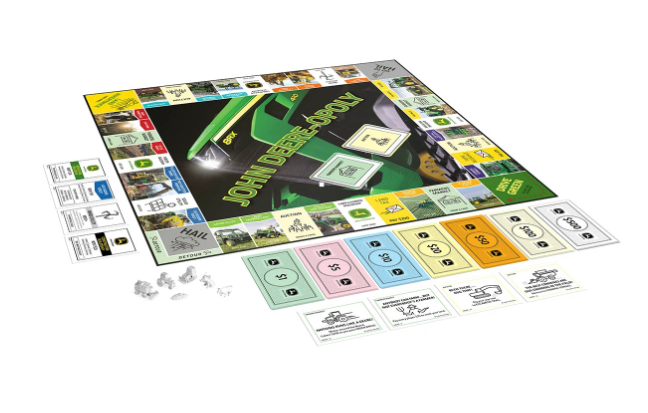 John Deere Checkers. If you're looking for a fun and simple game to engage kids 8 and up, John Deere Checkers is an ideal choice. It features farm-themed game pieces, adding a unique touch to the classic game of checkers.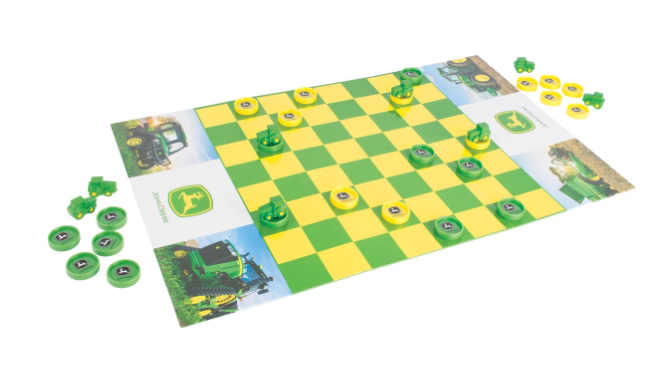 300 Piece John Deere World Puzzle. For kids who love puzzles, the 300 Piece John Deere World Puzzle is a great way to challenge their problem-solving skills while enjoying beautiful farm-themed artwork.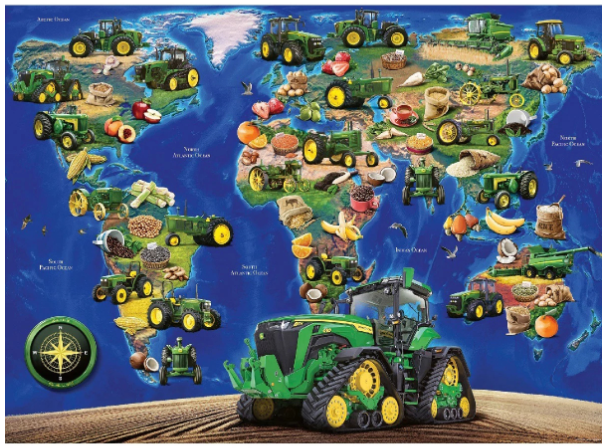 6. Kids' Apparel
Construction Equipment Pajama Set. Emblazoned with images of an excavator and other construction equipment, this comfy pajama set is perfect for bedtime or lounging around.
Tractors All Over Pajama Set. For a more tractor-focused design, the "Tractors All Over" pajama set combines comfort with John Deere style.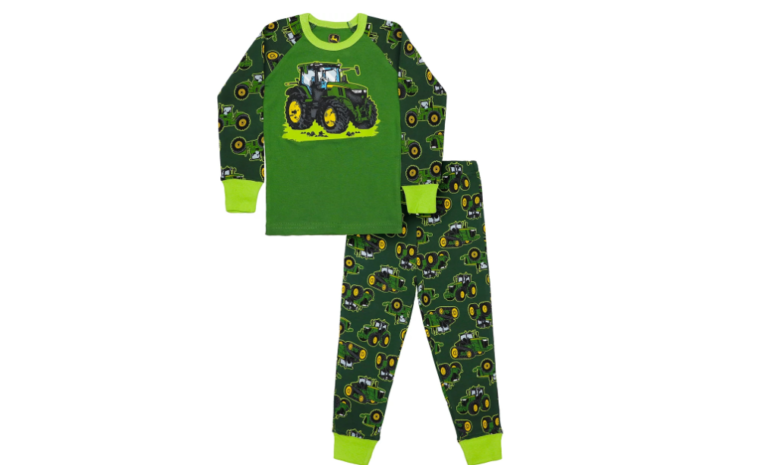 Toddler Construction Long Sleeve T-Shirt. This toddler long-sleeve t-shirt features an embroidered dump truck on the front. It is 90% cotton blend makes it a cozy but lightweight addition to your child's wardrobe.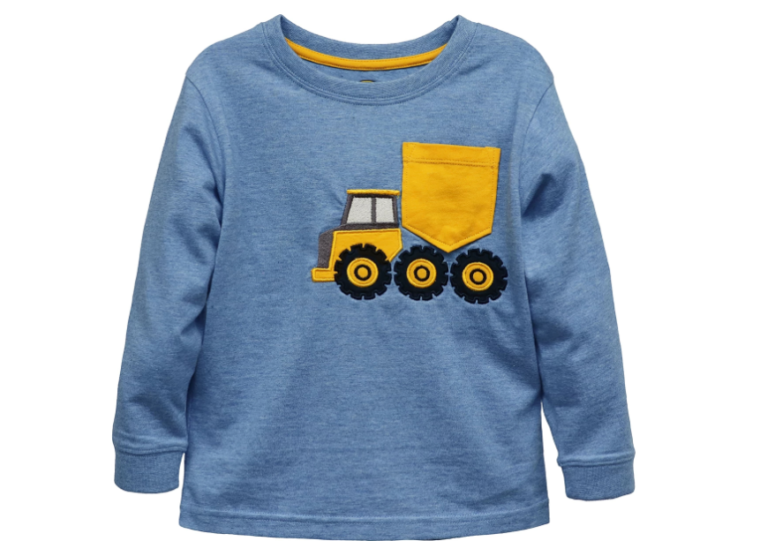 Commonly Asked Questions About John Deere Toys for Kids
Here are some commonly asked questions about John Deere toys for kids that you should know.
Are There Any Age Restrictions in John Deere Toys for Kids?
Yes! Be sure to check the recommended age range for each toy to ensure it's safe and suitable for your child. For example, some toys have small parts that can be a choking hazard for young children and babies.
What are the Most Popular John Deere Gift Ideas for Kids?
The most popular gift ideas for children include ride-ons, play vehicles, and interactive playsets. These toys offer hours of fun and imaginary play as kids act out farming, construction work, or other outdoor adventures.
What is the Price Range of John Deere Toys for Kids?
The price range varies depending on the type of toy. Play vehicles and ride-ons tend to be on the higher end, while books and games are more budget-friendly. John Deere offers options to suit various budgets, ensuring there's something for everyone.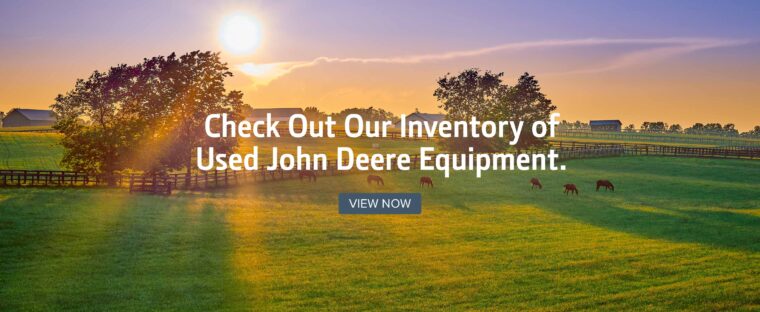 Make the Holiday Special with These John Deere Gift Ideas for Kids
This holiday season can be special — with John Deere gift ideas that inspire imagination, outdoor play, and learning. Whether your child dreams of farming or loves the brand, these gifts will bring joy and excitement to their holiday. Explore the wide selection of John Deere toys for kids on John Deere MachineFinder and choose the perfect gift for your young John Deere enthusiast.
If you enjoyed this post or want to read others, feel free to connect with us on Facebook, Pinterest, Twitter, or Instagram!
You might also like: