If there's a little one in your life with a passion for construction equipment, John Deere has some toys that will make for the perfect gift. Whether you're celebrating a holiday or a birthday, any child will love what John Deere has to offer.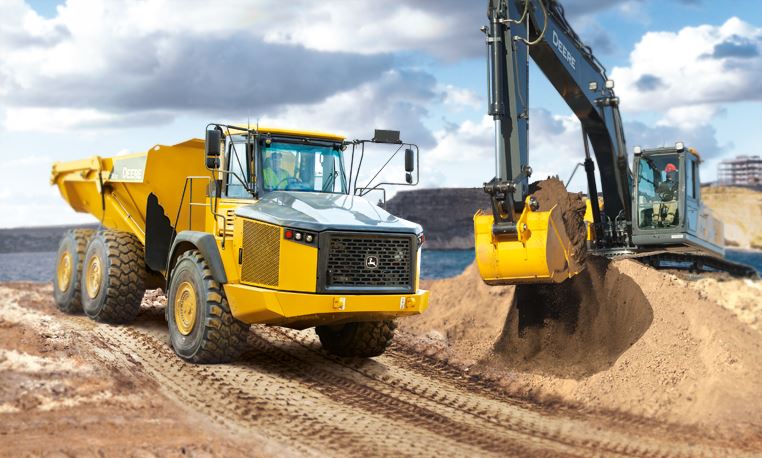 Here are eight noteworthy John Deere construction toys you might want to add to your gift shopping list.
Who says young children can't play with big toys? This loader is made specifically for kids aged 18 months and older, and it features four pieces that can be stacked together for fun.
With its bouncy tires and working front loader, it's hard for kids not to love this toy. The wheel loader is also constructed from a durable plastic that will stand wear and tear over time.
For a full playset that comes with hours of fun, you'll want to consider this John Deere construction toy. The quarry comes with moving parts and a hauler for the big loads.
John Deere construction toys that include smiling faces are sure to be a hit with the little ones. Barney Backhoe is a small, plush vehicle that is made for toddlers aged 18 months and older.
Kids who want the real feel of working on the farm will enjoy this John Deere toy. It features realistic horn and engine sounds, as well as headlights that can be used during play.
This toy comes with everything your little one needs to have hours of fun. With a usable action figure, toy crawler and tools, the Gear Force Adventure is perfect for playtime.
Little workers who want to take on farm or construction while playing will want to have this skid loader toy. It features a skid steer with working lights and sounds, as well as a pallet of bricks.
Sometimes, you need to bring in the heavy duty machinery to take care of the biggest loads. This dump truck toy from John Deere simulates all of the actions of a real dump truck. It comes with a die cast dump box that raises and lowers for realistic simulation.
John Deere construction toys are ideal for both boys and girls who want to get a little dirty while playing out in the field. Take a look at what you can find on the John Deere gifts website today.
If you enjoyed this post or want to read others, feel free to connect with us on Facebook, or Twitter!
You might also like: