When summer rolls around and it's time for your kids to play outside, you're going to need some John Deere Sandbox toys to keep them entertained. There are a wide variety of toys to choose from, each with its own unique homage to John Deere.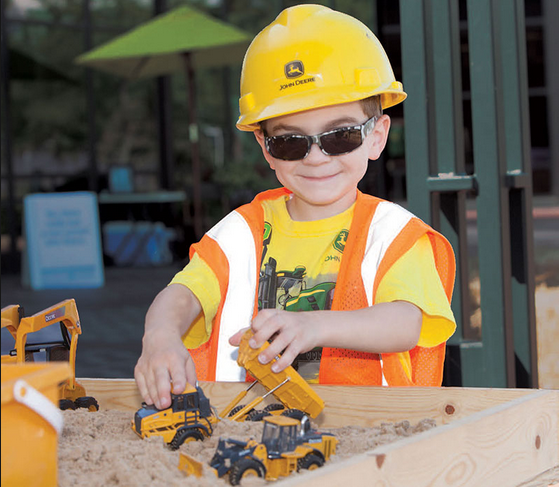 Let's take a look at 10 John Deere Sandbox toys that are sure to put a smile on any child's face.
This tractor is made of a durable plastic and real steel parts, meaning it's meant to stand up to the test of time. It also has a fully functional loader that your child will appreciate in the sandbox.
Not sure which toy to get your little one? You can't go wrong with the John Deere Ag Tractor Sandbox Bucket Set, which comes with a John Deere 1/16th Scale Model Tractor. It also has a yellow bucket and shovel for fun all summer long.
The Gear Force Utility Horse is a must-have for every tot who's ready to play in the sandbox. This horse is also safe enough for preschool children to use for play.
The Gator with Tractor Drive & Forestry Guy is an entire Gear Force Off-Road Adventure Set. It comes with a functional dumping work bed, working winch and opening doors.
The 1/16 Flex Fold 637 Disk is designed to handle all sandbox conditions. It can size, mix and bury sand in one pass, giving it a realistic feel.
Sometimes, a child just wants a few action figures to play with in the sandbox. These Awesome Gear Force Action Figures are the perfect solution, and the set includes Gear Force Jackson, Gear Force Wyatt and Gear Force Hank for plenty of fun.
For a simple toy to keep your child occupied in the sandbox, the John Deere Push and Go Truck is the answer. Its chunky size and soft edges makes it ideal for younger children with little hands.
If you're looking for the ultimate gift set, the Gear Force Value Set is a must. This set comes with one skid steer and an ATV. Additionally, it has action figures, themed accessories and bonus animals.
There's always some work to be done in the sandbox! The John Deere 15 Inch Big Scoop 2-Pack Set comes with a functional loader and a dump bed.
When there's plenty of sand to be moved, the John Deere Wheelbarrow is the solution. This toy is the perfect addition to any child's set of John Deere Sandbox toys.
Whether you're looking for a birthday gift or a way to say "I love you," John Deere has plenty of sandbox toys to fulfill your needs. For more toy options, visit www.JohnDeereGifts.com.
If you enjoyed this post or want to read others, feel free to connect with us on Facebook or Twitter!
You might also like: